Today we are excited to announce integration between ArcGIS Online and ArcGIS Maps for Power BI. This update is a part of the Microsoft Power BI Desktop May 2018 update and allows you to include feature layers and custom basemaps from your ArcGIS Online organization in your Power BI reports and dashboards. To date, only public feature layers and Esri default basemaps have been available to use in your ArcGIS Maps visuals in Power BI. Now, Level 1 or Level 2 named users in ArcGIS Online can sign into ArcGIS Maps for Power BI and start using secured content that is only available within their ArcGIS Online organization.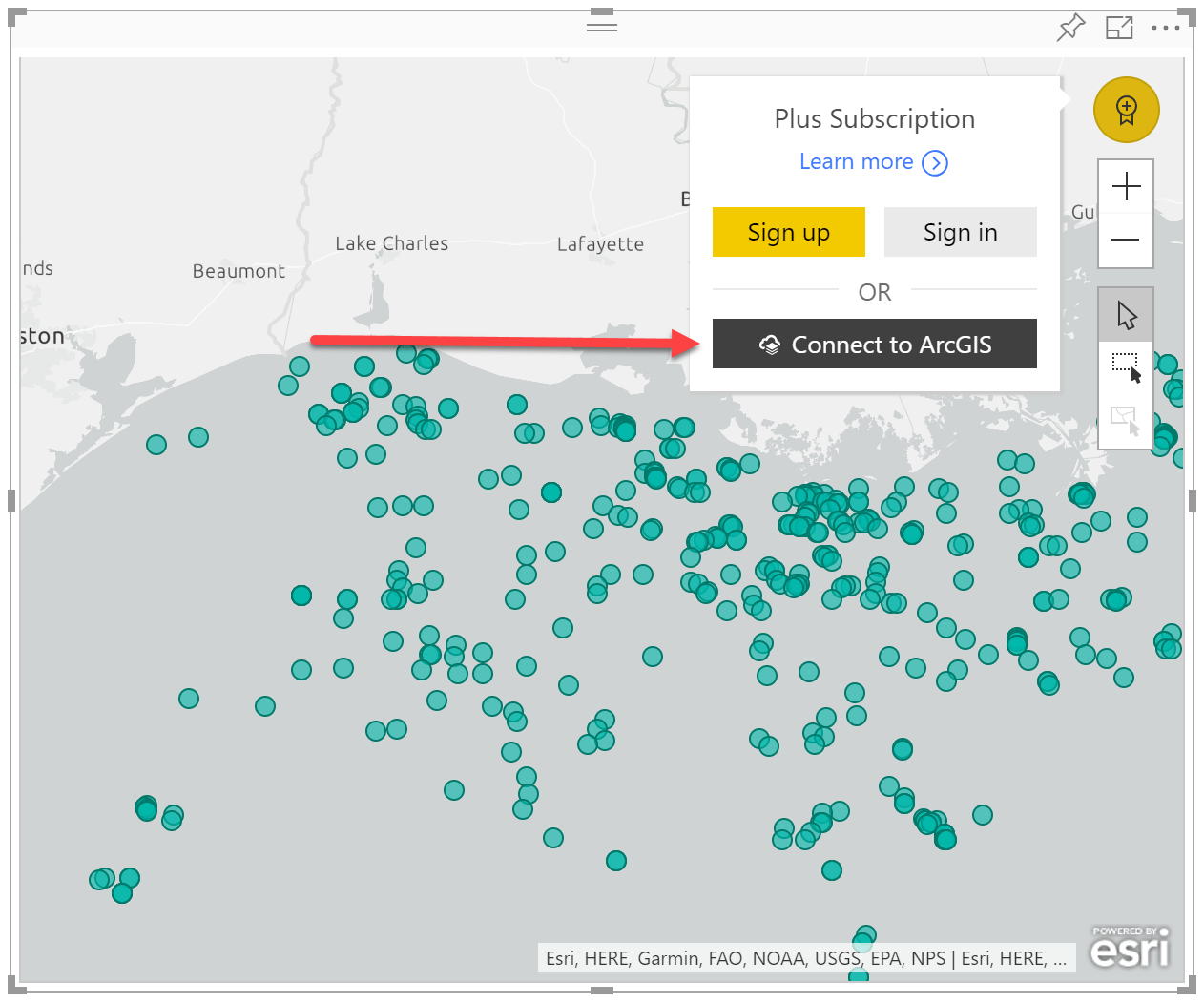 Maximize value by using ArcGIS and Power BI together
This is an exciting new capability for organizations that use both Microsoft Power BI and ArcGIS Online. Now it is as easy as adding your feature layers to a map visual on a shared Power BI report to distribute them throughout your organization, even to people who have no prior knowledge of GIS. (Keep in mind when sharing secured layers that report viewers will need to have the proper ArcGIS credentials to view secured content.)
Many organizations have standardized on Microsoft Power BI as their business intelligence tool-of-choice, and the ability to use authoritative location content from ArcGIS Online inside your business intelligence system will take your organization to the next level.
A new way to buy Plus subscriptions
We are also launching a new Plus subscription purchasing option with the May update. Plus subscriptions for ArcGIS Maps for Power BI are intended for Power BI users who need more capabilities than are included in the free map visual, but who don't have or need to create private feature layers in ArcGIS Online. Since November, Plus subscriptions have been available for purchase individually, but this isn't ideal when sharing reports with large numbers of people. With each person who views a report with Plus content needing their own Plus subscription, it can be unwieldy to have them all buying their own individual accounts.
Today we are launching the ability to purchase Plus subscriptions for your entire organization in one transaction. This will allow anyone in your organization that uses Power BI to view and share map visuals with Plus content.  To find out full details about what's included with a Plus subscription, or to contact Esri about purchasing a Plus subscription for your organization – head on over to our product page.
For more details about ArcGIS Online integration or Plus subscriptions for your organization, take a look at the Microsoft blog we co-authored with Senior Program Manager Lukasz Pawlowski from Microsoft.
To review detailed system requirements and get our full documentation on the ArcGIS Maps for Power BI visual, head over to our help site.
Happy mapping!
Scott and the entire ArcGIS Maps for Power BI team
Commenting is not enabled for this article.