The ArcGIS Maps for Power BI team is proud to announce support for ArcGIS Enterprise.  We heard you loud and clear – many organizations need to use their authoritative GIS content within ArcGIS Enterprise (in addition to today's support for ArcGIS Online).  This ability is now available in a public preview release.
ArcGIS Maps for Power BI delivers sophisticated mapping capabilities conveniently within Power BI.  It allows you to use your organization's reliable GIS content (in ArcGIS Online or ArcGIS Enterprise), directly within existing Power BI reports.  Or, you can geocode and spatially-enable other tabular business data, so that it too can be mapped.  Maps for Power BI comes with map content – including curated basemaps and a wide variety of contextual reference layers.  Going above and beyond mapping, ArcGIS Maps for Power BI lets you analyze your location data using operations like drive time areas, infographics, find similar, and more.
In the October release, you'll see the beginnings of ArcGIS Enterprise support, but we're not done yet.  We plan to have complete Enterprise support in our January release, aligning with the ArcGIS Enterprise 10.8 release.  Here are some details that you'll need to know:
This public preview release supports ArcGIS Enterprise 10.7.1; earlier versions of ArcGIS Enterprise will not work.
During the public preview timeframe (October – January) any ArcGIS user can sign in using their organizational account and use their Enterprise content.  It's important to note that a subscription and licensing change will occur after this public preview period.  For the final Enterprise release, each ArcGIS user will need a premium app subscription license to sign in.
This preview release supports logging in with ArcGIS identity (built-in authentication).  Other authentication security models are not currently supported.
We want you to be successful, and part of that is ensuring that you can access the right technical support when you need it.  To that end, ArcGIS Maps for Power BI now includes Esri Technical Support for ArcGIS subscribers.  Now ArcGIS Maps for Power BI is supported just like other Esri apps.
We've also increased the number of addresses that you can geocode within each map.  For free users, we've bumped this limit up to 3,500 records per map.  For ArcGIS subscribers, we've increased this to 10,000 records per map.
And finally, we have updated our version naming.  This October release will be 2019.3 since it is the third release of the year.  ArcGIS Maps for Power BI will continue this version naming, for example 2020.1 will be the first release of the year 2020.
How do you get started?  Open Power BI, and just start using it, or sign in with your ArcGIS account for the complete set of capabilities.  Remember, ArcGIS Maps for Power BI ships in the box – no need to install a custom visual.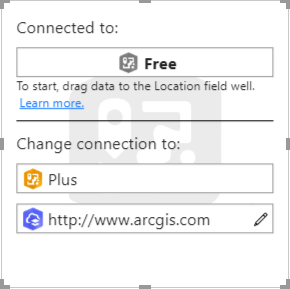 We have lots of resources and information resources available for you to learn from.  Here's just a few below.
Enjoy, and please connect with us and give feedback through the GeoNet community.
Commenting is not enabled for this article.