By Aileen Buckley, Esri Professional Cartographer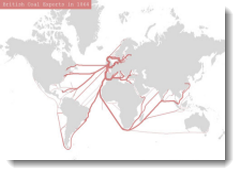 The demonstration that I gave at the 2013 AAG Annual Meeting has an associated PowerPoint presentation that you can now download. The Mapping Flow Data presentation is about 16 MB because it has videos.
Topics covered in the presentation include:
What are flow maps?
What types of flow maps are there?
The remainder of the presentation was a demonstration of how to make the various types of flow maps using ArcGIS. This is also a topic for an upcoming workshop at the 2013 Esri Education User Conference in July. After that conference I will make the workshop resources available for download here on our blog. Resources in the downloads will include the PowerPoint slides, Word documents for the exercises, and GIS data/maps. You can use these to learn the techniques yourself or teach others in your workplace or classroom.
Look for the workshop resources in July, and for now, hopefully this short PowerPoint presentation, Mapping Flow Data, will be useful to you!