By Aileen Buckley, Mapping Center Lead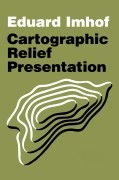 Eduard Imhof's Cartographic Relief Presentation is now available from Esri Press.
Many of us have been anxiously waiting for this book to be re-released for quite some time as Cartographic Relief Presentation is a very hard book to find – you can only rarely find a copy for sale and it has a habit of being stolen off library shelves. If you do find it for sale, it is usually at an asking price of over $300, and if you don't read German, you have to hope that you are lucky enough to find a copy of the English translation. (The original 1965 German language version, Kartographische Geländedarstellung, was translated into English in 1982 but with only a limited press run.) The great news is that you can now get a copy of your own because Esri Press has re-published the English version.
This is also a book that many cartographers have used as the definitive reference for the proper methods to depict relief, including hillshading, hypsometric tinting, and various methods of contouring. In fact for a long while I kept getting requests to write up quite a few of the techniques Imhof describes and so I suggested that the Esri Press inquire about the possibility of re-publishing this book. A lot of people at Esri were responsible for making this happen — kudos to the Esri Press Team for making this book something we can get again!