REPOST OF http://www.geospatial.govt.nz/presentation-video-design-principles-for-maps-using-statistical-data by Geoff O'Malley, New Zealand Geospatial Strategy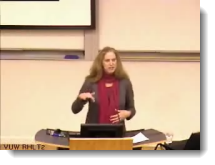 On Thursday afternoon 6 September 2012, the 150 seat Lecture Theatre 2 at Victoria University of Wellington's Pipitea Campus was full to overflowing with policy analysts, people who work with statistics and spatial data, students, and people interested in cartography. They were there for a presentation by Dr Aileen Buckley which explored the design principles for statistical mapping.
There is a growing awareness of the value of viewing statistical data in map form. Being able to view and analyse statistical data based on location is becoming increasingly popular with decision-makers across central and local government. Promoting the use of such data fits with work under the NZ Geospatial Strategy to make our location-based information easy to find, share and use to deliver economic, social and cultural benefits to New Zealand.
I spoke with Rochelle Morgan (Geospatial Manager from Statistics NZ) who said that Dr Buckley's presentation was timely and informative for attendees from Statistics NZ which is embarking on an agency-wide programme of spatial enablement. Statistics NZ will utilise the design principles presented by Dr Buckley as it aims to increasingly provide engaging and relevant maps to present and visualise statistical information.
A video of the presentation and related slides are now available at the links below.
Slides of presentation (PDF 13.9 MB)