By Aileen Buckley, Esri Research Cartographer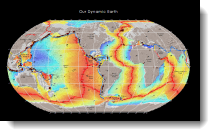 Two workshops presented at the 2012 Esri Education User Conference have associated resources that you can now download. The workshops are Methods for Visualizing Space-Time Data and Working With and Creating Basemaps.
Topics covered in the basemaps workshop include:
What are basemaps?
Exploring basemap layers
Using ArcGIS Online basemaps
Creating a basemap
Creating grayscale basemaps from ArcGIS Online basemaps
Topics covered in the space-time workshop include:
Cartographic methods for visualizing space-time data
Time-enabled GIS
Visualizing nontemporal attributes
Dynamic image services
Resources in the downloads include the PowerPoint slides, Word documents for the exercises, and GIS data/maps. You can use these to learn the techniques yourself or teach others in your workplace or classroom.
Download the resources here, and have fun learning and teaching!
Methods for Visualizing Space-Time Data (about 419 MB)
Using and Creating ArcGIS Basemaps (about 58 MB)