In a few days over 4,000 professionals gather at the 2017 Esri Federal GIS Conference (#FedGIS), February 13-14, to explore ground-breaking ways government uses geospatial technology to solve the world's greatest challenges. Join our community and Esri President, Jack Dangermond, to explore the future of GIS and hear from accomplished federal government leaders about their  projects and roadmaps to success. Esri tech experts will also show you advances in GIS technology and how you can use the latest tools today.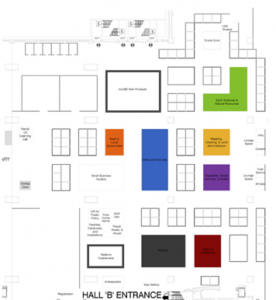 Don't miss the GIS Solutions EXPO where you can connect with Esri's technical experts in focused neighborhoods and collaborate with exhibitors. Here you can also meet with a multitude of government agencies who can help your business grow and browse the Startup Zone (SUZ), where members of Esri's Startup Program Emerging Partners will share their innovative solutions and apps. These companies have integrated ArcGIS within their products to improve workflows, deliver better services, and meet current mandates. You can benefit from their knowledge and experience as you interact with CEO's, technical leads, developers, and a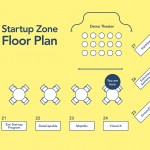 wide range of specialists who will present their innovative solutions and showcase their many projects.
Startup Zone & EXPO Times: Hall B, Lower Level
Monday, February 13, 2017, 12:30 PM – 6:30 PM
Tuesday, February 14, 2017, 10:45 AM – 5:15 PM
Join this passionate community and learn how they are leveraging GIS for their business and how it can benefit you! Meet the Startups Zone Exhibitors:
Startup Zone Exhibitors

Company

Booth

Industry Focus

Description

Z2

Utilities / Telecommunication

DataCapable is the SaaS company supporting their flagship product UtiliSocial – a comprehensive Social Engagement platform currently providing event maps, cross platform digital communications, real-time aggregate event reports, customer sentiment feedback, weather event data, situational awareness, and logistics support.

Z7

Water Resources / Natural Resources

FishViews creates 360 virtual GIS maps of waterways, viewable on desktop, mobile and virtual devices. Come by our booth for a demo!

Z5

Imagery / Utilities / Government

Better decisions require accurate and current information. GroundVu offers on-demand remote intelligence as a service. We fly and drive your area of interest to extract and deliver just the critical GIS-ready data you need.

Z4

Public Safety / Oil & Gas / Government

VizworX improves our customer's strategic planning, decision-making and communication capabilities through the application of interaction technologies and information visualization methodologies. VizworX will be demonstrating its multi-user map-based planning and collaboration touch table technology.

Z6

Non-U.S. National Security /

Public Safety / Government

Echosec is a location-first social search engine. It connects people and places around the world by putting live data on the map.

Z3

Local Government / Commercial

Sparkgeo has created the first map user engagement analytics technology. You can now determine if your web map is serving your purpose, report on its engagement and identify how to build a better map.
View our SUZ flier and don't miss exciting demo presentations from the Esri Emerging Partners. Preview the Startup Zone Demo Schedule:
Monday, February 13 –  Startup Zone, Hall B
1:45 pm–2:15 pm
Multi-Organization Information Sharing on Multiple Devices in Real-time
Inter and intra-organization communication and coordination is necessary for operations planning, emergency response, and more. Let VizworX show you how to visually share geospatial information between or within organizations, on multiple devices, while maintaining data security.
2:30 pm–3:00 pm
Vricon Presents the 3D Easy Button for ArcGIS Pro
Vricon will demonstrate how users can convert 2D maps to 3D models using Esri's ArcGIS Pro and Vricon data. The demo also will show users how to add meaning and render more powerful storytelling by integrating their own data into the 3D scene.
4:00 pm–4:30 pm
Leveraging GroundVu for Imagery, 3D Point Clouds & Geo Data as a Service
Enterprise and professional GIS requires high quality, reliable, rapid delivery of ArcGIS ready data. At GroundVu, we fly and drive your area of interest, capture high resolution photos, process in 3D and deliver directly into your organizations ArcGIS platform.
4:45 pm–5:15 pm
360 Panoramic Models of Waterways with FishViews: Come Float the River in Olympic National Park
National Park Service's ongoing Riverscape project catalogues and geo-locates waterway data; the FishViews' mapping platform was selected to present Hoh River Riverscape data in context with its surroundings. We'll demonstrate how FishViews' cloud-based GIS technology integrates water-level imagery with geospatial data to provide virtual perspective for analysis and public outreach.
Tuesday, February 14 – Startup Zone, Hall B
11:00 am–11:30 am
Extended ArcGIS Online Analytics for your Web Maps with Maptiks: Measuring Maps for Awesomeness
The use of analytics technology for the purposes of assessing map quality, user interface optimization, performance, and consumer insight. Learn basic concepts and how one city in Canada used maptiks.com to understand how their citizens used their web maps.
1:30 pm–2:00 pm
Found On Echosec: Gaining Insights from Real-time Social Media Mapping Data
Explore the world through location-first social media searching. How to leverage the power of live data mapping with Echosec.
2:15 pm–2:45 pm
Esri Startup Program:
Jump starting the next generation of Esri Partners, the Esri Startup Program is a three-year program that gives emerging businesses the tools to build mapping and location analytics capabilities into their products.
3:00 pm–3:30 pm
Using Social Media to Gain Actionable Intelligence for Emergency Response & Public Safety
The future of Emergency Response and Public Safety requires leveraging the power of geospatial data as actionable intelligence. Around the world, organizations are leveraging the power of UtiliSocial to make important decisions in real-time during disasters, weather events, emergencies, outages, terrorism, and other public safety situations.
If you haven't registered, we encourage you to join us and share ideas, discover new trends, and learn how GIS can help us all understand our world and make a difference. Continue to monitor the website, esri.com/fedgis, agenda and engage on social via #FedGIS and @Esri. See you in DC!