Bringing the power of location to business
---
Salesforce has selected Esri as a key partner for Salesforce Maps. Esri, the global leader in mapping technology and location intelligence, delivers a comprehensive set of market-leading location services, data, and mapping tools—and now, Salesforce is bringing the power of location intelligence to businesses around the globe. Salesforce Maps helps organizations visualize massive amounts of customer relationship management (CRM) data to locate and navigate their best options for growth. With this integration, organizations can easily visualize sales opportunities on detailed basemaps while maximizing the number of customer visits on a given day. With Esri, Salesforce is helping businesses grow revenue and productivity with location intelligence.
ArcGIS Platform selected for Salesforce Maps
---
Learn more about why Salesforce selected ArcGIS Platform to help Salesforce users visualize their data and uncover insights in Salesforce Maps.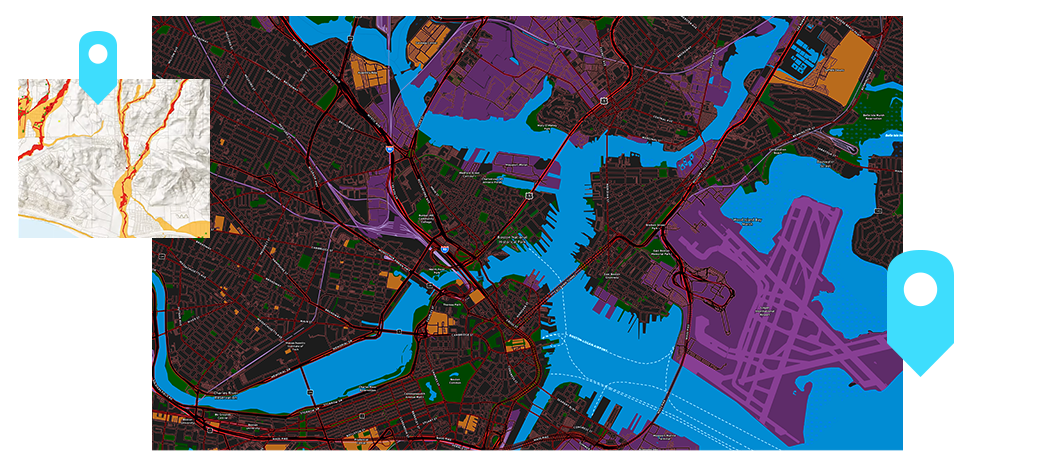 See your data on authoritative digital maps
---
Salesforce Maps utilizes Esri basemaps to help organizations visualize business opportunities on high-quality digital maps. Esri offers a global collection of ready-to-use basemaps that provide vibrant, realistic depictions of the world, built using authoritative data as reference sources. Available in more than 40 languages, basemaps provide a global digital mapping solution.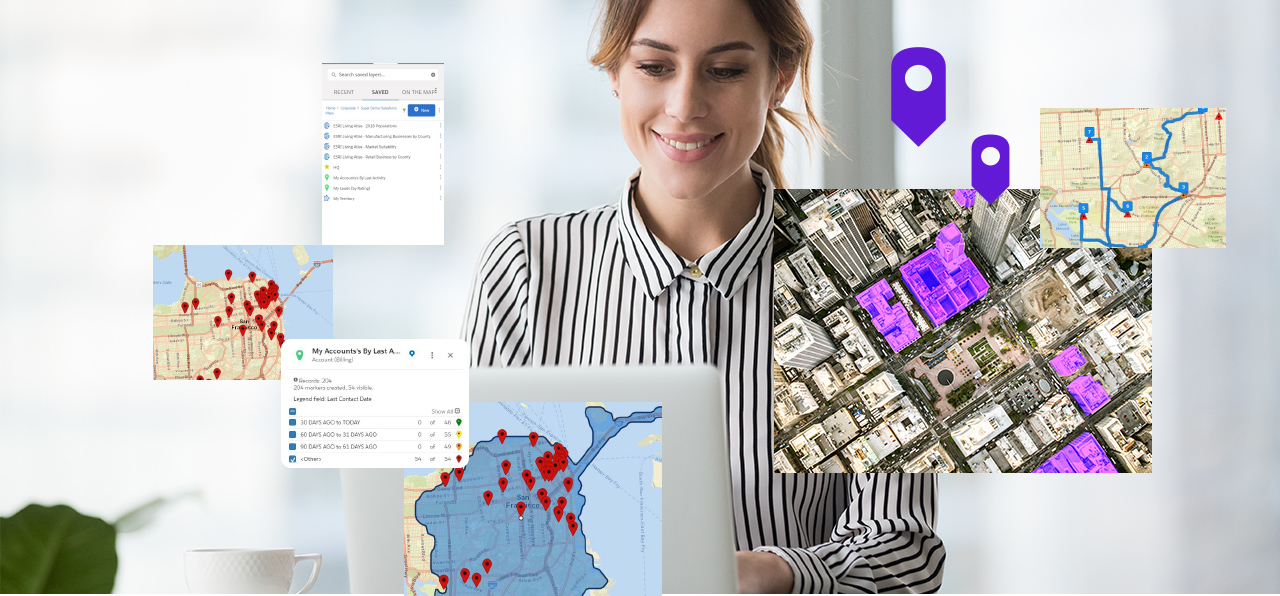 Access high-quality data within Salesforce Maps
---
Salesforce Maps gives you access to detailed world imagery, US storm reports, and world time zones. Esri data is authoritative and up-to-date, bringing you an extensive global collection of ready-to-use datasets including demographic, weather, business, and behavioral information. Enrich your territory planning with an in-depth look into people and their preferences, in the places that matter most to you.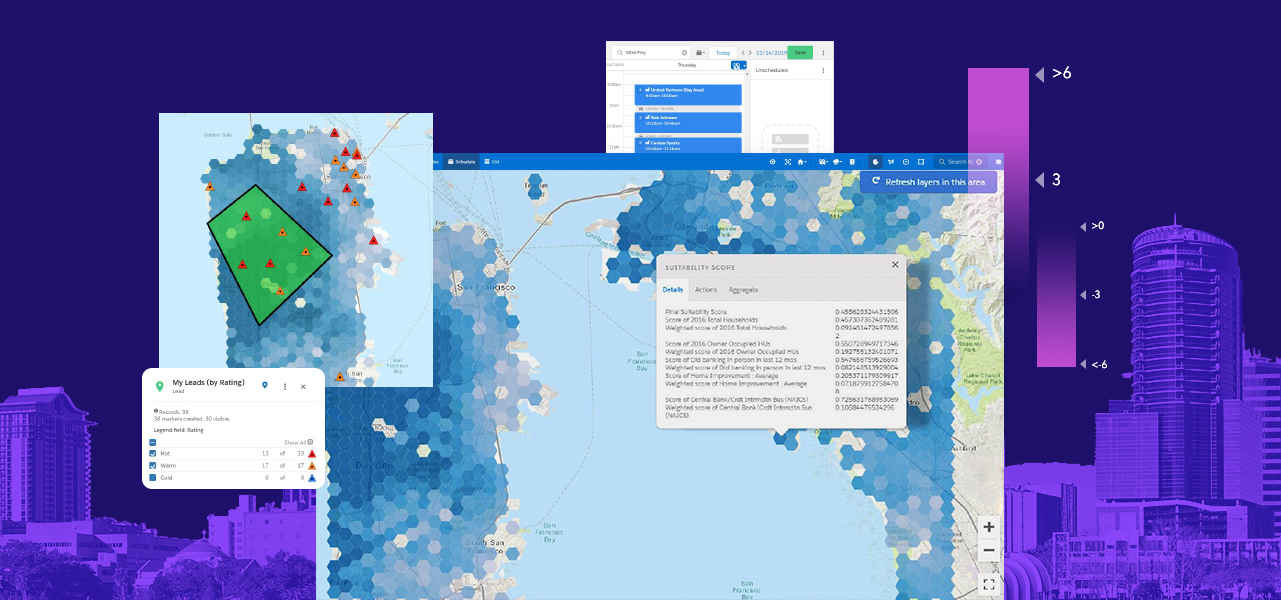 Bring your ArcGIS data into Salesforce Maps
---
With Salesforce Maps, users can integrate high-quality authoritative data from their ArcGIS Online account. ArcGIS Online provides users with the ability to take advantage of powerful tools to perform intelligent location-based analytics and transfer those meaningful results to Salesforce Maps, harnessing the full power of ArcGIS geospatial analytics within Salesforce.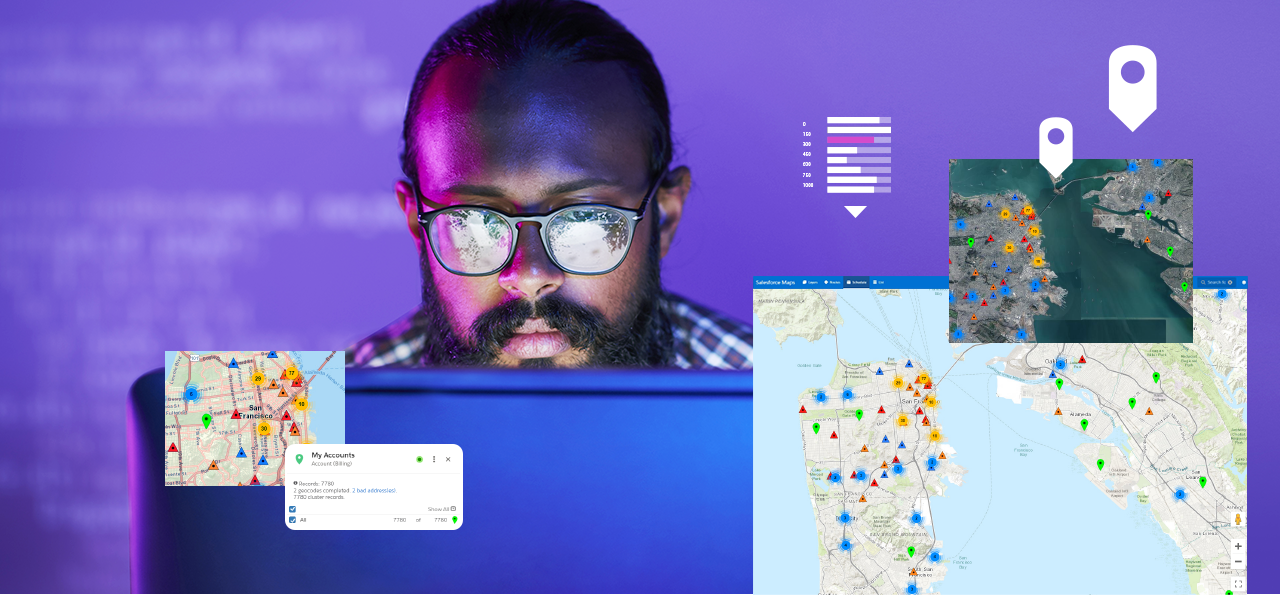 We're excited that our partnership with Esri has continued with the integration of ArcGIS Platform. Esri's collection of ready-to-use basemaps gives our users a solution to better understand their data by presenting it visually on a map. The capabilities of ArcGIS Platform allow us to continue to expand the value we provide to Salesforce Maps users by leveraging additional Esri location services as well as the adoption of ArcGIS API for JavaScript.
---
Ben Brantly
Vice President of Product, Salesforce
Get started with ArcGIS Platform
---