Esri and SAP are helping organizations harness the spatial context of their business data to discover new insights and share location intelligence with everyone who needs it. By integrating Esri and SAP technology, you can improve operational efficiencies, advance your decision-making capabilities, and meet key business objectives. Deliver information through rich user-friendly maps and apps accessible on any device, anywhere, anytime. You can also integrate Esri maps and spatial analytics directly within SAP business, mobile, and business intelligence (BI) applications.
Esri and SAP system integration patterns
Legacy systems
Modern systems
Legacy systems
The legacy systems integration pattern is focused on delivering capabilities through workload separation, primarily due to resource constraints. This leads to GIS and business systems working in siloed environments. The tightly coupled integration model makes it difficult to incorporate functional capabilities across systems.
Different business requirements serviced by different systems are often operating with out-of-sync data
Difficult integration forces users to switch between GIS and business applications for their respective workflows.
Modern systems
The modern integration pattern is focused on disseminating authoritative data and providing a seamless user experience to both business and GIS users.
Services-oriented architecture (SOA) provides easy access to capabilities and the power of SAP HANA and SAP HANA Cloud lets business systems open up their data.
Gain real-time visualizations of your operational data
Combine capabilities and deliver them across your organization
Enterprise implementations
Take a look at how Esri and SAP enable comprehensive location analytics and data visualization.
Spatially enable your business apps
ArcGIS is built on services-oriented architecture and thrives on integrating with similarly built products. The front-end apps used by SAP systems can easily embed maps and data from ArcGIS to workflows that enhance productivity. Add maps to business reports to visualize data and provide insights in ways that charts and graphs can't.
Add business capabilities to GIS apps
SAP business systems expose their capabilities via APIs. These APIs can be used to improve operational efficiencies by easily extending ArcGIS apps to add asset management capabilities with read and write access. Empower your staff to initiate new work orders or update existing ones using ArcGIS field apps during their asset inspections or management.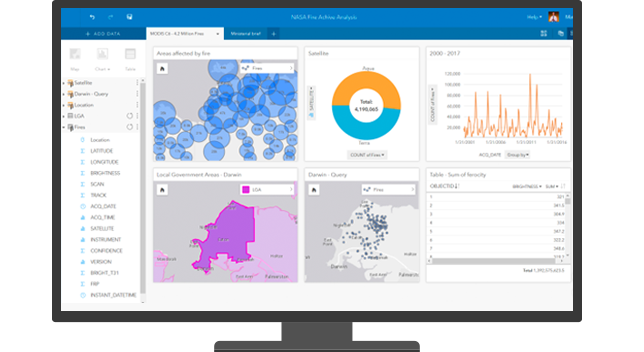 Contact us to get started
Chat now
Begin a conversation online.
Send a message
Get an email response.
Call us
Speak with a representative.
(United States)