Overview
---
OVERVIEW:
With the continual development of communities, Stakeholder coordination is very important to minimize the conflict while exciting the work. Public/Private infrastructure, utilities assets are shared by different government and private sectors. It's really required a strong approval process and decision support system to ensure the smooth operations.
The solution eSmartPermit will helps all public/private sectors (Utilities and City Governments) who are providing the No Objection Certificate, Work Permits to the contractors before executing the work. Also this solution framework and intelligent can be used to automate the location based business approval process like example of issuing licenses, building permits, leasing process, Customer Service Management (requesting for Utilities, Transportation, Telecom connection, property registration process, Etc)
The solution built using latest state of art technologies like ESRI ArcGIS Platform, Microsoft Technologies and the solution can be accessed from web and mobile.
Technology:
Our solution architecture has adopted smart and intelligent techniques, spatial intelligence including domain specific business rules that can accommodate changing operational conditions, intelligent user profiles for different roles and privileges, and comprehensive dashboards for tracking and monitoring of operations and performance.  
 

eSmart Permit utilizes Esri ArcGIS online Basemaps and business specific web maps (for Permit locations, POI, Buildings, RoW, Easements etc.,) published through ArcGIS online datastore

The solution can be delivered either On Cloud or On premise utilizing Esri ArcGIS Online and ArcGIS Enterprise capabilities based on customer requirements

The solution features Active Directory integration, role-based security that can be used for reconfiguring with customer environment.


The solution can be easily configured to existing business processes by building web services (SOAP) to provide data access based on different Business cases.
eSmart Permit solution can be used across government organizations (Smart Cities), Real Estate or property development, Oil and Gas/Energy sectors, Utility, Environmental, Health, Insurance, Education as well as a variety of high-tech enterprises which involves business process for managing the business operations.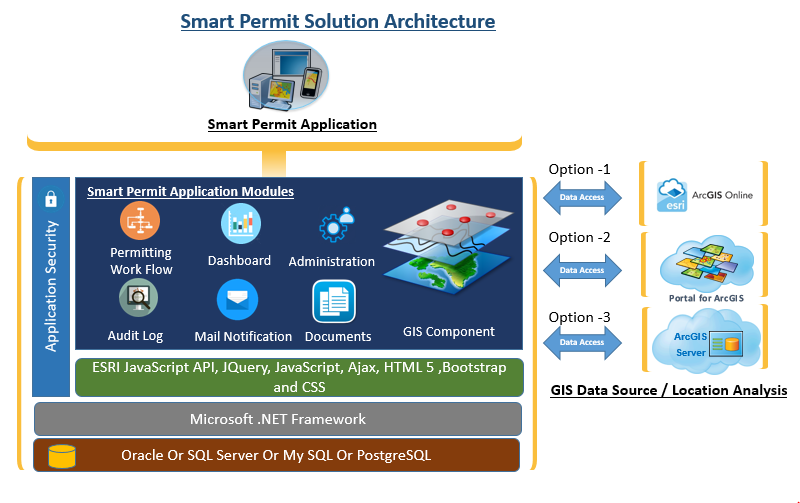 Application Functions:
Mobile and Web Based application functions

Fully automated permitting process

Role-based Dashboards

Geo location analysis and decision support using ESRI Technology

Location based risk assessment

KPI monitoring dashboards and Reports
Security (Single Sign On, Role Based functions)
Flexible design easy to integration with other business systems
Integration with payment gateway

Inbuilt BPM and document Management
Business Benefits:
eSmart Permit improves operational efficiency and increase your workforce productivity by
Eliminating risk of manual errors by automating authorizations and workflows

Providing the insights for automated task management & action tracking

Creating centralized digital storage & retrieval of all permits

Maximizing reusability and searchability of forms & templates

Providing flexible design with easy to integration with other business systems

.
View the 
video
 to see how Smart Permit works.
Business needs
Economic Development
Field Service Management
Real-Time Location Tracking
Market and Customer Analysis
Operational Efficiency
Industries
National Government
Electric and Gas Utilities
Real Estate
State and Local Government
Transportation
Works with
Platform
Desktop
On-premises
Mobile
Web
System Requirements
Operating Systems
Supported Web Browsers
IE 11 (Windows 7 or 10)

Edge (latest version)

Chrome (latest version)
Map Support - Esri Map Services
ArcGIS Server for Windows

ArcGIS Online

Portal for ArcGIS
Connectivity
Internet connection required

 

Bandwidth Minimum: 3G
Server Requirements
 

Windows Server 2012, 2012 R2, or 2016

 

.NET version 4.5 and above

Multi-core processor 2.0 GHZ or faster

8 GB RAM

For three-tier deployments, the operating system must be the same on both the Web and Application servers.
IIS
Version 7,8, 8.5, or 10

SSL SHA-256 is required
Database Support
MySQL 6.2 and above

Oracle 11g and above
GIS Integration Support
Options-1: ArcGIS Server REST Services
Options-2: ArcGIS Online REST Services
Options-3: Portal For ArcGIS Web Mapservices
Version
2.0
Listed Date
Apr 7, 2020
Contact Information
iSpatialTechttp://www.ispatialtec.com/Email+1 (858) 5229799