About GEO Jobe
GEO Jobe products are trusted and used by over 8,000 organizations globally. Our company is focused on developing solutions, services, and products for Esri's ArcGIS® ecosystem. We currently have some of the most popular products in the ArcGIS® Marketplace and would be happy to serve your organization with our professional service offerings.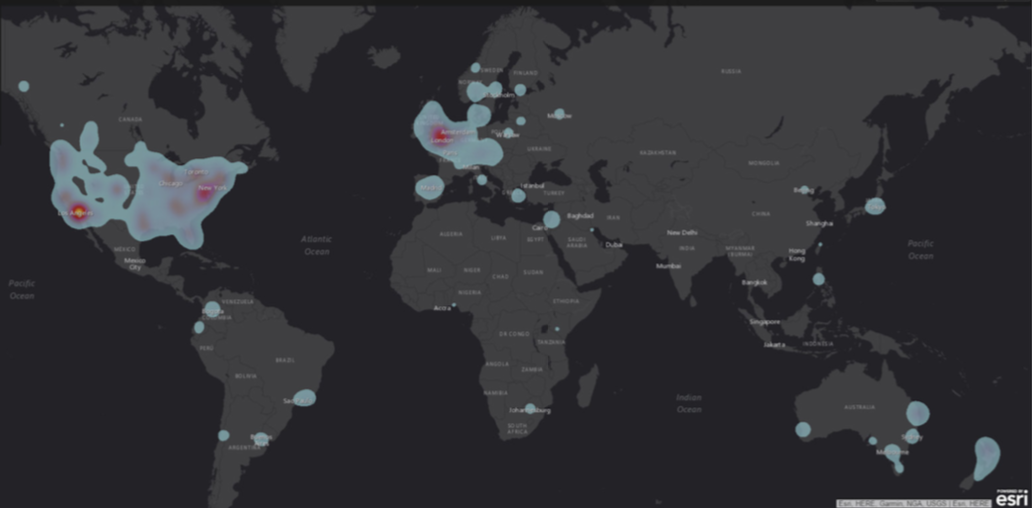 GEO Jobe Global Client Footprint and Influence
Custom Development
In-house development teams are not a viable solution for many businesses. The professional services software development team at GEO Jobe allows you to have easy access to development staff without the overhead. 
Our team has decades of experience and success stories across multiple industries. While we are primarily focused on the Web GIS stack utilizing the ArcGIS® API for JavaScript, we also offer solutions such as custom python scripts/tools and custom ArcGIS® Pro add-ins.
Ever wish you had access to ArcGIS® capabilities while using other software? We have proven success integrating ArcGIS® with other platforms, including WordPress and Salesforce. Our full offerings include:
Web AppBuilder for ArcGIS®
·       Custom Widgets
·       Custom Themes
2D and 3D standalone Web Applications
·       Data Review
·       Analysis
·       Public Engagement
·       Custom Workflows
·       Mobile Friendly
Configurable Application Templates
·       Easily create multiple copies of an application each with different configurations directly within Portal.
Other items
·       Custom Python Scripts / Tools
·       Custom ArcGIS® Pro add-ins
·       Integrating ArcGIS® with other software platforms
Have a software project you want to get off the ground? Let us help!

GEO Jobe Partnerships and Specialty Designations

Managed Services
F
or over two decades GEO Jobe has offered hosting services to clients by leveraging Esri's ArcGIS Server and ArcGIS® Enterprise. Managed Services allow you to fully access what ArcGIS Enterprise has to offer through a cloud hosted environment using Amazon EC2. You also get access to our team of Solution Engineers to help you manage it all including patches and upgrades. As an Esri Business Partner and an Amazon Registered Partner we are prepared to help you navigate both environments.
All you have to bring to the table is the required software licensing for the solutions you wish to implement. For most this means ArcGIS® Enterprise, ArcGIS® Desktop/ArcGIS® Pro, and a cloud optimized license of an RDBMS of your choice. You can also use a provided option like SQL Express or PostgreSQL for basic deployments or a SQL Server instance for premium deployment. We also offer custom implementations where we can design, implement, and maintain a system to support your needs. 
GEOPowered Cloud
Web GIS
provides the building blocks for delivering the value of GIS to the masses within your organization.
While everyone can benefit from the capabilities of ArcGIS® Enterprise, we know that barriers like cost, infrastructure, and knowledge limit implementation. To overcome these challenges, we created our GEOPowered Cloud. Our platform offers shared and dedicated hosting supporting ArcGIS® Online, ArcGIS® Enterprise, and Esri Partner Solutions. Paired with the ArcGIS Online platform, you can reference your data without the hassle of managing servers and services.
Whether you are leveraging shared or dedicated resources, you are guaranteed the best of Esri's Web GIS products without the cost and overhead of an on-premises deployment. 
Our Solution Engineers take care of the maintenance so you can spend time creating maps and apps or collecting data in the field. Enjoy the power and performance of Web GIS without the added expense!
Configurable Out-of-the-Box Solutions
Looking to take paper forms digital, collect data in the field, or use dashboards to manage your operations? Our Solution Engineers will work with you to get Out-of-the-Box solutions configured to meet your organization's needs. We'll get your solutions running and teach you how to manage them.
Enterprise Deployments
From architecture to configuration to publishing, GEO Jobe makes deploying ArcGIS® Enterprise a breeze. Our Solution Engineers help with all aspects of your deployment regardless if you are using physical machines, VMs, AWS or Azure. Plus, you have the option for continued support after the deployment is done!
Web GIS Kick-Off
Looking to take advantage of Web GIS and all it has to offer? Not sure where to start? Our Solution Engineers will help set-up your ArcGIS® Online Organization or Portal for ArcGIS®, get content published, configure maps and apps, and transfer knowledge back to you. We will work with you to customize your Web GIS and give recommendations on how to deploy powerful solutions for your users.
Strategic Planning
We take the time to get to know you, your organization, your data and your workflows. We use this to determine how GIS is being used and how it can be utilized fully throughout your organization. We develop a strategic plan to guide your GIS implementation with recommendations for hardware, software, training, staffing, budget, and data structure.
GIS Health Checks
We work with you to identify short, mid, and long-term solutions to ensure organizational value in your GIS. Health Checks are a comprehensive system-wide check of your GIS with recommendations to increase
data quality, integrity, and confidence in your data
.
Data Architecture
Your success with GIS is dependent on the quality of your data. Our Solution Engineers work with data for hundreds of global clients maintaining database schemas, Esri data models, and geodatabase replication across multiple local and cloud based systems. We'll work with you to assess your current architecture, provide recommendations and fixes, develop data maintenance plans, and help you develop a system to get your data to those who need it.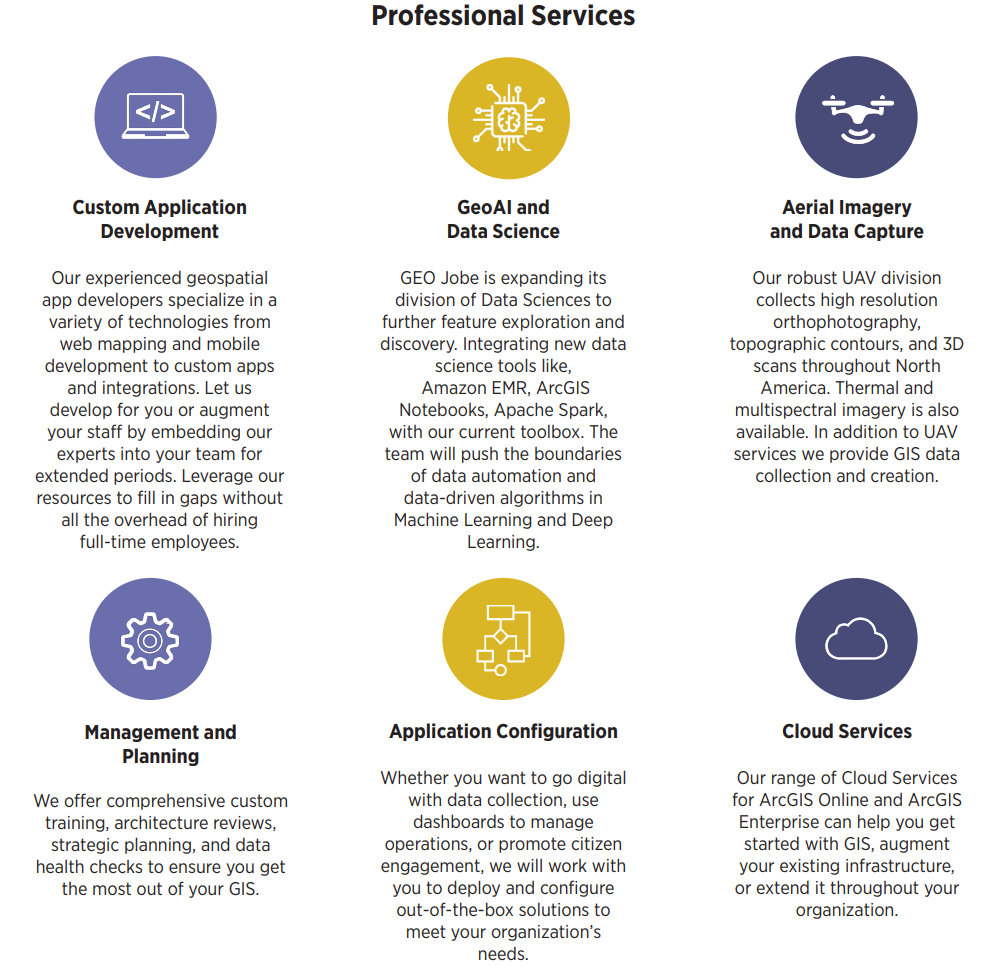 GEO Jobe UAV
Whether you want to enhance your existing GIS with an up-to-date orthophoto, contours, and planimetrics or use a 3D point cloud and model for planning, the GEO Jobe UAV team can help. With our diverse set of platforms and sensors (fixed-wing and multi-rotor UAVs; thermal, 3D, and multispectral sensors), we are able to accommodate just about any project you can imagine...and with incredible accuracy! When you hire GEO Jobe to fly a site, you can expect the following of the data: a GSD of less than 1.25 inches; horizontal accuracy of less than 1 inch; and vertical accuracy of less than 1.5 inches. 
While we are in the GIS business, we know people use other programs--and that's okay! We regularly produce data for use in CAD programs, as well as GIS, depending on each client's needs.
What exactly can we do for you?
2D Orthophoto Updates
: Great to use as a simple basemap, accurately locate assets, or track construction progress.
Dense 3D Point Cloud
: Bring this powerful dataset into your GIS or CAD program for all your planning needs. Take it a step further with a 3D model for a more realistic view!
Planimetric Feature Extraction
: Edges of pavement, buildings, manholes...the list is endless! All in a file geodatabase or as a CAD file.
Contours
: An essential component of any surveying project.
Thermal Mapping
: Find out where you have leaky infrastructure. Keep the heat IN and the cold OUT! 
Multispectral Mapping
: Farmers, we're here for you, too! See your crops in a different light with NDVI and other index maps to help improve your yield.

To request a free quote, head over to www.flythis.net.