Overview:
For over a decade, iSpatial Techno Solutions provides smart solution frameworks that delivers the value proposition to our clients in the area of Location based Geo Enabled solutions (GIS- 3D and 2D), Web/Mobility solutions, Business Analytics, Business Process Automation and Enterprise Integration Solutions. Our innovation team works extensively building solutions using envision technologies like ESRI Suit of products, Artificial Intelligence, IoT and Big data analytics. iSpatialTec has been providing award-winning solution implementations to our customers in various industry domains such as Utilities (Electrical, Water, Gas and Telecom), City Government, Oil & Gas and Transportation. We have four offices across the globe – California - USA , Abu Dhabi - UAE and offshore development centers in Hyderabad -India.
Solutions and Services :
iSpatialTec started with a vision of providing a smart solution to automate the business process into a Software solution. We have successfully built the Rapid Solution development platforms which will help to quickly deliver high-quality solutions with optimized cost. We have successfully built 5 smart solution frameworks which will help us to deliver the value proposition to our clients in the area of Location based Geo Enabled solutions (GIS- 3D and 2D), Web/Mobility solutions, Business Analytics, Business Process Automation and Enterprise Integration Solutions. Our innovation team also working extensively building solutions using envision technologies like Artificial Intelligence, Deep learning, Augmenting Reality, Virtual Reality, 3D solutions, Automation and Big data analytics.
Enterprise GIS Deployment and Development Services

ArcGIS Enterprise setup, and configuration

ArcGIS Online setup and configuration

Portal for ArcGIS

ArcGIS Hub

Utility Network Migration

Web Application Development

Experience Builder

Web AppBuilder

Operations Dashboard

Story Maps

Navigator for ArcGIS
Survey123
Utility Network Consultancy and Migration

Mobile Application Configuration and Development

Collector for ArcGIS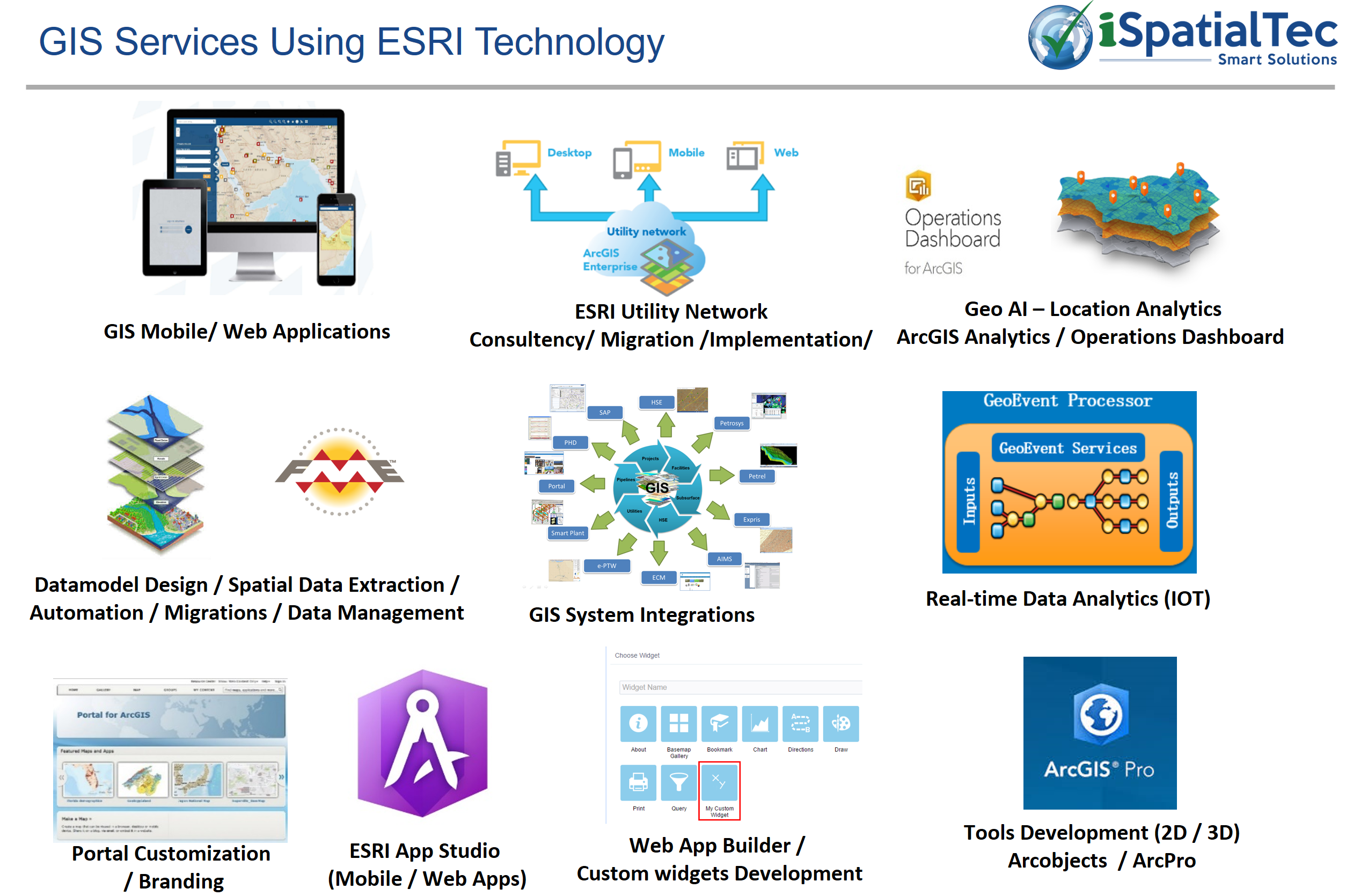 Our Strengths :

iSpatialTec has been delivering technology solutions globally which facilitate efficiency, increased productivity, performance, transparency and online workflows, incorporating built in processes, controls, programs and interfaces. Our solutions aid in quick decision making which is facilitated by the analysis of various data sources and business logic rules, leading to increased efficiency and productivity at all levels.
Industries:
We leverage our large knowledge base to deliver solutions that meet customer's needs, solving business challenges, Improving the operational efficiency across various industry domains such as Smart Cities, Government Sectors, Oil & Gas, Utilities, Transportation, Insurance, Banking, Property Development, Environmental, Educational and Healthcare verticals utilizing latest cutting edge technologies.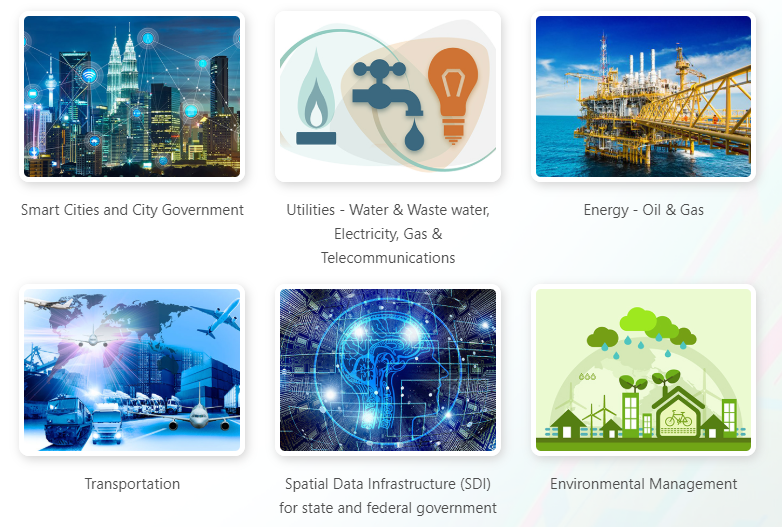 Solutions:


Braein is a smart IOT analytics and AI based solution, which  helps to build live monitoring intelligence dashboards,  predictive analytics based on the deep learning algorithms, location intelligence, speech recognition and analyzing  patterns from historical data.
Improve Operational efficiency, save time and cost, Improve accuracy of information.
Optimizing the business operations and improve operational efficiency, live and accurate information is essential. Most of the systems are working independently and providing the monitoring platforms. Connecting all live systems to the centralized big data environment to perform live condition monitoring, alerts and notification helps in optimizing the business operations. Also Location based AI analytics helps for taking smart operational Decisions.
Technology:  Dialogflow, Tensorflow, Predictive Analytics, IOT Integration, ESRI Location Analytics, BI Reports, Content management, Big Data, System integration, Robotics API.

Web and Mobile-based GIS application (2D/3D) framework for managing assets and streamline workflows.
With Smart Geo Apps you can build cost effective Geo enabled applications with optimized time. Optimized insights of your business, through analysis, Data visualization and reports using your spatial data.
Quickly develop Geo Enables Application as per your specific Business requirements

Easily maintained, Extend the functions as per the business maturity.

Deliver great UI using latest technology framework like HTML-5 and Bootstrap framework can be accessed in mobile and Web browser.

Can easily integrate with any other business systems

Easy to build geo enables KPI dashboard and analytical reports.

Support latest ESRI ArcGIS 10.7 environment.

Smart Geo Framework easy to upgrade to new version of ESRI environment.

Well integrated with Portal for ArcGIS environment and ArcGIS Online.

Can easily integrate with live feed data system and provide Geo Enabled online dashboards.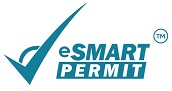 eSmart Permit is a web-based online solution to automating your work permit approval process easy.
Automate the Permit Business Process.

Easy to monitor the progress.

Configure KPI's for the approval process.

Easy to use the solution.

Easy to extend the functionality.

Location-based spatial analysis.

Audit log and history

Save time & Cost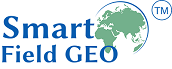 Smart Field Geo is a field mobile application to perform on-the-spot location analysis and to take accurate decisions during the field operations
Map Navigation tools

Search with facility ID

Search with work order number

Buffering Analysis (Spatial Query)

Identify facilities details

TOC with layers On/Off

North Arrow, scale bar.

Redlining, Offline Data viewing

Export Map, Email Map (Optional)

Import Utilities layers to GIS application from the server location.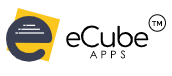 eCube Apps is a cloud based data collection and analysis solution which can be used for Field Data Collection, Online Registrations etc.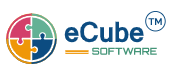 eCube Software is a rapid application development platform for building Web and Mobile-based business applications in quick time & less cost.
Awards:

iSpatialTec is proud to receive Esri GeoInnovation award for presenting "BrAeIn" a Geo.ai framework that transforms business data with actionable insights using predictive power of AI and location intelligence leveraging Esri based technology.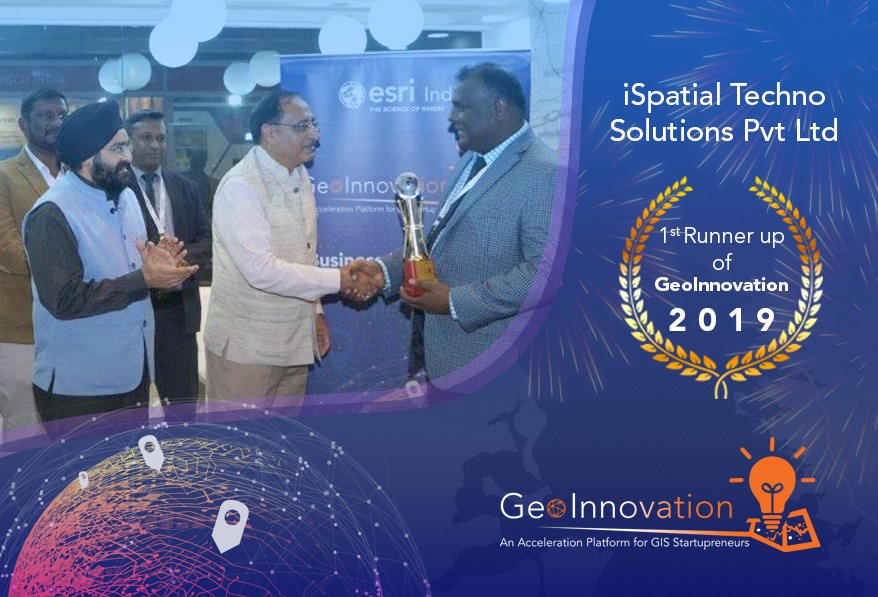 View the 
video
 to see more services offered.