Standards and Specifications
---
Esri has a decades-long commitment to open standards and interoperability. Esri actively contributes to international standards development processes and has a history of open-sourcing its format specifications such as the shapefile and indexed 3D scene layers.
Standards Development Organizations
---
Esri maintains membership in, provides active geospatial expertise to, and participates in community engagement with a number of international standards development organizations (SDOs).
ISO/TC 211

International Organization for Standardization Technical Committee 211

OGC

Open Geospatial Consortium

W3C

World Wide Web Consortium

IHO

International Hydrographic Organization
Show More
Supported open geospatial standards
ArcGIS is the leading system in its support for OGC and ISO standards. Search for all OGC standards supported by Esri products and different versions of our software.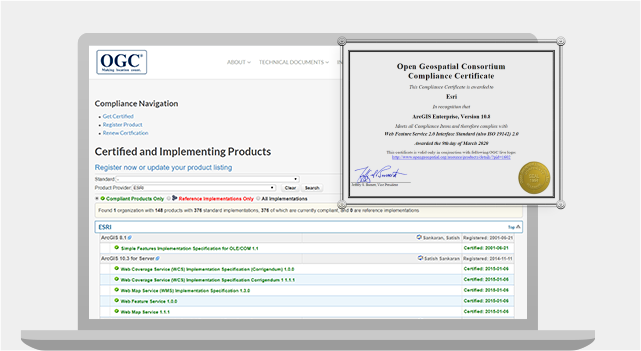 Esri published specifications
---
Esri publishes many widely used specifications to help spur interoperability and innovation in the geospatial community. These specifications are available for download, inspection, and reuse.
Show More
Sign up for news about Esri's open, flexible, and interoperable system.