Build GIS apps for web and mobile
Modern workflows require modern apps. Integrate your data in web and mobile apps to engage external audiences and help stakeholders make informed decisions with the App Builders suite. Exercise creative freedom in building apps that will help you achieve your objectives. Maximize your ArcGIS investment and your existing talent pool to build apps without writing a single line of code.
Amplify the power of your data
Build dynamic apps for any purpose
Whether you want to share mapcentric apps, publish interactive stories, create informative dashboards, deploy mobile apps, or build powerful geographic information system (GIS) web apps, we have the app builder for you. These no code App Builders can be deployed as a software as a service (SaaS) or on-premises.
Share your maps
Transform your maps into apps in minutes to provide an intuitive mapping experience to any audience. Simply create your map, select a template, configure it, then share your web app—all without leaving ArcGIS Online.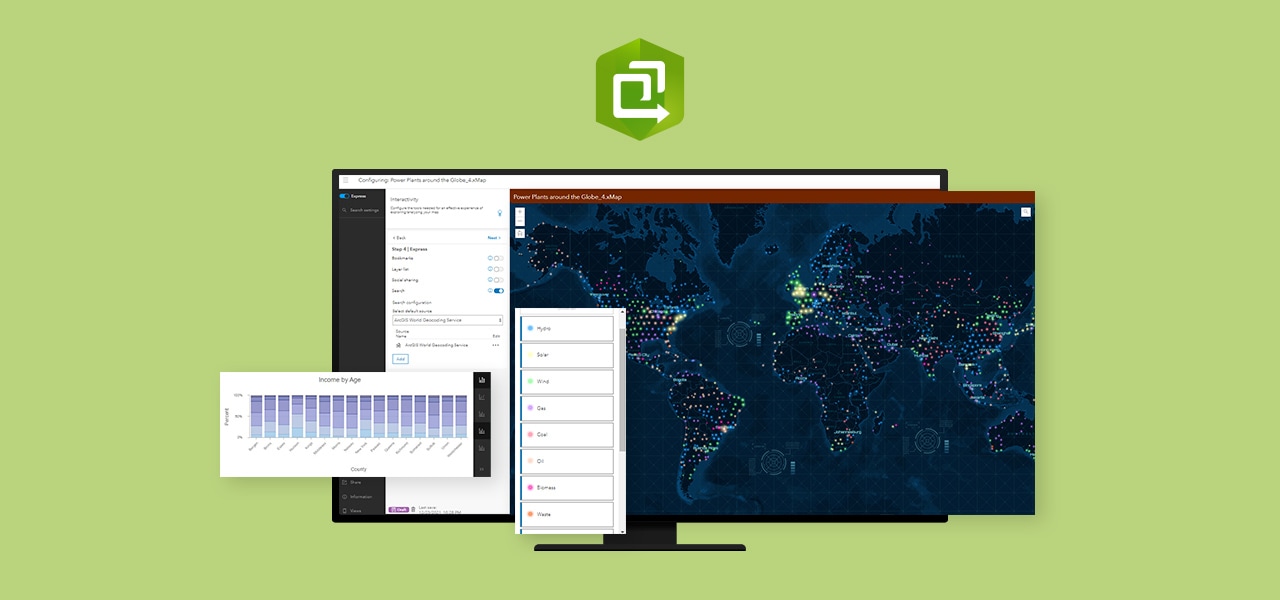 Visualize your data on dashboards
Present location-based analytics using interactive and easy-to-read data visualization on a dashboard. Make informative decisions, visualize trends, monitor status in real time, and inform communities. Convey information to your audience through a robust suite of tools, including maps, lists, charts, and gauges.
Publish compelling stories
Transform your GIS work into stories that inform and inspire. Whether you want to effect change, influence opinion, or create awareness, maps are an integral part of storytelling as they establish a stronger sense of place and illustrate spatial relationships to add credibility to your ideas. Weave in text, photos, and videos to your maps and web scenes to create contextual narratives that are easy to publish and share.
Create cross-platform mobile apps
Build and deploy geoenabled cross-platform mobile apps. Configure one app that will run on any device, including smartphones (iOS and Android), tablets, laptops, and desktops—even while offline. Deploy your mobile apps to your enterprise or to app stores. Out-of-the-box templates make app building quick and easy.
Deploy modern web experiences
Magnify the value of your data and maps through interactive web experiences that look great on any screen size. Start from scratch or choose from an extensive library of templates that you can easily customize. Add advanced functionality with widgets you can drag, drop, and configure. Enjoy flexible layout options to build web apps for any purpose. If you can envision it, you can build it.
Take the apps you build even further
Use ArcGIS Hub to unify apps and content in easy-to-create destination websites. Apply custom domains and branding to improve discovery of your work. Support collaboration and community engagement with additional features included in ArcGIS Hub Premium.
User app
Interactive Data Explorer
Direct Relief created an app, built using the ArcGIS Instant Apps interactive legend.
App Builders are included with the following user types