ArcGIS Image for ArcGIS Online is a complete software as a service (SaaS) offering for hosting, analyzing, and streaming imagery and raster collections. Save on infrastructure costs and maintenance using a secure, scalable, and performant cloud environment that quickly integrates imagery into all your workflows.
Simplify the way you work with imagery
Follow an end-to-end demonstration that shows how you can make decisions with up-to-date GIS data created from aerial, elevation, and lidar data.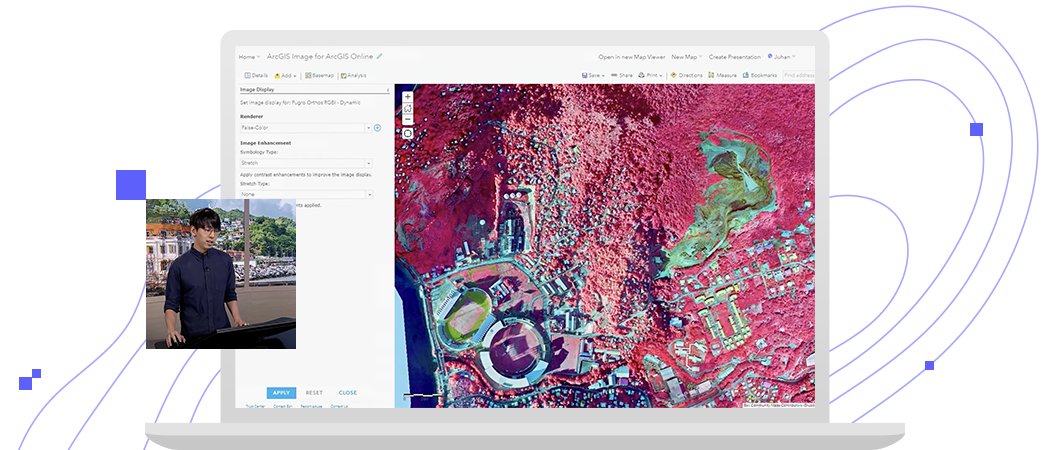 What can you do with ArcGIS Image for ArcGIS Online?
How it works
Host imagery
Upload imagery and rasters into ArcGIS Online for secure storage and management.
Stream imagery
Stream intelligent tiled imagery that's performant and analysis ready. Serve dynamic imagery that offers on-the-fly processing and dynamic mosaicking.
Analyze imagery
Make sense of imagery and raster collections to understand climate change, urban sprawl, agriculture production, and more.
Case Study
ArcGIS Image streamlines preservation efforts
United Kingdom-based National Trust uses ArcGIS Image for ArcGIS Online to host and share imagery that supports historical site preservation.
Pricing
ArcGIS Image for ArcGIS Online is a user type extension that adds imagery hosting, streaming of tiled and dynamic imagery layers, and analysis capabilities to the Creator and GIS Professional user types.