ArcGIS Indoors enables your organization to build an indoor geographic information system (GIS) and put the power of indoor mapping, wayfinding, and space management software into everyone's hands. With three license levels available, ArcGIS Indoors Pro, Indoors Maps, and Indoors Spaces, your organization can consolidate your asset and space information into a single place, the indoor map, and provide easily accessible web and mobile apps, for location discovery, wayfinding, room reservations, and space planning.
Explore indoor GIS
Unlock the full power of GIS inside your facilities to transform your facilities management, building interaction, and space use.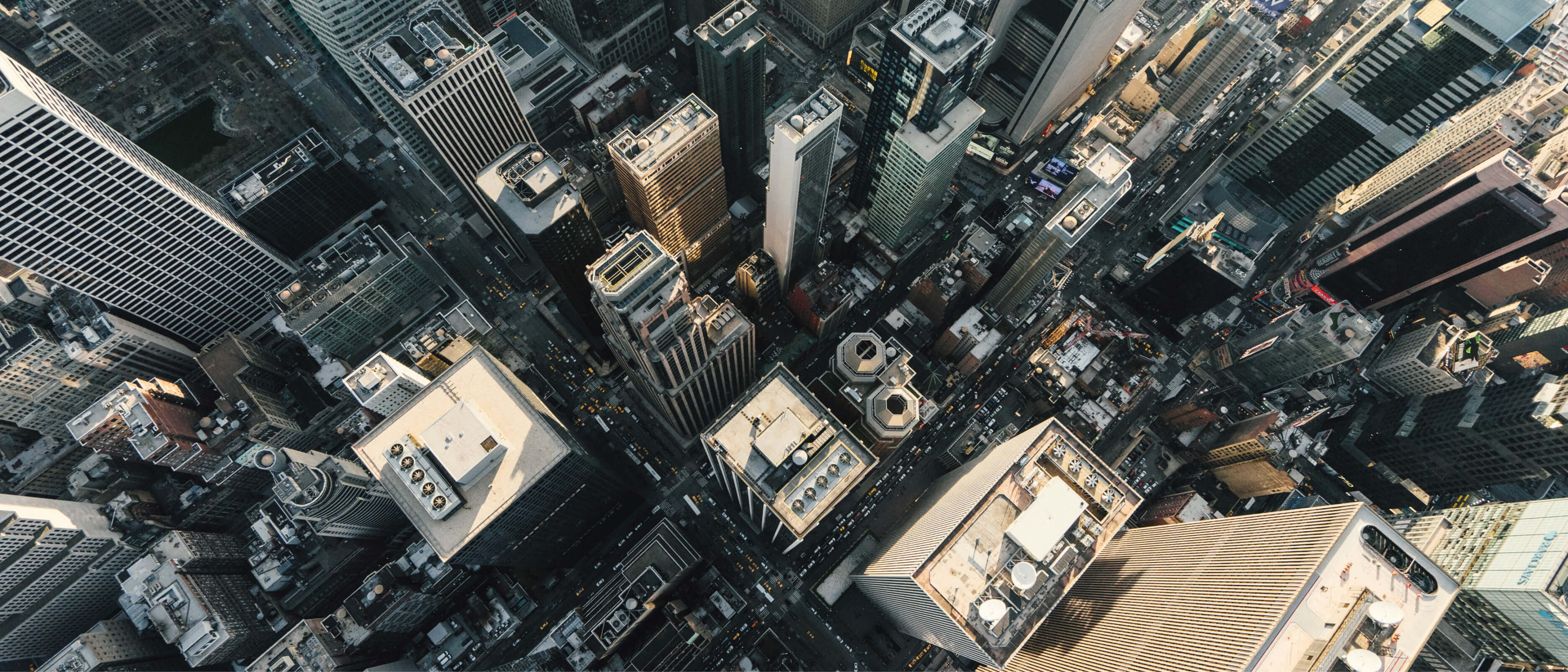 Benefits of ArcGIS Indoors
How ArcGIS Indoors works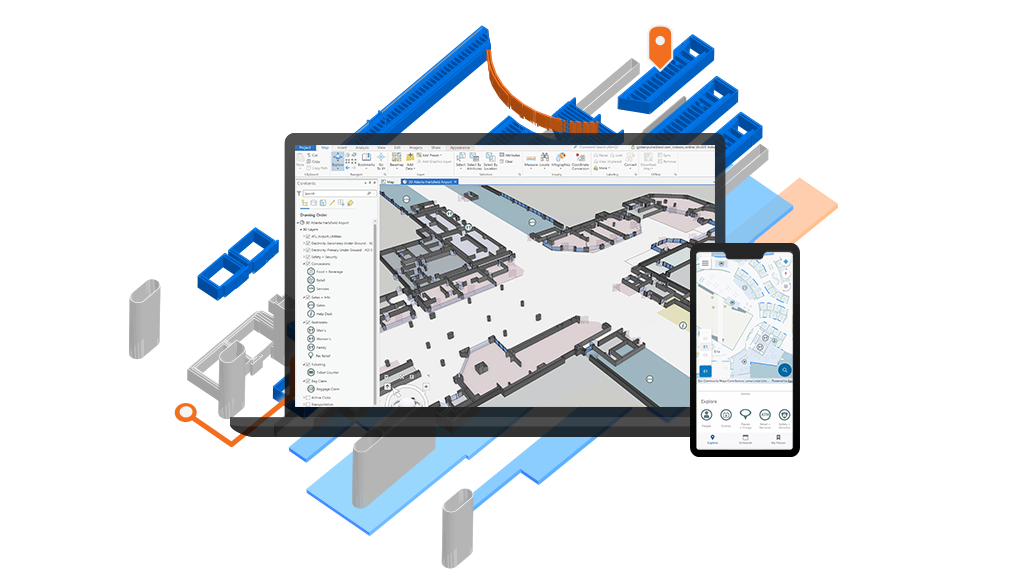 Build an indoor system of record
ArcGIS Indoors Pro allows you to combine your disparate indoor data into a geospatial system of record.
Create digital, easy-to-navigate indoor maps
With the single source of indoor data, create intuitive and easily understood floor-aware indoor maps that highlight people, places, and assets.
Put indoor maps into everyone's hands
Give everyone access to indoor maps with ArcGIS Indoors Mobile. Empower space planners with space management maps for use in the Space Planner app.
Inform operations and decision-making
ArcGIS Indoors provides complete situational awareness of your space, giving operations staff and decision-makers crucial location intelligence.
ArcGIS Indoors Pro
ArcGIS Indoors Pro is an extension for ArcGIS Pro that provides tools for combining various indoor datasets and creating and sharing floor-aware, indoor maps.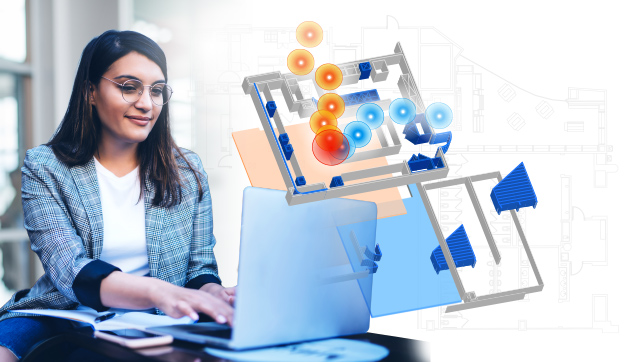 ArcGIS Indoors Maps
ArcGIS Indoors Maps allows you to put your indoor maps into everyone's hands in your organization. The Indoors Viewer and Kiosk web apps, along with Indoors Mobile, enable location discovery and wayfinding, with real-time navigation possible with the addition of ArcGIS IPS.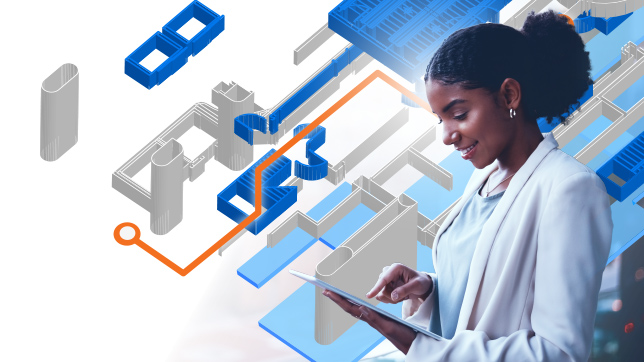 ArcGIS Indoors Spaces
ArcGIS Indoors Spaces extends the capabilities of ArcGIS Indoors Maps with space management software. With the Indoors Space Planner web app, understand how space is used, assign or reassign space, and enable space reservations and office hoteling.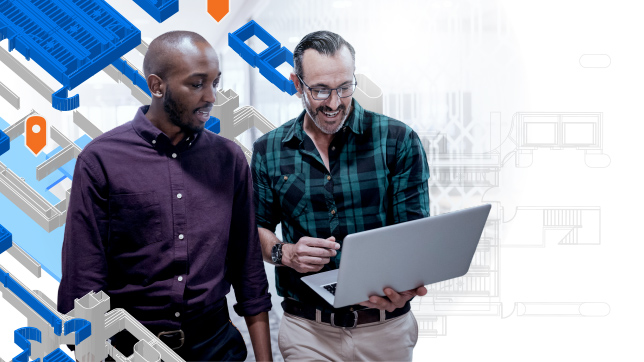 Enhance your existing GIS
ArcGIS Indoors is delivered on-premises through ArcGIS Enterprise or on the web via ArcGIS Online. It is easier than ever to extend your existing GIS to be Indoors enabled.
ArcGIS Survey123
Service requests can be submitted through ArcGIS Survey123 to let facilities or IT know exactly where work is needed.
ArcGIS IPS
ArcGIS IPS is Esri's own indoor positioning system. It enables real-time navigation and location sharing represented by the blue dot on an indoor map.
ArcGIS Field Maps
ArcGIS Field Maps can use indoor maps to help field workers perform data collection and inspections, update asset status, and edit geographic data, all on a mobile device.
STORYMAP
King County
King County utilizes ArcGIS Indoors to leverage indoor space management and effectively meet the requirements of their hybrid workplace model.
Join the ArcGIS Indoors community
---
Please share your information and our sales team will contact you soon. We look forward to communicating with you.