Produce Authoritative Defense-Specific Data
Leverage business-rule-driven tools during feature extraction to reject the creation of non-compliant data. Produce defense-specific map and data products quickly through a suite of database-driven production and cartographic finishing tools.
Synchronize Your Data
Automatically synchronize changes between sites, teams, or external data partners and cooperators using replication tools. Assess data quality using both commercial off-the-shelf and integrated government off-the-shelf tools to ensure compliance with published data model specifications.
Manage Workflows
Capture and distribute best practices and procedures in the form of workflows. Automate and track work execution, and conduct resource leveling to improve efficiencies and ensure repeatability of data management activities.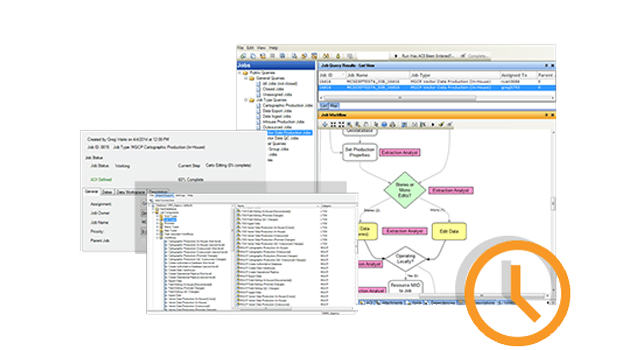 Supported Data Models and Map Series
Multinational Geospatial Co-Production Program (MGCP)
TRD 2.0
TRD 3.0
TRD 4.0
TRD 4.1
TRD 4.2
TRD 4.3
TRD 4.4
Topographic Data Stores (TDS)
TDS 4.0
TDS 5.0
TDS 6.1
TDS 7.0
Theater Geospatial Databases (TGD)
Vector Map Series
VMap Level 0
VMap Level 1 and 1:250,000- and JOG-A cartographic products
VMap Level 2 and 1:50,000- and 1:100,000-scale TLM cartographic products
Urban Vector Map (UVMap)
Geospatial Intelligence Feature Database (GIFD)
Other Models
Image City Maps (ICMs)
Vector Interim Terrain Data (VITD)