The excitement is growing! We are days away from the 2022 Esri User Conference. This is the largest gathering of GIS professionals in the world, and it is happening both in-person and virtually from July 11-15 in San Diego, California. This is an event like no other, where you get to see the latest technology, talk to experts, and connect with other like-minded individuals who are using GIS to solve the world's biggest challenges.
To meet these challenges, organizations need scalable solutions that that not only solve today's challenges, but also align to their strategic future vision. ArcGIS is the foundation for Digital twins, providing solutions to achieve this vision and their transformation objectives
Digital Twins are abstracting and modeling everything. They offer a means to improve business processes, reduce risk, optimize operational efficiencies, and enhance decision-making with automation to predict future outcomes. Digital twins provide greater context to solve business challenges by creating relationships and streamlining workflows.
To best prepare you for your Esri UC 2022 experience, this blog will cover the ways you can learn more about how ArcGIS is the foundation of Digital Twins and provide you with a curated list of sessions on digital twin technologies, special Interest groups, and customer presentations.
Agenda Highlights
Esri Showcase
If you will be joining us at the San Diego Convention Center, you can find the dedicated product areas and a focused infrastructure zone on the main show floor(Ground Level, Exhibit Halls ABC). Visit us to speak with industry and product experts, see demonstrations, and learn more about creating a connected Digital Twin across all infrastructure Industries
Infrastructure Showcase Hours
Tuesday, July 12: 9:00 a.m. — 6:00 p.m.
Wednesday, July 13: 9:00 a.m. — 6:00 p.m.
Thursday, July 14: 9:00 a.m. — 4:00 p.m.

Special Interest Group Session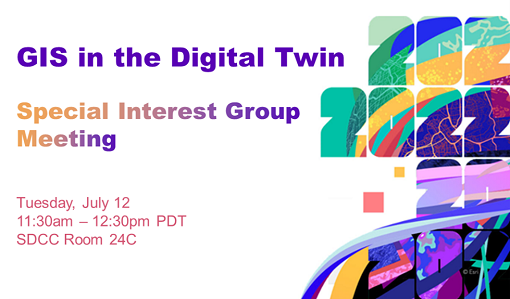 GIS in the Digital Twin
Tuesday, July 12, 11:30 a.m. — 12:30 p.m.
SDCC – Room 24 C
SPECIAL INTEREST GROUP MEETING
Attend this SIG to meet and engage with other users who are focused on deploying Digital Twins in their industry. Esri will have experts on site to hope facilitate conversations and connect you with like-minded peers.
Matt Piper, Esri | Kathleen Kewley, Esri | Micah Callough, Esri | Dan Issacs, Esri | Steven Anderson, Esri
Complete this Survey before this meeting to help guide the conversation and share your insights: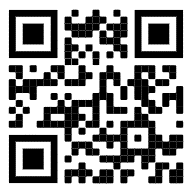 Customer Digital Twin Sessions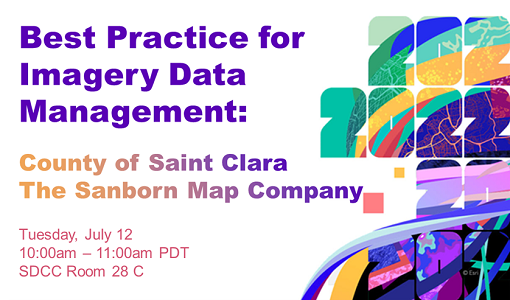 Best Practice for Imagery Data Management
Tuesday, July 12, 10:00 a.m. — 11:00 a.m.
SDCC – Room 28 C
USER PRESENTATION
This session will highlight how two organizations are managing, working with, and sharing imagery and 3D data to support greater decision-making. Details specific to buildings are vital pieces of information related to both urban and rural populations and are fundamental to planning and policymaking. Critical infrastructures, such as public transport, electricity, water distribution networks, and emergency services, rely heavily on accurate building maps. It is a natural progression for our GIS data to evolve to a 3D representation. Esri's newest software technology enable Digital Twin visualization-based GIS system integration
Yoko Myers, County of Santa Clara | Jason Caldwell, The Sanborn Map Company, Inc.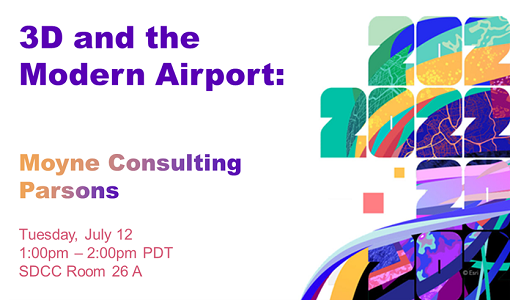 Best Practice for Imagery Data Management
Tuesday, July 12, 1:00 p.m. — 2:00 p.m.
SDCC – Room 26 A
USER PRESENTATION
Increasingly airports are building 3D models of their facilities and digital twins to support a wide range of activities related to airport operations and management. These two presentations represent leading edge examples of how 3D GIS is helping airports be more efficient, and provide a safer and smoother customer experience including the implementation and integration of the Dallas Fort Worth Airport (DFW) Digital Infrastructure Platform
Mark Edwards, Moye Consulting | Howard Shotz, Parsons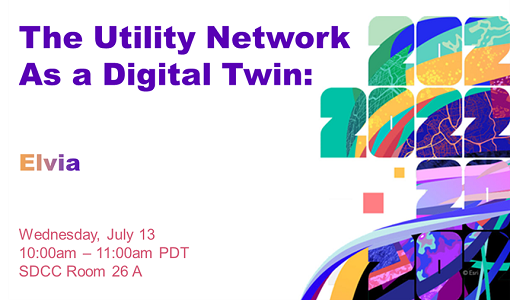 The Utility Network as a Digital Twin
Wednesday, July 13, 10:00 a.m. — 11:00 a.m.
SDCC – Room 26 A
USER PRESENTATION
Esri's ArcGIS Utility Network moves utilities from a strictly mapping view of their grid to a model view. This session examines how utilities are using the utility network in new ways. Elvia uses the Utility Network for their digital twin of the grid. They have created an advanced migration engine continuously migrating network information from two different legacy solutions and into a consolidated UN. This allows an agile transition gradually adding complete process support with new products and integrations
Svein Arne Rakstang, Elvia | Jens Dalsgaard, Volue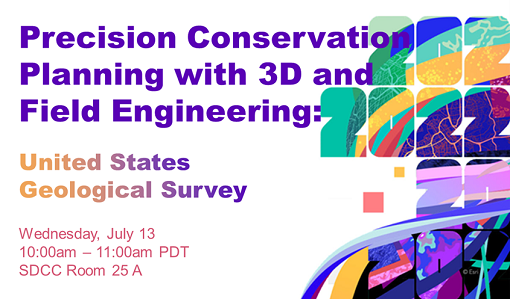 Precision Conservation Planning with 3D and Field Engineering
Wednesday, July 13, 10:00 a.m. — 11:00 a.m.
SDCC – Room 25 A
USER PRESENTATION
Conservation planning requires context and understanding. Integrating available data and services into a digital twin of the landscape can aid in understanding complex dynamics and support effective decision making and management. This session will feature new visualization and integration approaches to advancing conservation planning at scale.
John Wolf, United States Geological Survey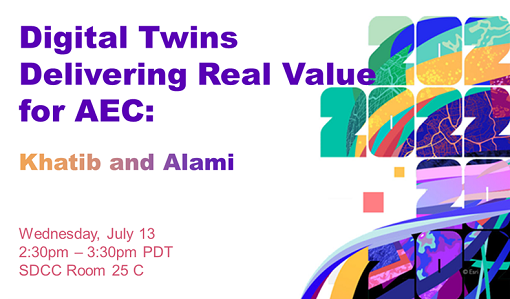 Digital Twins Delivering Real Value for AEC
Wednesday, July 13, 2:30 p.m. — 3:30 p.m.
SDCC – Room 25 C
USER PRESENTATION
The need for one bird eye overview on the reality, unlock the unseen, and mimic the future inspires K&A to geo-enable a reality model using Esri technology. Join this session to learn from real-world examples showing how GIS is enabling Digital Twin delivery in AEC.
predicting affected areas out of environmental changes such as flooding to prevent loses,
enhancing security, site seen analysis and response to alerts
discovering routes and alternative paths in case of emergency, and accessibility to red zones in optimized ways
Rouba Zantout, Khatib and Alami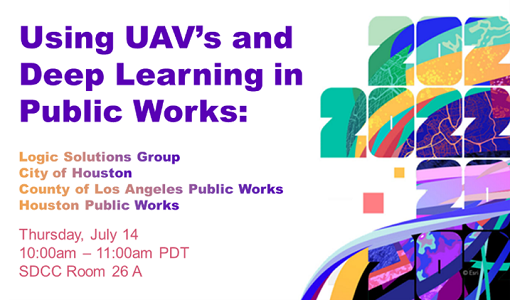 Using UAV's and Deep Learning in Public Works
Thursday, July 14, 10:00 a.m. — 11:00 a.m.
SDCC – Room 26 A
USER PRESENTATION
Public Works agencies are some of the first within government to leverage the latest technological trends to save time, reduce costs while improving services, and revenue capture. Make sure to attend this session and see how the two of the largest jurisdictions in the country are collecting and analyzing drone imagery to assess the conditions of their assets and using deep learning algorithms in ArcGIS Pro to identify the square feet of impervious surfaces for every parcel in their community.
Todd Buelhman, LOGIC Solutions Group | Cheryl Harris, City of Houston | Christine Lam, GIS Manager, County of Los Angeles Public Works | Raj Shah, Systems Consultant/IT Projects, City of Houston | Steve Loo, Managing Engineer, Houston Public Works
Tanu Hiremath, Houston Public Works
Delivering Facilities Digital Twins with ArcGIS Indoors
Thursday, July 14, 2:30 p.m. — 3:30 p.m.
SDCC – Room 28 C
USER PRESENTATION
If the goal of an organization is to have access to historical accuracy, view current performance, or predict future state of their built environment, then a Facilities Digital Twin of the real-world system benefits from the inclusion of GIS data. Join this session to hear how ArcGIS is combined with various data and collection devices to produce Facilities Digital Twins and improve insights and improve total cost of operations.
Yavuz Eren, MipMap Technologies | Mike Colosimo, IndoorVu Inc | Felicity Cross, Yurok Tribe
Esri Demonstration Sessions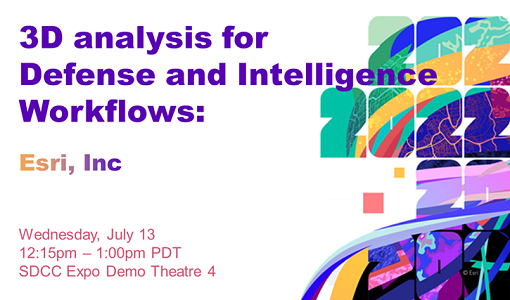 3D Analysis for Defense and Intelligence Workflows
Wednesday, July 13, 12:15 p.m. — 1:00 p.m.
SDCC – Expo Demo Theater 4
DEMO THEATRE PRESENTATION
In this workshop, users will learn how to leverage 3D capabilities across the entire Esri ecosystem to better understand their mission space and support their users on the front lines. This workshop will cover 3D defense and intelligence workflows in ArcGIS Earth, ArcGIS Pro, and ArcGIS Enterprise including the use of the ArcGIS 3D Analyst extension, Empirical Bayesian Kriging 3D (EBK3D), various geoprocessing analysis examples (e.g., line of sight, viewsheds, volumetric analysis), exploratory 3D analysis techniques, and sharing 3D web applications.
Max Ozenberger, Esri | Stuart Penninger, Esri | Christopher Lee, Esri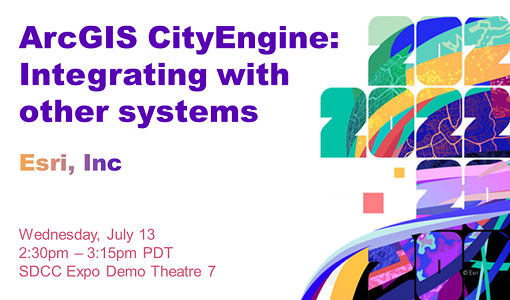 ArcGIS CityEngine: Integrating with other Systems
Wednesday, July 13, 2:30 p.m. — 3:15 p.m.
SDCC – Expo Demo Theater 7
DEMO THEATRE PRESENTATION
ArcGIS CityEngine is an advanced modeling software that can be used in conjunction with other tools to enhance 3D workflows. This session will provide an overview of how to leverage the power of Twinmotion, Game Engines and NVIDIA Omniverse, and how to take advantage of CityEngine Plugins as well as PyPRT, a Python binding for CityEngine Procedural Runtime.
Taisha Fabricus, Esri | Jonathan Meier, Esri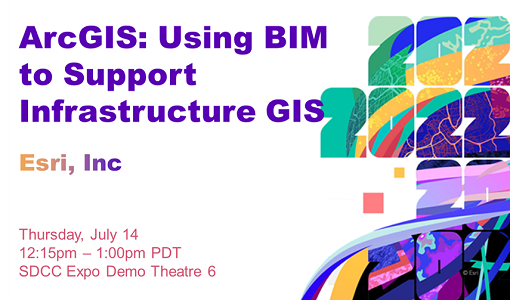 ArcGIS: Using BIM to Support Infrastructure GIS
Thursday, July 14, 12:15 p.m. — 1:00 p.m.
SDCC – Expo Demo Theater 06
DEMO THEATER PRESENTATION
Building Information Modeling (BIM) is a known process to develop attribute-rich digital models of buildings that can be brought into ArcGIS. However, did you know infrastructure is also modeled through this process and can be directly brought into your GIS? Learn how ArcGIS Pro reads various infrastructure BIM into features, including IFC, and how sharing these as hosted services can help your teams visualize assets with robust attribution that are useful in web applications.
Anthony Renteria, Esri | David Alvarez, Esri
Partner Demonstration Sessions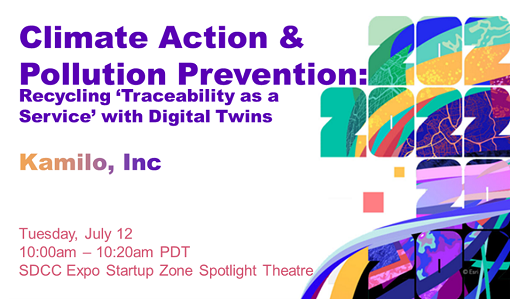 Climate Action & Pollution Prevention: Recycling 'Traceability as a Service' with Digital Twins
Tuesday, July 12, 10:00 a.m. — 10:20 a.m.
SDCC – Expo Startup Zone Spotlight Theater
DEMO THEATRE PRESENTATION
Climate action and ocean plastic pollution are central components of business and policy conversations globally. Industries are being pressured to utilize material recovery and recycling to limit greenhouse gas (GHG) emissions in product manufacturing in support of a low carbon circular economy. This talk will demonstrate how to track and verify the profound environmental upsides of plastics recycling efforts and how benefits multiply when recycling rates are improved.
William Robberson, President / CTO, Kamilo, Inc.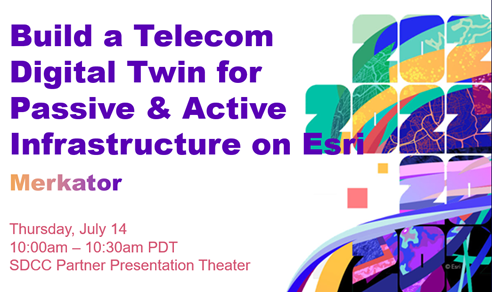 Build a Telecom Digital Twin for Passive and Active Infrastructure on Esri
Thursday, July 14, 10:00 a.m. — 10:30 a.m.
SDCC – Partner Presentation Theater
PARTNER THEATRE PRESENTATION
Learn how TIER1 telecom operators build a Telecom Digital Twin for active and passive infrastructure and learn about its benefits for the engineering, operations, monitoring and sales teams – powered by the Esri stack. A true Telecom Digital Twin provides a single-source-of-truth, supports incident simulations and faster root-cause analysis – reducing the number of reports, ETL's and meetings between the different teams that work on your network. This presentation highlights the learnings from a TIER1 telecom customer of Marlin Digital Twin.
Luc De Heyn, CCO, Merkator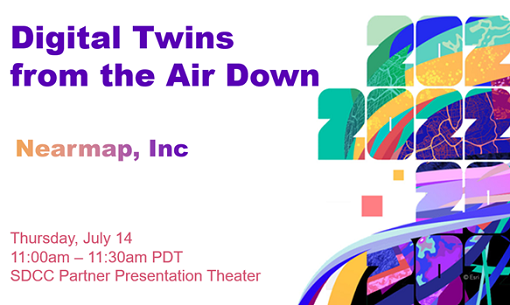 Digital Twins from the Air Down
Thursday, July 14, 11:00 a.m. — 11:30 a.m.
SDCC – Partner Presentation Theater
PARTNER THEATRE PRESENTATION
A digital twin is a valuable tool to model, collaborate, and test many scenarios in the built environment, but creating one requires significant data. So how do you start? High resolution and precision 3D aerial imagery can serve as the foundation and fabric for a digital twin of the built environment. Automated feature extraction from AI uniquely identifies critical infrastructure and can be used to grow an urban digital twin—removing guess work and shortening development time. You'll learn how to use Nearmap 2D/3D/AI and Esri tools to build a digital twin and the use cases it can support.
Jeff Saunders , Nearmap, Inc.
Technology Workshop Sessions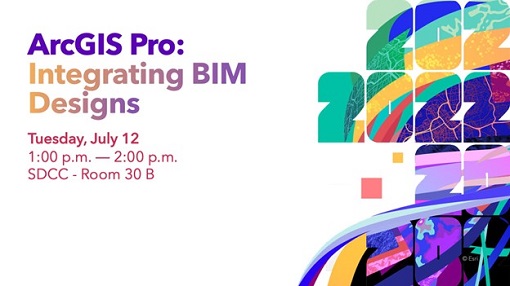 ArcGIS Pro: Integrating BIM Designs
Tuesday, July 12, 1:00 p.m. — 2:00 p.m.
SDCC – Room 30 B
TECHNICAL WORKSHOP
Building Information Models (BIM) are attribute-rich digital models of buildings and infrastructure. ArcGIS Pro can now help you not only visualize this information, but also access the rich attributes and 3D content in your GIS by directly reading IFC and Revit files. This session will show how you can use your Building Information Models (BIM), used for architectural designs, as part of a broader geospatial environment earlier in the design process.
David Alvarez, Esri, Karen Hodge, Esri | Jeff Reinhart, Esri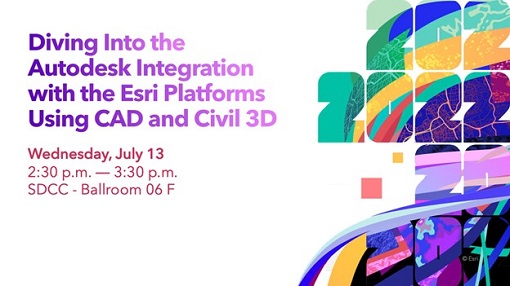 Diving Into the Autodesk® Integration with the Esri Platforms Using CAD and Civil 3D®
Wednesday, July 13, 2:30 p.m. — 3:30 p.m.
SDCC – Ballroom 06 F
TECHNICAL WORKSHOP
GIS workflows rely on CAD and Civil 3D data generated by outside survey, engineering, and architectural sources. In this session, we show how to leverage your AutoCAD® and Civil 3D data using proper techniques along with exploring workflows to easily position these files to be used in your work. You will learn how to insert and append them into a Geodatabase to subsequently publish it in ArcGIS Online and make them available to the whole organization.
Richard Horrocks, Esri | Jeff Reinhart, Esri | Prasanta Bhattarai, Esri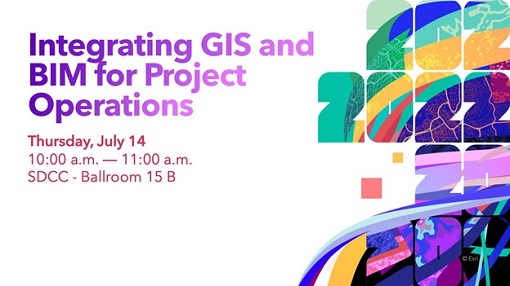 Integrating GIS and BIM for Project Operations
Thursday, July 14, 10:00 a.m. — 11:00 a.m.
SDCC – Ballroom 15 B
TECHNICAL WORKSHOP
Improvements to 3D capabilities in ArcGIS, direct integrations of BIM files, and cloud-to-cloud integration with ArcGIS GeoBIM enable AEC consultants and owner/operators to visualize, monitor, and gain value from a wide assortment of project datasets. Get an overview of how ArcGIS connects with design, construction, and operations workflows, discuss Esri's BIM connectivity in ArcGIS Pro, learn about GeoBIM workflows, and hear about other roadmap advancements.
Anthony Renteria, Esri | Erika Bocian, Esri
Product Introduction Sessions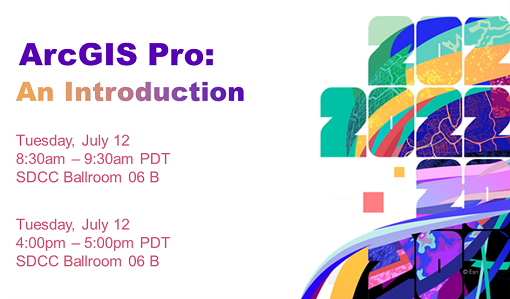 ArcGIS Pro: An Introduction
Tuesday, July 12, 9:30 a.m. — 10:30 a.m.
SDCC – Ballroom 06 B
Tuesday, July 12, 4:00 p.m. — 5:00 p.m.
SDCC – Ballroom 06 C
TECHNICAL WORKSHOP
Are you new to GIS or to ArcGIS desktop software? GIS allows people to visualize and analyze data to help solve spatial problems and make smarter decisions. In this workshop we will learn the fundamentals on how to get started with ArcGIS Pro. No prior experience is required. Learn about how to create maps and layouts, edit your data and perform analysis using ArcGIS Pro
Kory Kramer, Esri | Timothy Stoebner, Esri | Doug Harris, Esri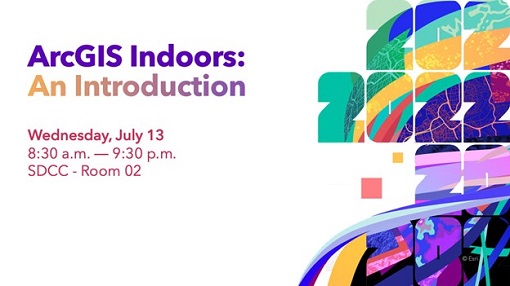 ArcGIS Indoors: An Introduction
Wednesday, July 13, 8:30 a.m. — 9:30 a.m.
SDCC – Room 02
TECHNICAL WORKSHOP
In this session, learn how to transform CAD and BIM floor plans into an information model in the geodatabase for authoring and sharing floor aware maps of your building interiors. Also learn how to leverage these indoor maps to power Indoors apps for space planning and offering employees, building occupants, and visitors a web and mobile experience for way-finding, workspace reservation, location sharing, building incident reporting, and more.
Marco Viola, Esri | Mohd Faraz Siddiqui, Esri | William Isley, Esri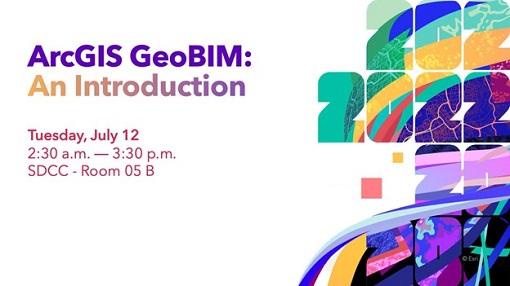 ArcGIS GeoBIM: An Introduction
Tuesday, July 12, 2:30 p.m. — 3:30 p.m.
SDCC – Room 05 B
TECHNICAL WORKSHOP
ArcGIS GeoBIM delivers an easy-to-use web-based experience for project teams to explore and collaborate on BIM projects using data from multiple systems in a geospatial context. AEC and Operations teams can work with their linked data from multiple systems in configurable web apps that simplify communication and collaboration with stakeholders. Come learn how to create apps in ArcGIS GeoBIM that reduce file conversion, increase access to evolving data, and share project information securely for better decision making. Find out about recent product updates and what's coming next on the ArcGIS GeoBIM roadmap.
Anthony Renteria, Esri | Stephen Brockwell, Esri | Ozgur Ertac, Esri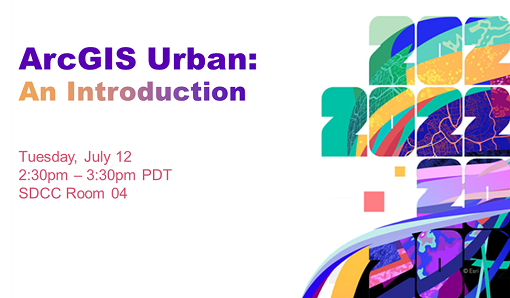 ArcGIS Urban: An Introduction
Tuesday, July 12, 2:30 p.m. — 3:30 p.m.
SDCC – Room 04
TECHNICAL WORKSHOP
ArcGIS Urban is a web-based 3D scenario planning tool for creating land use and zoning plans, and keeping track of development updates within a digital twin of your city. Traditional processes are being reorganized and every aspect transferred to online platforms. The "mainstreaming" of geospatial tools to enable adaptation and scenario planning work best if integrated into the everyday planning practice. Attend this session for an introduction to ArcGIS Urban, its latest released features and how to get started with it in your own community.
Brooks Patrick, Esri | Till Schmid, Esri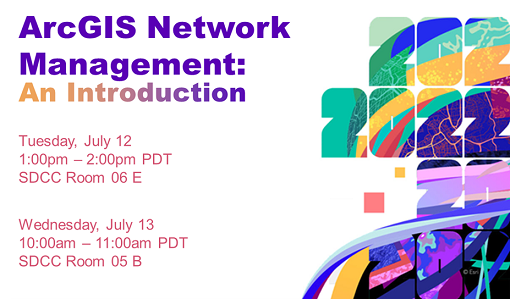 ArcGIS Network Management: An Introduction
Tuesday, July 12, 1:00 p.m. — 2:00 p.m.
SDCC – Room 06 E
Wednesday, July 13, 10:00 a.m. — 11:00 a.m.
SDCC – Room 05 B
TECHNICAL WORKSHOP
HYBRID SESSION on July 12th | Adoption of the ArcGIS Utility Network is growing across the world. This session will provide insight into the capabilities that enable next-generation network management for any utility system. It will include updates from the development team to showcase current and emerging functionality as they apply to utility information challenges and finally, we will discuss the road ahead to provide a look into the future of network management for utilities.
Davis Crawford, Esri | Remi Myers, Esri | Mohana Krishna Punnam, Esri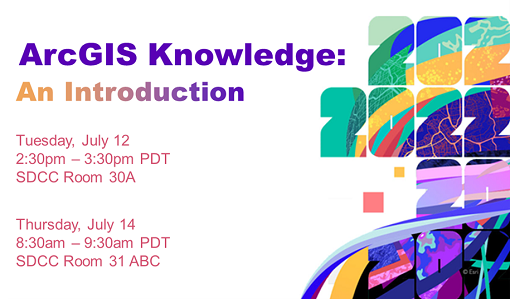 ArcGIS Knowledge: An Introduction
Tuesday, July 12, 2:30 p.m. — 3:30 p.m.
SDCC – Room 30 A
Thursday, July 14, 8:30 a.m. — 9:30 a.m.
SDCC – Room 31 ABC
TECHNICAL WORKSHOP
Learn about ArcGIS Knowledge, a new capability in ArcGIS Enterprise and ArcGIS Pro, where you can extend your workflows to explore, edit, and visualize knowledge graphs. You can also perform graph and spatial analysis to discover new patterns in your data.
Ty Fitzpatrick, Esri | Megan Banaski, Esri | Yundi Yang, Esri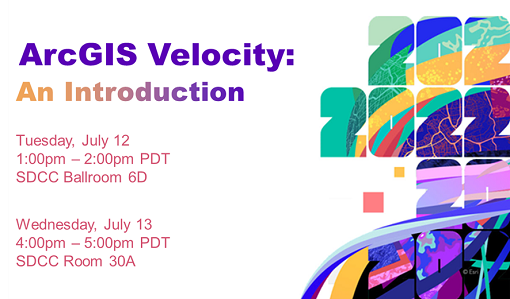 ArcGIS Velocity: An Introduction
Tuesday, July 12, 1:00 p.m. — 2:00 p.m.
SDCC – Ballroom 6 D
Wednesday, July 13, 4:00 p.m. — 5:00 p.m.
SDCC – Room 30A
TECHNICAL WORKSHOP
ArcGIS Velocity is a real-time and big data analysis capability in ArcGIS Online, enabling organizations to ingest, visualize, analyze, store, and act upon data from Internet of Things (IoT) sensors. Join the discussion on how to connect to virtually any type of streaming data, perform real-time analytics and processing, and automatically disseminate information and alert personnel when specified conditions occur. Learn how to create analytic models to process high-volume historical data to gain insights into patterns, trends, and anomalies in your big data.
Ken Gorton, Esri | Yinisong, Esri | Jeff Wisman, Esri
Still want to know more, then we have options:
Download our latest Digital Twin Ebook and resources brochure to learn from other users on how GIS has enabled their organizations Digital Twins and how the products are applied.
Or if you are looking for guidance and feedback on how best to design, implement, and strengthen your organization's geospatial solutions. From July 12-14, we are offering in-person attendees the opportunity to connect one-on-one with Esri experts through service appointments.
Sign up for an appointment by choosing your appointment type and completing the form. An Esri staff member will follow up with you to schedule your appointment. Please note that while appointments are complimentary, availability is limited and we are currently offering one appointment per in-person attendee.
Join us at the 2022 Esri User Conference
Register today to attend in-person, virtually with digital access, or for the plenary only.