In Richland County, South Carolina, decision makers are gaining a better understanding into how people's decisions and development strategies are altering natural environments—and how these changes affect everyday life and future generations. The county's planning and conservation departments formed a partnership in 2016 to pilot a new approach to bolstering the region's sustainability.

One Thousand Questions after Hurricane Joaquin
In October 2015, a two-day storm swept South Carolina as a result of Hurricane Joaquin. Impacted areas experienced devastating flooding, loss of life and property, and the destruction of critical infrastructure. While the state as a whole inflicted about $12 billion in losses, including damage to up to 160,000 homes, Richland County was hit worst. The historic flood urged decisions makers to ask serious questions. Why did flooding occur in this area? What can we do to prevent this from happening again?
After Hurricane Joaquin, Quinton Epps, director of the Richland County Conservation Department, advocated for funding of easements in flood zones to ensure the land never be developed. "The way people look at disaster recovery tells the story of how we don't look at long-term consequences," Epps said. "Do we have money to fix the problems of the last 50 to 100 years of development? No. But we can try to prevent history from repeating itself."
To Epps, most disaster recovery and development strategies focus on rebuilding and extending existing man-made infrastructure. These strategies dismiss a critical component of a safe and livable community—green infrastructure.
We want to preserve the natural resources that we have in the county so we can protect our quality of life. We want to grow, but we want to have smart growth.
---
Brenda Carter
GIS Manager, Richland County
Seeking Answers through Green Infrastructure
Several months after Hurricane Joaquin, Epps attended a workshop hosted by Karen Firehock of the Green Infrastructure Center. Firehock presented her methodology for developing and implementing a green infrastructure plan. Familiar with the green infrastructure model, Epps knew using data, science, and GIS to identify and protect critical resources would help Richland County sustainability and also believed it could help win executive buy-in for conservation projects that could boost the economy, safeguard wildlife habitats, and protect people and property from future harm.
Inspired to formulate a green infrastructure plan that would enable the county to plan smarter, Epps knew he couldn't do it alone. Based off Firehock's guide, Evaluating and Conserving Green Infrastructure across the Landscape, he knew one person would be the key to developing the model if she would take on the job—Brenda Carter, GIS manager for the Planning and Development Services Department at Richland County.
GIS in Action for Green Infrastructure
As a GIS manager for the county's planning department and having a GIS career that spans over 32 years, Carter was familiar with the concept of green infrastructure. She read through the guide and did additional research online. "Reading through everything made me realize that this was something really, really important for all counties and for all people, especially after our county had just suffered a great flood," Carter said. "I started seeing the connections as to why the flood could have happened and why we needed to do something about it."
The planning and conservation departments formed a task force to bring green infrastructure planning to Richland County. With Carter at the helm of the project, she outlined goals and developed the entire green infrastructure plan. She referenced Evaluating and Conserving Green Infrastructure across the Landscape as a roadmap for gathering and analyzing data, as well as evaluating and prioritizing critical resources. She used Esri's ArcGIS tools to create asset maps and maps of intact habitats, and used Esri analysis tools to conduct landscape analyses, assess fragmentation and risks, develop a core quality index, and prioritize opportunities.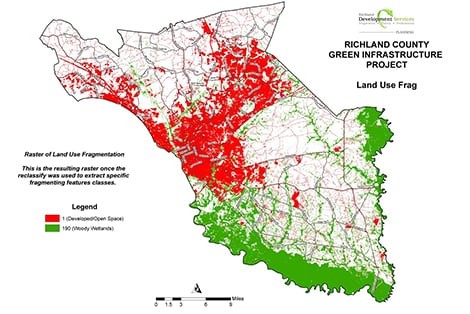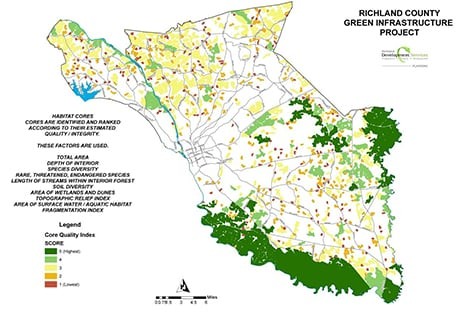 Insight into a Greener Future
The task force presented the green infrastructure plan and maps to the Richland County Conservation Commission, a group of 11 members appointed by the County Council to implement conservation goals. The commission was impressed.
"We used to tell developers that green infrastructure was a 'nice-to-have' feature. But if we can say scientifically that green infrastructure is critical to our well-being, then it takes on much greater significance," said Carroll Williamson, land development administrator with Richland County.
Moving forward, the team will continue the project and identify additional priority cores throughout the county's council areas. They're excited about the possibilities that the green infrastructure plan can bring to the county, including for the local economy.
"We don't want to recreate the flood situation that we had before," Carter said. "We don't want to damage the wetlands or cut down all our trees. We want to be able to have good water quality for the entire county. We want to preserve the natural resources that we have in the county so we can protect our quality of life. We want to grow, but we want to have smart growth."
Start Building Your
Green Infrastructure Strategy
Leverage the Green Infrastructure Center models in two quick steps. Step one:
* Choose the ArcGIS software for your model
Step Two
To connect with a green infrastructure expert, call 800.447-9778
Step two: Let us know a little bit about you (all fields required)
Please complete all fields.
Get my model