CASE STUDY
ArcGIS Platform Powers the MAWC Enterprise
Daily operations at the Municipal Authority of Westmoreland County (MAWC) rely on the utility's ArcGIS Enterprise platform. Half of MAWC's 320 employees are using web and mobile apps deployed through Portal for ArcGIS to access utility and customer data. MAWC has 2,400 miles of water mains and 480 miles of wastewater mains serving 120,000 water and 25,000 wastewater customers. 
With facilities located across 73 municipalities, MAWC—Pennsylvania's largest public municipal authority—maintained a mix of paper and digital utility maps, asset and customer databases, and document libraries. Paper-based data maintenance workflows resulted in incomplete and redundant asset inventories. Field access to customer and asset records required laptops connected to MAWC's VPN.
MAWC partnered with EBA Engineering, Inc., to develop an enterprise geographic information system (GIS) needs assessment and provide ArcGIS Enterprise implementation and integration services. MAWC contracted Lucity to implement an enterprise asset and work order management solution that would improve work activity and interdepartmental communication.
ArcGIS Enterprise with Portal for ArcGIS enables sharing data and apps across departments. ArcGIS Web AppBuilder viewers power map-driven queries of customer records in DB2 databases, documents in Real Vision Software's RVI library, and rights-of-way agreements. Customer notification is automated by a custom ArcGIS Web AppBuilder widget.
Utility data from multiple sources was converted and reconciled, assigned unique asset IDs, and put into a centralized ArcGIS for Water Utilities geodatabase. Water and wastewater system maps are viewed using ArcGIS Web AppBuilder, and valve book pages are accessed by clicking hyperlinks. Field crews use cellular broadband-enabled tablets for Internet access to ArcGIS Web AppBuilder viewers and Lucity work orders.
Running on tablets, ArcGIS Collector connects wirelessly to Trimble R2 GPS units with a subscription to Virtual Reference Station (VRS), allowing real-time corrections so missing valves, hydrants, and manholes are mapped in real time at sub foot accuracy. Managers use ArcGIS Operations Dashboard to track field inspection activity. Scheduled ArcGIS Data Reviewer tests validate data quality weekly.
Using my smartphone, I can view map locations of our customers [and] assets and monitor work activities. Our vision is becoming a reality.  Tom Ceraso, Assistant Manager, Municipal Authority of Westmoreland County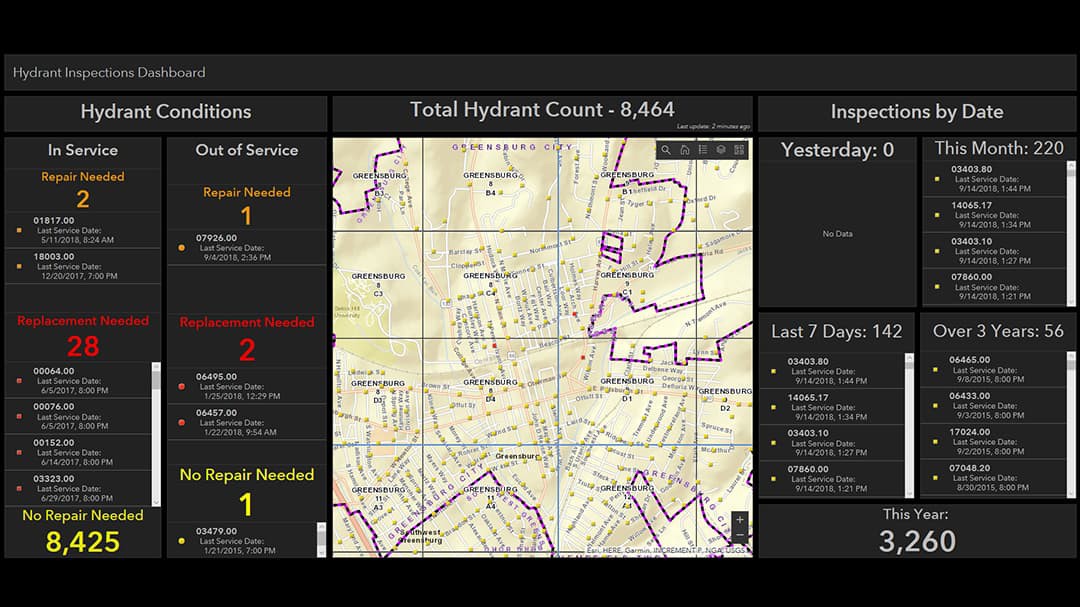 Portal for ArcGIS apps are serving the utility mapping, asset record, and customer information needs of nearly every MAWC department. Outdated fixed-scale paper utility maps have been replaced by interactive online web maps. Mobile data collection workflows have significantly improved the efficiency and accuracy of updating asset records from the field. Dashboards keep management informed of asset inventory updates and inspection activities. By integrating customer service locations and water/wastewater system maps with document management systems, customer records, and asset records, Portal for ArcGIS becomes a single point of access to the most frequently needed information across departments. Implementing Lucity as the asset maintenance and operations solution is improving interdepartmental communication and the coordination of all work assignments. ArcGIS Enterprise is an integral part of informing daily operations at MAWC.