CASE STUDY
Converting from CAD to GIS: Gained Efficiencies and Cost Savings
Located in a suburb of Denver, Colorado, the City of Arvada Utilities Department serves 39,000 customers with 1,050 miles of pipe. The Utilities Department used AutoCAD for mapping its networks for more than 25 years. Field crews were provided paper map books. The future needed to include GIS.
User - City of Arvada Water Operations Department
Challenge - Implement GIS to support mobile technology and asset management.
Solutions - ArcGIS mobile applications, ArcGIS Online, and Cityworks.
Results - Saved 28 man-hours a week for one process. A savings of $275,000 over three years by moving to digital workflows.
Cliff Deeds, manager of the City of Arvada Water Operations Department, wanted to move the department into the future. This future included GIS, mobile technology, and an asset management system (AMS). Accurate and updated maps in the field are vital for staff to run the operations and maintain the utility networks. They needed to store more details about the network features and use maps in the field. With an aging workforce in place, capturing work history and institutional knowledge in an asset management system was also important to the future of the department. Deeds' goal was to have GIS and AMS in place within two years. Conversion of AutoCAD data to GIS was required to achieve this goal. 
Engineering Mapping Solutions (EMS), based in Phoenix, Arizona, was hired to convert CAD data to Esri's Local Government Information Model. City staff added missing details and created a data editing process. They also worked to improve spatial accuracy of the data using Trimble R2 devices and implemented Cityworks asset management system.
Esri's Local Government Information Model was crucial for providing a ready-to-use data model to convert the CAD data. The ArcGIS Explorer for mobile application replaced the paper map books, and every field crew member was given an iPad. Collector for ArcGIS was paired with a Trimble R2 unit, allowing staff to collect over 12,000 points for new features and adjusting existing ones. These mobile applications, along with ArcGIS Online, have allowed GIS staff to provide accurate network maps in the field. Esri tools enabled staff to rapidly get up and running with GIS.
At the same time, Cityworks AMS was connected directly to the GIS and allowed the department to stop tracking work in multiple places such as in Excel, Access, and on paper. This provided the ability to tie work to the particular network feature in the GIS.
The images below show the AutoCAD pump station map and the GIS map after conversion.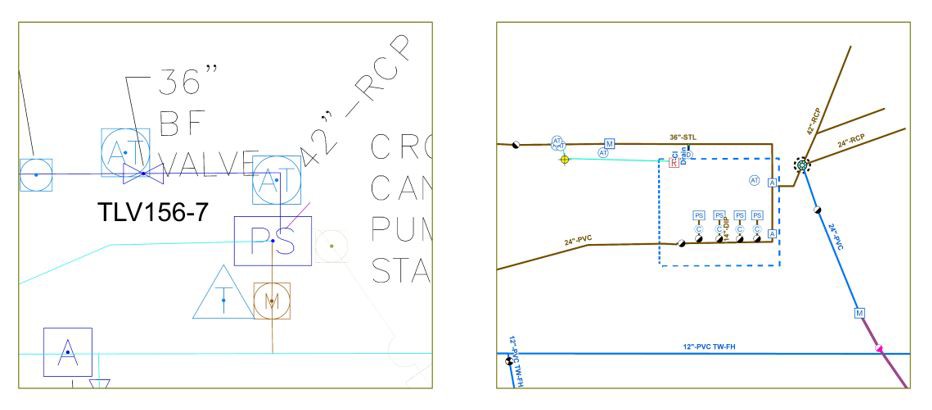 There was a steep learning curve for everyone in the Utilities Department, but that is expected when you change nearly every work process. Staff learned and adapted to the changes and challenges while continuing to achieve work targets and goals. Some call the new maps "smart maps" because you can click on features and get the details needed, which were not previously available. Additional benefits include redline tools, map updates available in the field, and new symbology options. Pipe symbology is now driven from the attributes to display pipes by status, pressure zone, or material. Staff are also able to select the layer they need for a particular situation.
An assessment performed by the Utilities and IT Departments found a savings of $275,000 over three years by moving from map books to iPads. Those savings have increased since the assessment due to improved field workflows. For example, workflows supporting the water shutoff program have been improved. It had taken a crew of four employees eight hours to perform shutoffs each week. Now it takes a crew of two only two hours, a savings of 28 man-hours a week for that one process.
Get started with mobile apps