Case Study
Modernizing Water Outage Workflows
The White House Utility District (WHUD) is Tennessee's largest geographic water and wastewater utility, serving more than 100,000 residents who are spread across 600 square miles of rural parts of Robertson, Sumner, and Davidson counties. Situated on the edge of the Highland Rim, the district must navigate substantial terrain and elevation changes and maintain more than 1,050 miles of pipe to maintain service to all customers. In 2012, WHUD adopted a geographic information system (GIS) technology-centric business model to dismantle information silos and empower employees by arming them with actionable data, streamline processes and workflows to increase operational efficiencies, and create a foundation that allows for continuous improvements in service to customers.
In 2015, during its transformation to become GIS-centric, WHUD recognized the need to implement a system that would allow the district to more quickly and efficiently communicate with staff and customers who were affected by water outages—planned or unplanned. Until that point, WHUD had relied on a cumbersome, manual process that used static datasets and was not connected to GIS. Field technicians had to determine which valves needed to be closed to isolate the break and call managers and notify them of the outage. Outage information was written on a whiteboard in the customer service area. No one was able to spatially view the outage. The process was time intensive and delayed the start of the repair. And customers and often employees were left thirsty for information. 
"The Isolation Trace application has been a game changer for us and our customers. It's allowed our field personnel to shut water off in a much more efficient manner, as well as notify everyone involved and impacted in a fraction of the time it previously took. This lets our field staff start repairing the break sooner and get water restored faster."
—Avery "Rocky" Reecer, Operations Manager, White House Utility District
WHUD deployed Esri's water outage solution to develop a GIS-centric approach to water outage notifications. Field technicians use the Isolation Trace application to determine which valves need to be closed to isolate the break. This creates a polygon on the map and sends a notification to WHUD employees of the outage in real time. Data can be accessed via the district's phone notification system, allowing staff to quickly notify impacted customers. At any point in the repair, crews can update the polygon with more detailed information about the outage, like when the main is expected to be repaired. This tool can also be used proactively, pushing information out to customers in advance of a planned outage and helping them prepare for the event.
Once created, outage data is shared across the district's GIS platforms, including the customer service application. This replaces the old whiteboard method, allowing WHUD's customer service team to quickly access spatial outage information when they need it. The data is also accessible via the district website, giving customers real-time outage information.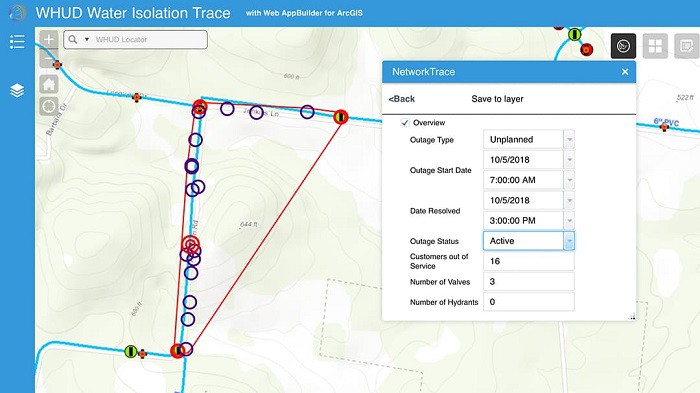 By using Esri's water outage solution, WHUD has been able to streamline the outage notification process and immediately begin communication with employees and customers during an outage.
To date, more than 6,000 users have viewed the public-facing Outage Map, which allows customers to look up outage information when and where they need it without having to experience potentially high call volumes and wait times. It also allows them to see the nearest location where water is still in service in the event of an emergency. For the customer service team, this reduces calls by the thousands and saves hundreds of hours of customer service talk time.
Lastly, the water outage solution cut the field crews' time in half by replacing manual valve isolation and employee/customer notification with automated processes. By automating isolation and notification, field crews quickly get to the site, begin the repair, and restore water. According to WHUD estimates, the district saved over 750 hours in labor time in 2018.
Find out more about Esri's water outage solution