user story
Planning Water Shutdowns: Cross Functional Collaboration Enabled by ArcGIS
 Sammamish Plateau Water has been serving communities for more than 70 years. Located 15 miles east of Seattle, Washington, this water and sewer district provides clean, reliable drinking water to more than 64,000 residents and sewer service to more than 48,000 people. Their service area is primarily composed of single-family residences spanning an area of 29 square miles and within the cities of Issaquah and Sammamish and portions of unincorporated King County.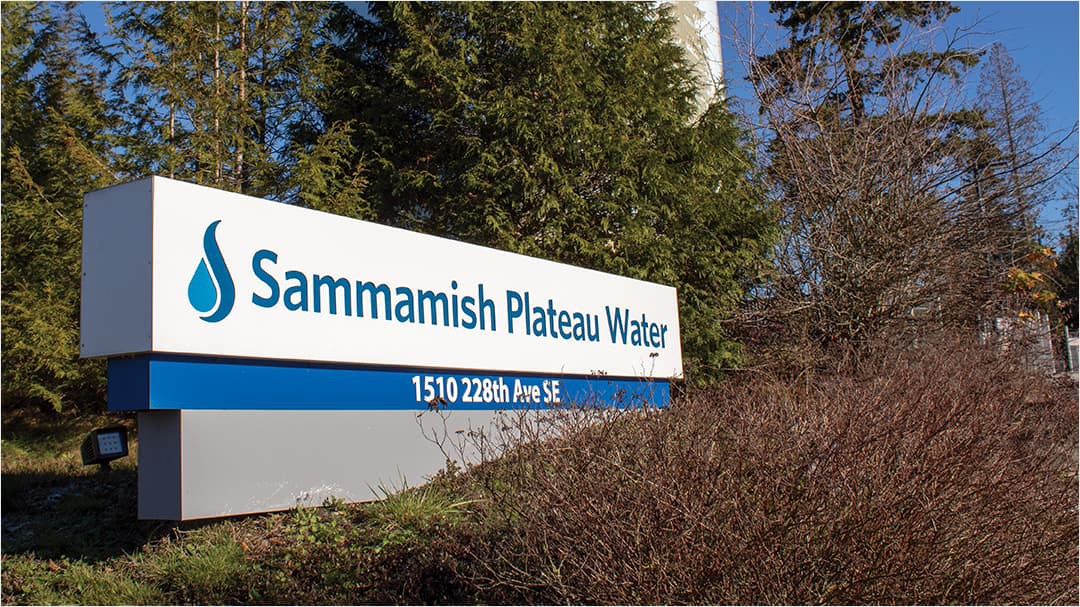 The need for efficient collaboration
Over the years, various departments have asked for the capability to identify assets and customers using geographic information system (GIS) technology. The operations department wanted to know what valves to close, and field services wanted to know what customers to contact. In 2012, we developed and deployed an in-house solution. It never gained traction and was never fully implemented due to lack of workflows and understanding.
In 2017, we signed up with Esri to help implement our enterprise GIS system. During this process, a water shutdown tool was put on our strategic project list, and by working with Esri, we determined that the Utility Isolation Trace tool was the correct solution.
We deployed the base solution and sat on it for months. We still did not have a champion, so we started demonstrating it whenever we could. During one of these demos, our engineering department became interested in using the solution for planned water main shutdowns. Within short order, we put together a scope of work for a pilot project for planned shutdowns.
In 2018, we had more than 30 planned water shutdowns. All planned shutdowns begin with a meeting involving the engineering, operations, field service, and customer service departments. Before the meeting, the engineer/project manager creates a paper map identifying the location of the shutdown, the valves to close in order to perform the shutdown, and the number of customers affected by the shutdown.

During the meeting, the purpose of the shutdown is discussed and how it would be carried out. The identified valves to be closed and the number of customers affected are confirmed with the operations, field service, and customer service personnel present at the meeting.
After the meeting, staff from each participating department would conduct further research regarding their responsibilities for the shutdown. Operations staff would perform an on-site visit to verify that the valves needed would be accessible and in good working order. In addition, they would verify the operating condition of other components (i.e., air/vacs, fire hydrants, or blowoffs) that may also be needed to perform the shutdown. Field services would conduct  an on-site visit to verify that water meters scheduled to be shut off during the shutdown were accessible and located on the correct property. The customer service department would research the address and name of the property owners identified at the meeting. This information would then be used for the notices distributed to property owners, notifying them of the upcoming shutdown. In addition, they would make contact with the local fire department if any fire hydrants were affected.
We developed five applications (Water Valve Trace, Public Outage Viewer, Internal Outage Viewer, Outage Editor, and Hydrant Outage) utilizing Esri out-of-the-box capabilities and hosted these applications using a hybrid approach (ArcGIS Online and Portal for ArcGIS). Utilizing a deployment document and standard Esri tools, we were able to create a trace tool, deploy solutions, and configure and launch applications in a day. The Water Valve Trace tool provides our engineers better planning capabilities for their meetings and reduces the need for post-meeting research. This application generates the information necessary for planning and field verification of valves, meters, hydrants, and customers. Operations and field services use the Internal Outage Viewer to field-verify valves and meters. Customer service uses the customer list to distribute shutdown notifications. The Public Outage Viewer informs our customers of outage areas, approximate number of affected customers, and the estimated length of shutdowns. The Outage Editor is used by engineers to update outage information, eliminating the need for requesting help from GIS. Finally, the Hydrant Outage map informs local fire departments of out-of-service hydrants. Combined, these simple-to-use applications provide us with comprehensive communication and planning capabilities during a planned shutdown—all through one tool.
I believe this tool will provide efficiencies to all departments affected, due to the accessibility of the data [in the office and field] and mapping abilities. - Kyle Wong, Engineering Manager
Although just introduced, the Esri applications are already increasing overall efficiency in the planning, coordinating, communicating, and documentation of planned shutdowns. Information is readily available, accessible to all (office and field staff), and obtained from one data source. This saves a lot of time meeting, planning, and executing planned shutdowns.
Find out more about Esri's water outage solution