USER STORY
Integrating Technology Improves Capital Improvement Planning
By Jose L. Lopez—Division Director, Enterprise Solutions, Information Technology Department
As the largest water and sewer utility in the southeastern United States, the Miami-Dade Water and Sewer Department (WASD) serves nearly 2.3 million residents and thousands of visitors daily. To continue to fulfill the department's vision of continuous delivery of high-quality drinking water and wastewater services in compliance with all regulatory requirements, WASD has designed a systematic and responsible Capital Improvement Program (CIP). This program will provide necessary upgrades to thousands of miles of pipes, pump stations, and water and wastewater treatment plants. During the next two decades, the county will invest approximately $13.5 billion in state-of-the-art technology to enhance and upgrade WASD's infrastructure.
WASD Project Management Office staff, program managers, and project managers spend a great deal of  time managing construction projects, which includes ensuring that approved plans are followed, coordinating with contract managers and inspectors, resolving unexpected problems, and keeping management informed of project progress. However, not enough time is spent on updating the project status in their legacy CIP system. Thus, reports from the CIP system, which involve project phase status, are often not up-to-date.
Because our Geographic Information System (GIS) is tightly integrated with our CIP system, our GIS viewers are often the easiest way for users to receive project information. Although our CIP projects are shared on the web, there could be missing CIP projects and incorrect project status that do not show a true representation of current, planned, and completed projects and their associated information. This can lead to poor planning decisions.
To continue providing the highest quality service, WASD needed to find a way to begin disseminating information about construction activity to our residents and visitors. To accomplish this, WASD leveraged its partnership with Waze. Waze has three separate solutions to contribute construction road hazard and road closure notifications. Two of them are office solutions and the third includes  the Waze mobile application.
WASD Public Affairs Office staff members use both office solutions to communicate road closure and hazard notifications. However, they are not able to keep up due to the sheer volume of projects and required communication. Therefore, we decided to equip our field staff with smartphones and our WASD/Waze Notify mobile survey application. Using WASD/Waze Notify, inspectors in the field can submit their daily work site notification tickets containing details such as project type, project duration, site pictures, and additional comments describing the work. All submitted site tickets contain location coordinates and the name of the inspector issuing the work ticket. Ticket information is initially stored in ArcGIS Online through internal workflow processes. Data is then downloaded to our local enterprise databases. We teamed up with the County's Public Works and Transportation Department, which already provides a feed to Waze every five minutes. This information is then cross-referenced with our GIS CIP and Donations Projects layers to generate quality control reports, made available via various sources such as SharePoint, Power BI, SSRS, ArcGIS Web AppBuilder viewers, and ArcGIS Operations Dashboard.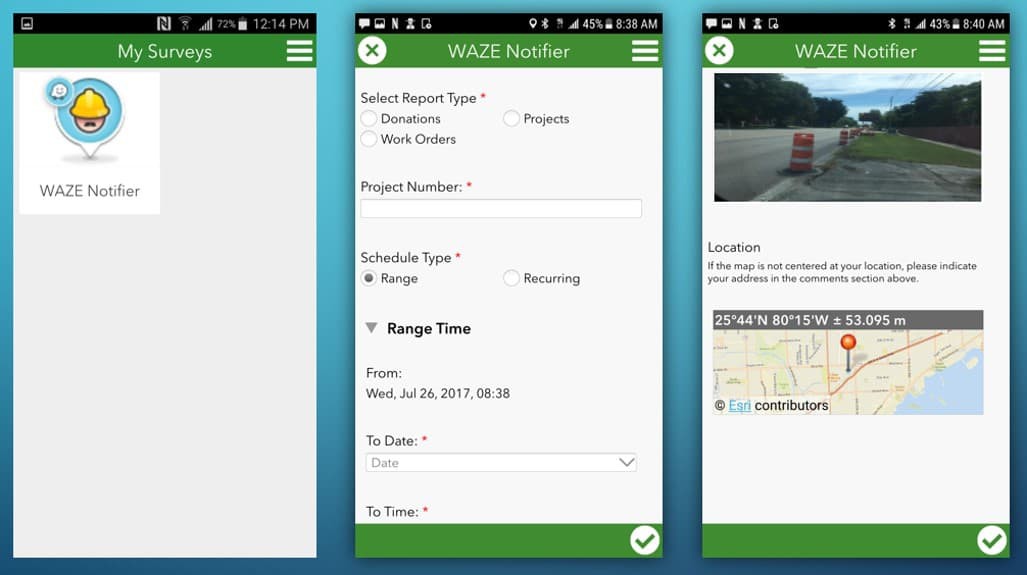 Since Waze construction road hazard notifications can only apply to active construction sites, WASD/Waze notifications that coincide with CIP or Developer Donations projects with a status other than Under Construction are flagged as potentially incorrect. Other issues, such as WASD/Waze notifications that do not coincide with any project, are flagged as missing in GIS. The generated reports are automatically sent to Project Management Office staff, program managers, project managers, and field staff so that they can update their CIP and Donations databases accordingly.

This partnership includes leveraging Waze notifications[LJL(1]  , ArcGIS Online and data to improve internal processes and reduce the need for manual oversight, thereby freeing up individuals for other activities. The information provided to the community helps residents and visitors reduce travel time.
WASD/Waze notifications are provided daily, helping thousands of drivers in Miami-Dade County reach their destination using the best possible routes by avoiding traffic congestion caused by WASD construction projects. Leveraging the notifications, we have cleaned up dozens of project status errors and digitized missing projects in GIS. As more field staff are included as contributors, we will be able to keep our CIP and Developer Donations databases as accurate as possible. We are also planning to include asset management work orders that affect the roadways. These notifications will continue to improve travel routes and keep all construction project-related information current.
WASD/Waze communication process and tools that make this process effortless include: Waze, ArcGIS Survey123, ArcGIS Online, ArcGIS Web AppBuilder, ArcGIS Operations Dashboard , WASD SharePoint, and Microsoft Power BI dashboard solutions, in addition to the email quality control reports and communication process between Miami-Dade County and Waze.