public safety
How to Support Emergency Operations with GIS
With projects in the queue and no storm clouds on the horizon, it's tempting to put off preparing for the worst. But when disaster strikes, geographic information system (GIS) professionals are acutely aware of their systems' shortcomings for managing response. It's not that they are shortsighted. It's that GIS experts are pulled in many directions by departments demanding their attention.
Putting together an emergency strategy takes a lot of effort. Emergency management demands teamwork, which means workflows need to connect. Before they can address technology needed for a crisis, GIS professionals need to understand various departmental workflows. Then they need to determine where they can connect workflows for better collaboration.
Emergency management also requires situational awareness. If departments can't access and see the same information, how can they coordinate an effective response? What they need is a common operating picture (COP) that shows everyone what's happening so that they can do their part. It shows disaster impact, at-risk populations, available resources, and response mobilization and other valuable information.
Although departments, such as a city's fire department and municipal utilities, want to work together, they have yet to build systems that are up to the challenge. During a crisis, their systems don't effectively support communications, situational awareness, and coordinated operations.
Attaining this level of enterprise insight requires modernization built on digital transformation. The path to modernizing systems is often unclear and cluttered with barriers such as siloed databases, disconnected systems, and detached workflows.
Company cultures can also block modernization efforts. Leaders don't understand the return on investment in technology. Skeptical employees are unwilling to share data or disrupt familiar workflows. How can these barriers be overcome?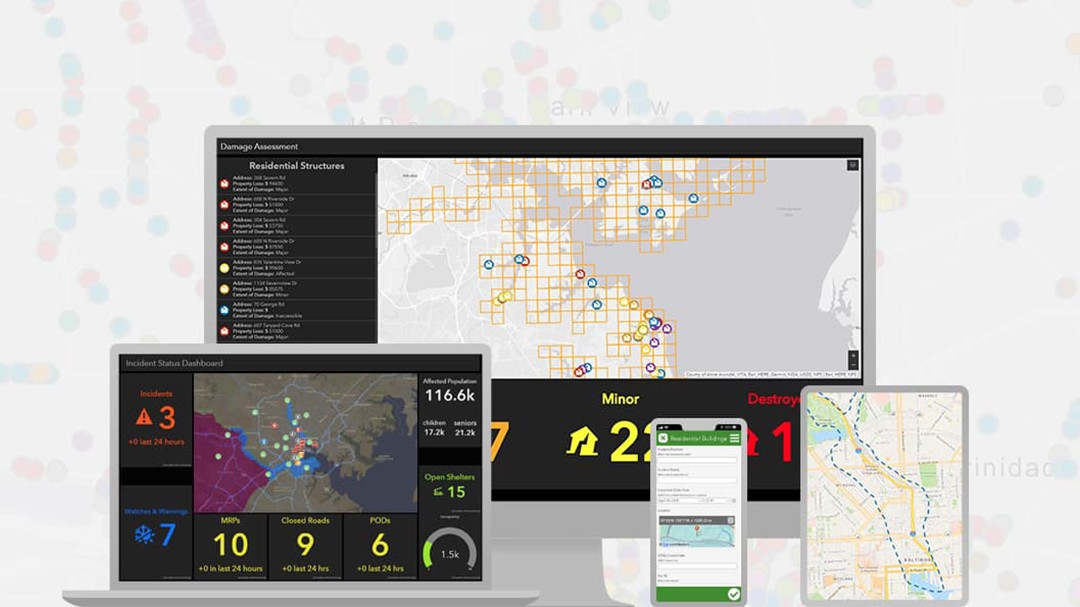 Esri's solution for emergency management includes a full suite of web and mobile applications designed to help authorities prepare, respond, and recover in the event of a natural disaster.
A crucial player in the struggle toward modernization is the GIS hero. Heroes work to clear away barriers and build foundations for successful digital transformation. They deploy location technology that brings organizations together and drives informed decisions.
When it comes to emergency management, understanding location is essential to mitigation, response, and recovery. This is why GIS professionals fill an essential role in building support systems. They advocate for digital transformation, connected workflows, and enterprise collaboration. They understand the value GIS brings to effective emergency strategy.
If you are a GIS professional, you are well positioned to be an emergency management hero. Your experience enables you to see the ways GIS can help a company or community respond to emergencies and rise resilient. You have the training and integrity to be a leader.
Emergency managers need to mitigate complex threats and disasters. GIS professionals can set up platforms that deliver clear, critical information. They can implement real-time maps that open situational awareness for decision-makers. They can use online services that scale to the level of operational needs.
Across the nation, emergency management teams report that their GIS systems have cut incident response time by 80 percent. This is due, in part, to the replacement of paper forms with mobile apps that capture accurate field data. These apps free responders to tend to more important tasks.
At the organization level, GIS helps managers activate response plans across departments. At the city level, disaster inspectors use GIS field apps to capture information that speeds up line claim processes. Because of GIS apps, impacted communities have received relief funding ahead of their neighboring cities. As a result, communities with modernized GIS often recover faster.
Most importantly, during emergencies, GIS helps save lives. What can you do to drive technology modernization for your organization?
Guidelines for creating change
To begin you will need to communicate with the emergency operation center or the public safety department. Meet with its executive sponsors, change champions, and technical leadership. Since organizations vary in size and structure, these positions will be different. The point is that you need to talk with decision-makers and influencers as high up the ladder as possible.
Go to these meetings prepared to lay out essential points. Address needs, discuss capabilities, and clarify expectations. Agree on timelines for development and implementation stages. Convey the idea that you are partnering with them on this project and they need to be involved.
Set up a cadence for meetings to happen during the project's configuration phase. For instance, you will need to meet to discuss emergency management workflows. Explain to decision-makers how technologies will improve response such as situational awareness viewers, incident status dashboards, initial damage assessment dashboards, and damage assessment mobile apps. Moreover, the system should support incident briefings and online public information announcements.
For GIS managers that have little time and limited resources, modernizing emergency management technology is a big ask. Nonetheless, emergencies will happen, and you need to be ready. Esri can help you meet the challenge.
We offer GIS professionals a five-day implementation package to accelerate the emergency management implementation. Our experienced consultants will come to your site to help you launch a solution that's right for your agency. They will train you and help you configure your ArcGIS organization account for your needs.
Consultants will help you configure seven critical emergency management workflows. Furthermore, they will give you the training you need to manage the solution and help you be the hero by supporting a more resilient community.
For more information on our five-day jumpstart program, please complete the form below. To get more information about this offering, please select the I'd like to be contacted check box.