Global Water Practice
Three Ways Location Technology Is Optimizing Water Utility Operations
Effective utility management requires strategic business planning in the areas of customer satisfaction and operational optimization. The Effective Utility Management (EUM) Committee states that utilities should "utilize a mix of evolving communication technologies to understand and respond to customer needs and expectations, including receiving timely customer feedback and communicating during emergencies." Additionally, the EUM observes that an attribute of operational optimization is "minimizing resource use, loss, and impacts from day-to-day operations, and reduces all forms of waste."
Esri's location technology supports utilities all over the world to effectively manage earth's most precious resource: water. In this article, you'll learn three ways that location technology is optimizing water utility operations.
1. Communicating Real-Time Information to Customers
Customers can report leaks to their water utilities online as they occur. Understanding where the leaks are allows customer service representatives to inform other departments within their organization.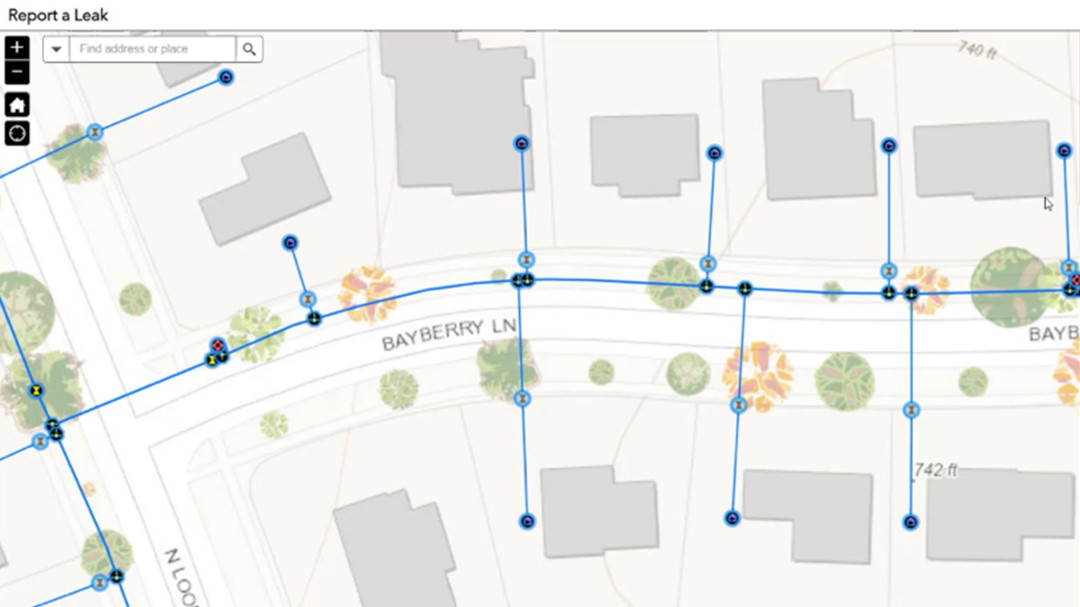 Report a Leak web map application allows customers to report a leak and identify a location.

In turn, when customers call customer service as a result of their water being shut down due to an outage, the representatives are able to quickly provide information such as the estimated time of service restoration, whether the outage was planned or unplanned, or the type of break that has occurred.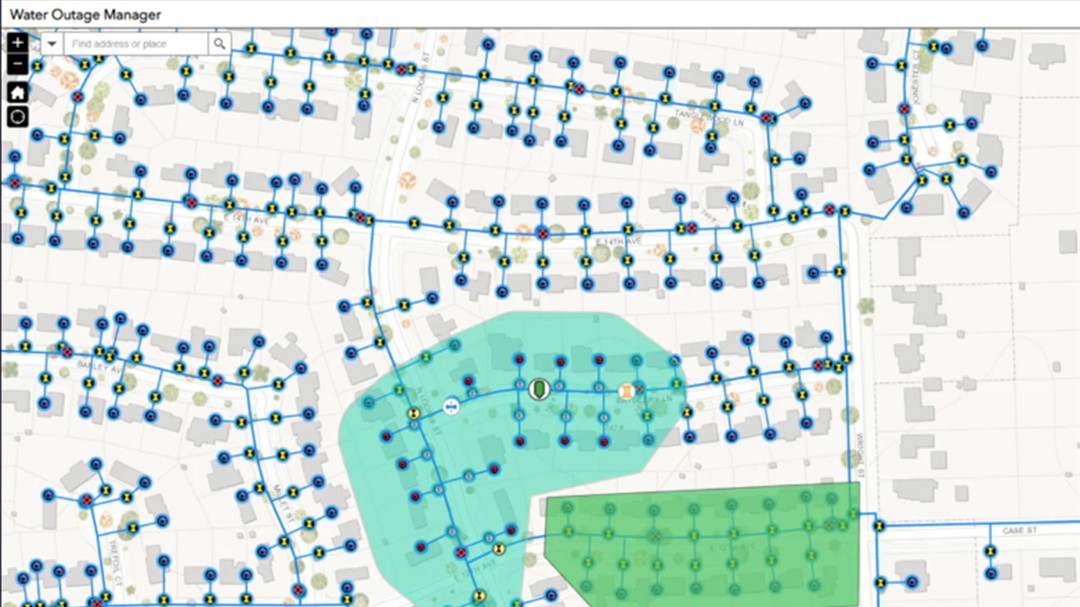 Water Outage Manager web map application allows utilities to inform their customers in real time of water outages.
2. Minimizing Damage and Costs with Faster, Coordinated Repairs
Minimizing downtime from leaks and broken mains is a top priority for any water utility to conserve water and ensure water service to customers. A utility has to quickly assign a field crew to the location of the incident. Esri users are able to make quick decisions; assign a field crew member to the incident; and provide details necessary such as the level of priority, the due date, and a description. Knowing the location makes it simple to assign the appropriate field crew and supports accurate reporting.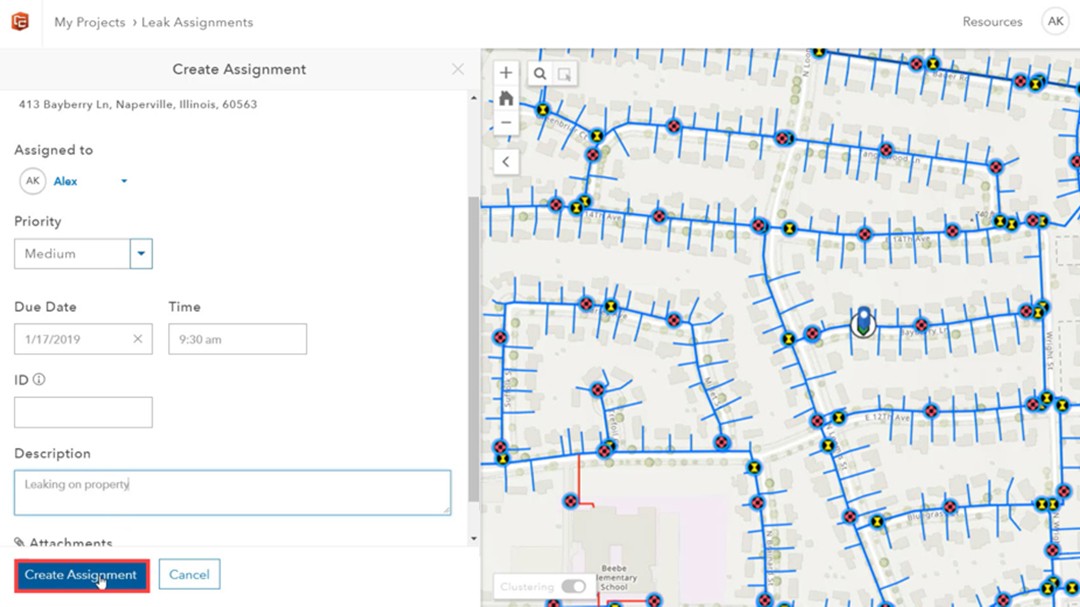 Leak Assignment Workforce project allows Field supervisors to assign crew members to the leak incident.

Once field crew members arrive at the site of the incident, they can access field mobility apps on a mobile phone, tablet, or laptop. They can even access their maps when disconnected from the internet. As field crews make updates to the incident report, staff in the office can see the updated information on the same map or in a dashboard. Rather than making multiple trips back to the office, field crews have information at their fingertips to make on-site decisions.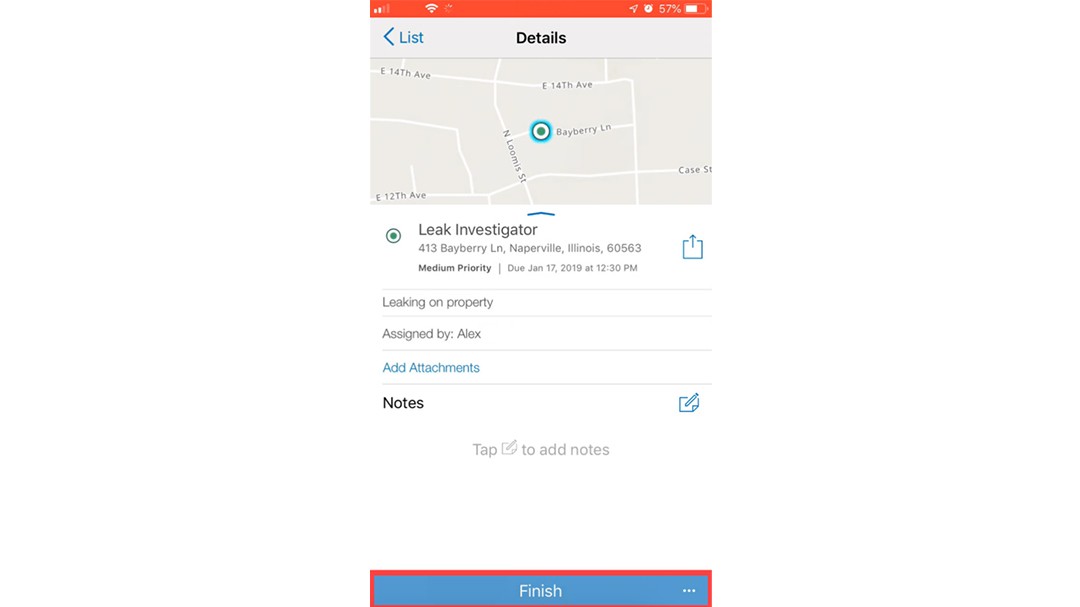 Mobile Workforce app communicates to the office when a project is started and completed.
3. Helping You Make Knowledgeable Decisions with Real-Time Information
Utility management needs to minimize loss and damage on a day-to-day basis. Dashboards allow management to stay informed about the progress of activities and the key performance indicators that are most vital to managers' objectives. Having a location-powered dashboard provides management a real-time view of what is occurring such as planned or unplanned outages, active leaks, customer service calls, the number of customers without service, and any open requests.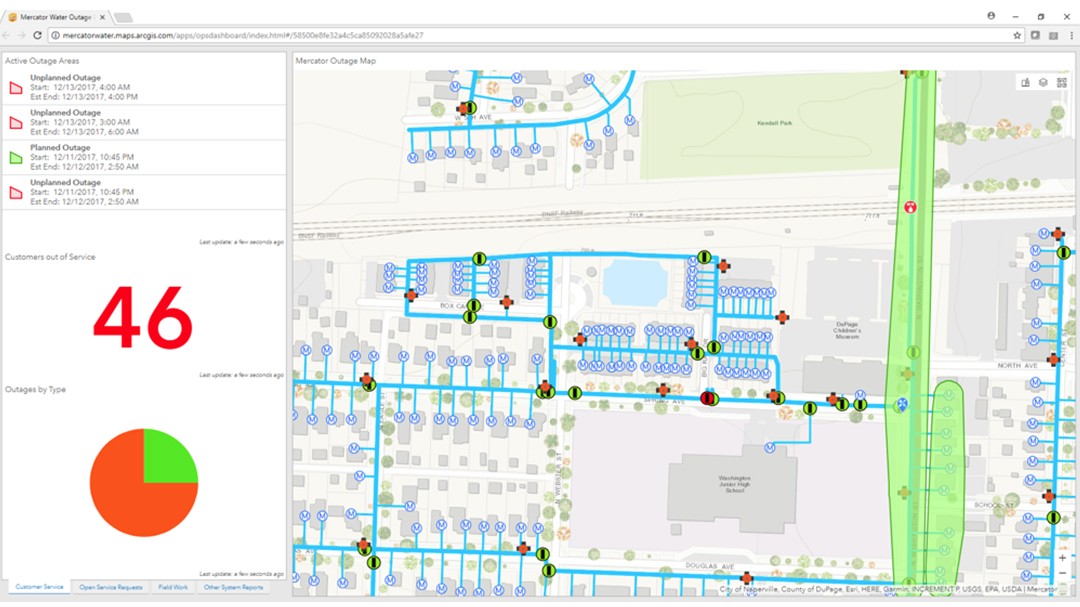 Display key insight for at-a-glance decision making related to unplanned and planned outages.

Water utility management has a great responsibility to not only manage earth's most precious resource but also strive toward excellence in customer satisfaction and operational optimization. Esri has helped over 9,000 utilities all over the world with location-powered technology to support effective utility management.
Download the ebook to learn how water utilities are taking charge of main breaks and gaining return on investment (ROI) from location technology.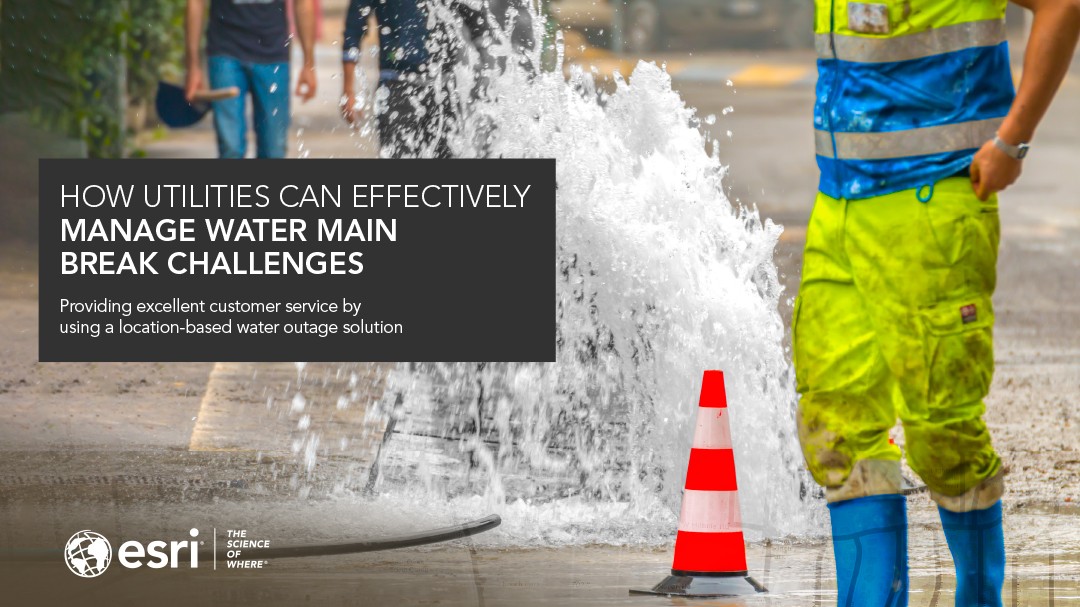 ---
Are you interested in the Water Outage Solution? Please complete this form and an Esri representative will be in touch.