case study
Leveraging GIS, San Bernardino County Goes Beyond K–12
With 33 school districts enrolling nearly 400,000 K–12 students, San Bernardino County Superintendent of Schools (SBCSS) understands the diversity of population and the unique needs of every learning community. County superintendent Ted Alejandre advocates locally, statewide, and nationally for policies and resources that best serve students and families to prepare students for college and the workforce.
"Providing an open portal where residents, schools, government, and community agencies can access data to help inform decision-making about educational and career attainment and opportunities is a crucial priority," said Alejandre.
To achieve this, all 33 school districts in the county partner with SBCSS to support data management and analysis oversight for measurable outcomes such as socioeconomic data, standardized test scores, graduation rates, and college acceptance rates. Through this partnership, SBCSS streamlines data into one open data platform that uses geographic information system (GIS) technology for sharing information, building awareness, data analysis, and reporting. 
Before technology enabled ease and consistency, each school district had to manage its own datasets and then share them with various educational partners. Printed reports led to duplicated information, lack of standardization, and difficulty in collaborating.
"We're all out there making these same reports repeatedly," said John Massie, SBCSS program manager—assessment, data analytics, research, and evaluation. ". . . [But] all the reports looked different; there wasn't a uniform way that our districts talked to each other."
Previously created reports were often paper based with spreadsheets and few visuals, so the audience did not have a tangible record of the presentation to reference for future support. 
Article Snapshot
Covering the largest county geographically in the United States, San Bernadino County Superintendent of Schools (SBCSS) is home to 33 school districts, with nearly 400,000 K–12 students enrolled. In recent years, the districts and county superintendent Ted Alejandre strategized with staff, parents, and the public on how to provide easy access to critical educational data.
In 2020, SBCSS launched the Cradle-to-Career Roadmap initiative, inspiring the creation of a singular, geographic information system (GIS)-based open data portal for district staff, parents, and students alike to access reports and view socioeconomic data, standardized test scores, graduation rates, college acceptance rates, and more.
Products highlighted in the article are ArcGIS Dashboards, ArcGIS Hub, ArcGIS for Power BI, and ArcGIS Online.
"We'd make a report on this and show some people, present it, and then the report sort of just goes to die; it never gets to live on," said Massie.
This paper-based process lacked the technology infrastructure to streamline information, maintain historical records, and support communications across districts and regions within the county. The processes made it difficult for staff to advocate to California leadership for more resources, and it was also challenging for parents to make informed decisions regarding their child's future.
More than seven years ago, San Bernardino County stakeholders developed and implemented the Cradle-to-Career Roadmap using a collective impact approach to achieve the countywide vision. The Cradle-to-Career Roadmap website was created to provide a one-stop resource for families to track important milestones for their children and offer resources to community members. The Cradle-to-Career Roadmap is complemented by the open data portal to share information and statistics. 
With the development and implementation of the Cradle-to-Career Roadmap, there was potential for GIS to enhance the integration of the states' systems to share data more accurately and consistently.
The Cradle-to-Career Roadmap paired with the open data portal that uses ArcGIS for Power BI and ArcGIS Dashboards to display information.
"[The technology] is super versatile. We can embed Power BI visualizations. It blends so nicely with the geospatial maps; [the hub site] is a nice place to hold everything," said Massie.
The data portal allows viewers to easily access information and answers to common questions that school districts are asked like
What is the high school graduation rate?
What is the economic status of the families?
How many students does the county serve?
Having a hub site allows the data to link to much more detailed, interactive reports and displays trends over time that update automatically. The additional capability with GIS allows the county to integrate data and make changes or provide solutions for students and families based on the data. In the past, the school districts couldn't respond as fast to student and family needs, but with the data integration, county and district leaders are able to support students in near real time and follow historical trends.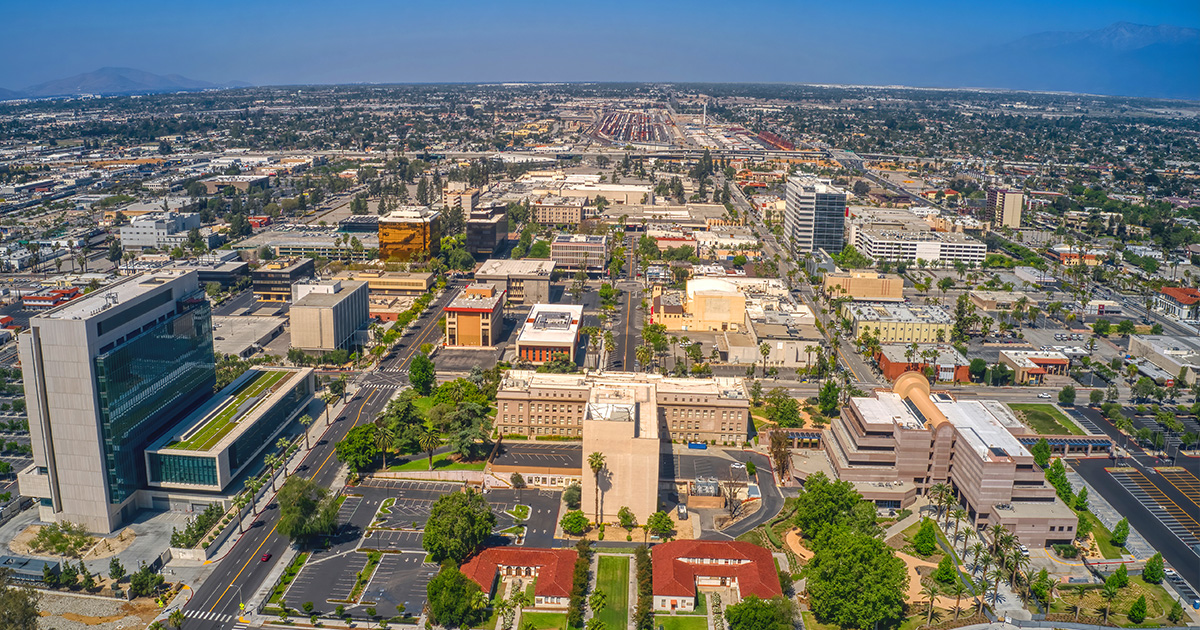 San Bernardino County, California
The ease and automation created from implementing GIS tools allow school districts to work faster and more efficiently in gathering data. Massie often shares with school districts what they can do with the data from the site. Since implementation, districts use the portal to compare themselves to others in the county, see their data over time, and access data in one location instead of using several state websites and combining the data themselves. In addition, the open data portal has allowed districts to create comparative graphs for presentations to local governing boards and community groups as well as monitor student performance.
"It's a self-service thing. Districts don't have to ask us to make graphs for them; they can pull all the data they need. We aren't slowing them down," said Massie.
Alejandre remarked, "I am proud of the range and accessibility of data that is available through the SBCSS open data portal and Cradle-to-Career platforms, so that the public has access to information that can spur academic success for students." 
Discover how to bring GIS to the classroom