case study
Ecological Landscape Management in the Heart of the West
Doing things the hard way isn't really Cliff Winters' style. Managing noxious weeds and pests in a large Wyoming county is already hard enough. Expansive geography; small populations; limited budgets; and the overlapping interests of federal, state, and local landowners and stakeholders make for plenty of challenges. Add to that the recent phenomena of seasonal positions that can't be filled, the rising costs for fuel and supplies, and the difficulties in getting equipment and parts, and the need to be more efficient—to do more with less—becomes ever more apparent.
Moving from data silos to a real-time operational picture
Winters supervises the Big Horn County Weed and Pest Control District in Wyoming, in a county of more than 3,000 square miles and with a population of around 11,000. He and his assistant supervisor, Porter Jones, are experienced in using technology to help with their management decisions and operations. In the past, GPS trackers, home-grown databases, Google Earth, and lots of spreadsheets complemented their use of ArcGIS Desktop. Winters and Jones are both handy with ArcMap and ArcGIS Pro, but all the separate data silos—and the manual steps needed to incorporate all of them into a comprehensive operational picture—typically had to wait until after the season.

A few years ago, they set a goal to implement a geographic information system (GIS) solution using ArcGIS Online. They wanted to have a real-time operational picture that would be visible to all stakeholders, internal and external, in a variety of contexts. It seemed obvious that ArcGIS Online could help them accomplish that.
In 2020, Jones implemented some ArcGIS Survey123 forms for certifying weed-free forage and providing compliance documentation that allows growers to sell and transport forage across county lines. In the past, taking and responding to requests from hundreds of growers covering thousands of acres was very inefficient and time consuming. Collecting and processing the data needed for providing the necessary documentation and reports added time and inefficiency. With Survey123, it was easy to record exactly what was needed in the field and generate the required documentation. A Survey123 report could immediately be emailed to the grower or printed while in the field. With a few hours of work, Jones was able to set up a survey and a report that could be tweaked anytime. After a couple of iterations, he and Winters were saving many hours every week. What else could they accomplish?
In the fall of 2020, Winters came across FieldSeeker GIS for Invasive Plant Control, a software package created by Esri partner Frontier Precision that's purpose built for data collection and reporting for noxious weed management. After checking out the functionality and workflows, he and Jones agreed to be beta testers and early adopters. Frontier Precision provided the data model and helped deploy and configure the hosted feature service and web maps used by the solution. The company also helped set up a Survey123 web form for taking requests from growers for weed-free forage certification, and the district shared the form on its website.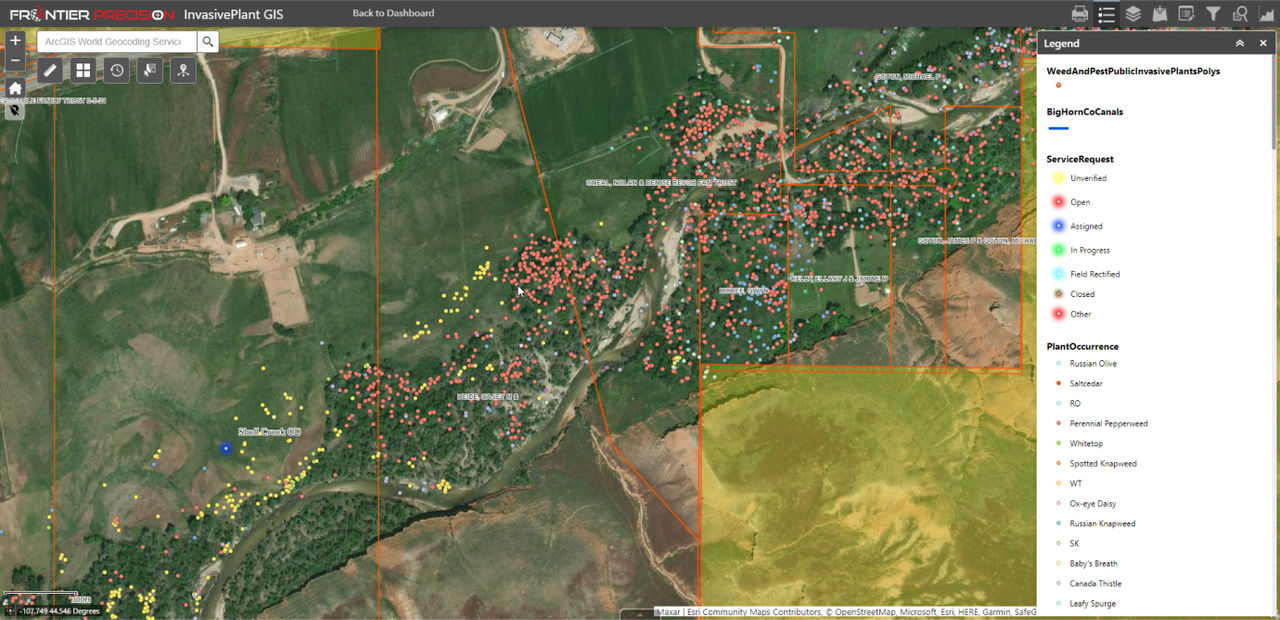 BIg Horn Country Weed and Pest Control District are now employing Web GIS to get a real-time view of their operations that they can share with internal and external stakeholders.
Efficiency gains, thousands of dollars saved and improved collaboration
During the 2021 season, the district saw immediate efficiency gains in scheduling and prioritizing jobs, viewing progress in real time, managing contracts, performing simple billing, and creating reports and sharing data. Service requests and scheduled control activities could be viewed alongside historical plant locations and past control efforts by using the FieldSeeker GIS mobile app. Field technicians operating in areas without reliable cellular coverage could collect data offline and sync it at the end of the day. And at the end of the season, running reports was "like a dream," Jones said. The investment in FieldSeeker GIS and ArcGIS Online more than paid for itself in that first season.
Before the 2022 season, the district and Frontier Precision worked together to add support for county contracts staff—much of the work they do is on federal land managed by the Bureau of Land Management and the US Forest Service—and provide automatic email notifications to growers and contractors for service request status and scheduling. The district again saw immediate gains in efficiency for managing contractors and sharing data and reports with stakeholders. In the past, staff might have shared a paper report at the conclusion of a job or the season, but now they could do that more efficiently and also share maps and data with internal groups or the public in real time by using ArcGIS Online.
Winters estimates that the district saved more than $54,000 just on time spent on scheduling and reporting during the 2022 season. More importantly, those same resources could be put to use elsewhere supporting the district's mission to control weeds.
As they contemplate the next season, Winters and Jones are busy using GIS to build relationships with their federal partners. For example, they've worked out a way to share GIS data with the Forest Service that makes it easy for the federal agency to incorporate the data into its enterprise GIS. ArcGIS Online and FieldSeeker GIS make it easy to filter, query, and export the required data in a variety of formats. Using ArcGIS Online and an Esri partner solution built for it, closer collaboration has been facilitated not only between local, state, and federal government agencies but also with the landowners and growers the district serves. There's been a learning curve for making effective use of ArcGIS Online, but it's been worth it. The time and money that have been saved are only part of the benefit. Stepping into the world of Web GIS has facilitated the communication, collaboration, and feedback that help Winters and Jones accomplish their mission. They're looking forward to where they can go from here.
For more information, contact Chad Minteer at chad@frontierprecision.com.
Explore GIS for land & wildlife management