case study
Archdiocese of Oklahoma City Increases Sales by Using a Geographic Approach
Responding to Population Growth with Cemetery Expansion
In Oklahoma City, Resurrection Memorial Cemetery is a busy cemetery in a growing region, conducting approximately 350 services per year. As with virtually every similar organization in the country, traditional burials have been declining in number as cremation has become the more popular choice. Resurrection has adapted to these changes, developing mausoleums, columbaria, and cremation gardens.
Originally established at 34 acres (with 5 acres currently undeveloped), Resurrection was down to 50 spaces in a mausoleum that dated to the early 1980s and was experiencing growing demand. Given the space constraints and the cultural shift toward cremation—combined with a growing population—Resurrection made the decision to add a fourth mausoleum on cemetery grounds named Our Lady of Sorrows.
"It's increasingly rare—virtually anywhere in the US—that a cemetery can find adjacent, unoccupied land to purchase for use in traditional burials. This is the primary driver for the construction of a new building on cemetery property—to increase capacity for cremation and crypt entombments."—Branden T. Seid, Executive Director, Resurrection Memorial Cemetery
Applying GIS to Visualize Mausoleum Plots
It was during the initial planning stages that Branden T. Seid, the cemetery's executive director, was introduced to Esri partner Behar Mapping, the creator of Crypt3D, a cloud-based 3D modeling engine software. This cloud-based visualization solution, hosted on Esri's ArcGIS Online and built using ArcGIS Pro and ArcGIS Online web scenes, enabled highly detailed preconstruction visualization of the new mausoleum as soon as the final design had been completed. This kind of detailed visualization gives customers views of any section of the facility from any angle and includes details of any feature visible from any niche or crypt.
At Seid's request, Behar rendered an image of an exquisite new mosaic commissioned by Resurrection for installation on one of the mausoleum's interior walls. This image of the beautiful Pietà, honoring and portraying Mary as "the lady of sorrows," had an immediate impact on customers seeing the virtual image within Esri's ArcGIS Online technology-based Crypt3D application. Even though the mosaic existed only in that image, the locations nearby immediately became among the most desirable.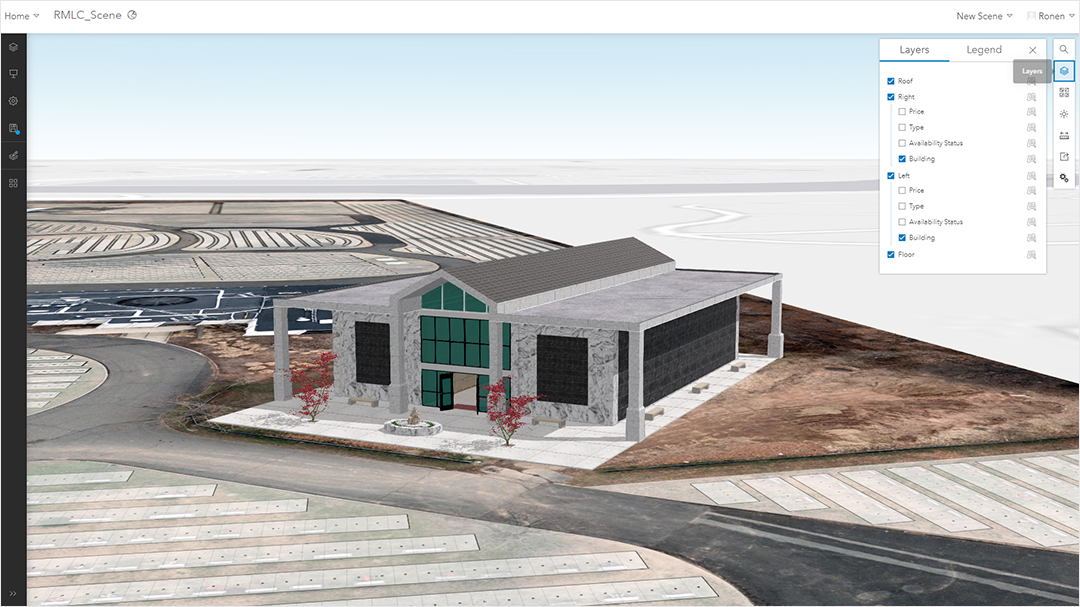 ArcGIS Web AppBuilder and Crypt3D model of Resurrection's mausoleum, Our Lady of Sorrows
"We know that the optimal way to serve people is to help them plan before the need occurs, and it was clear our space constraint would only increase. Then the pandemic struck, but we were determined to find a way to continue helping people make the best planning decisions. Behar's Crypt3D arrived at the perfect time and has been the ideal solution to the combined challenges we were facing."—Branden T. Seid
A Modern Way to Explore Facilities
Results from the geographic approach and Crypt3D implementation became clear very quickly. Prior to using geographic information system (GIS) technology, Seid's staff was dealing with paper maps—in some cases, very old hand-drawn maps of aboveground facilities. Since implementation, customers, visitors, staff, and board members have seen beautiful, full-color, detail-rich, 100 percent accurate images that rely on Esri's state-of-the-art ArcGIS Online technology.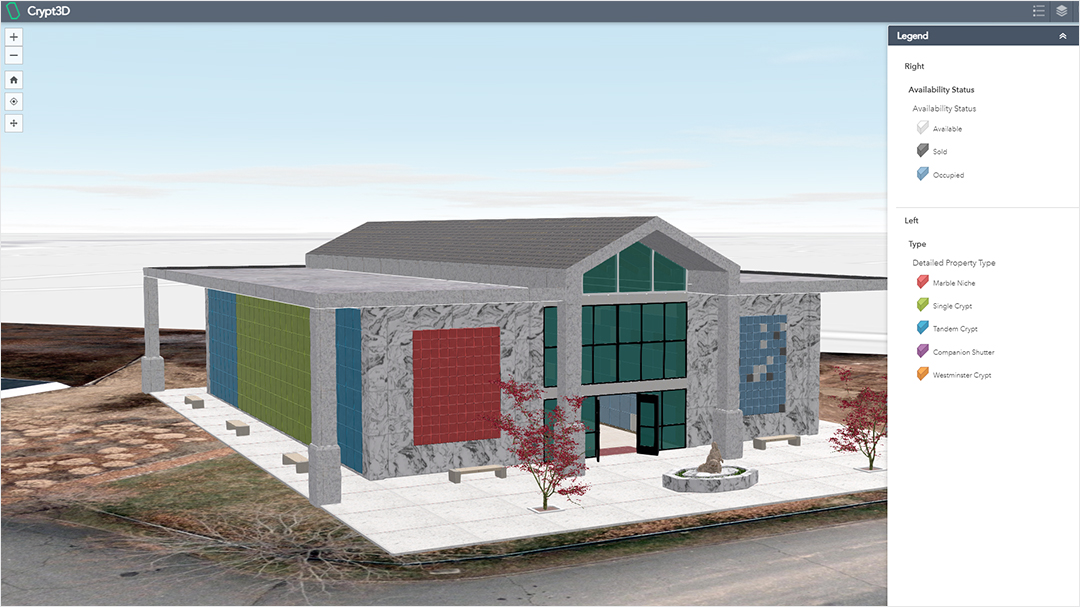 ArcGIS Web AppBuilder and Crypt3D model of crypts or individual spaces available for purchase
With the increasing scarceness of space, Seid was eager to have Crypt3D available to show the new facility in planning meetings. The cemetery staff wanted to continue to serve families in a seamless way, despite potential shortages of space. Not only that but planning meetings could include views of new and beautiful facilities in eye-catching visualizations that could be rotated and explored from every angle.
As a result of using GIS technology, preplanned sales in 2020 increased by more than 40 percent. Revenue from sales of spaces in Our Lady of Sorrows reached $300,000 before the building was even completed. The sale of new crypts alone increased fifteenfold during that period.
"Not only has Crypt3D equipped us to better serve those in need, [but] the revenue impact has been almost as impressive. We wouldn't have achieved half the preneed sales revenue we did without Crypt3D."—Branden T. Seid
Learn how GIS supports nonprofits