case study
SaaS GIS Helps DuPage County Stay Ahead of Winter Weather
As the transportation agency for the second-most populous county in the state and with over 1,000 plowable lane miles, roughly the distance from Chicago to Denver, Colorado, the DuPage County Division of Transportation (DuDOT) is responsible for keeping its streets clear and as safe as possible to ensure the area runs smoothly during the winter months. Winter weather can be challenging for the Chicago metropolitan area, but DuPage County is well prepared to handle snow and ice, thanks to its GIS-enabled snowplow operations. This past snow season, it experienced 22 snow events.
Mike Figuray, manager of highway operations, looks forward to each snow season to start its snow operations and launch Esri's Winter Weather Solution to plan the most efficient routes, use real-time tracking capability, and visualize all streams of operation data on an interactive map.
DuPage Pioneers Snow Operations Solutions
Before using GIS, one of the frustrations within the department was the cumbersome web interface used to track snowplows and extract data from the current automatic vehicle location (AVL) system. By the time staff could extract data, it lacked any real-time use, so they resorted to calling each driver when they cleared a road and updated that information on a spreadsheet.
Around the same time, GIS manager Tom Ricker and Figuray connected with Esri's ArcGIS Solutions team, who was developing a new winter weather solution. Ricker and Figuray collaborated with Esri on what requirements, features, and tools were needed to build a robust winter weather solution that would work for them and other agencies across the country. After several meetings with Esri's developers and initial modifications to what today is the Winter Weather Operations solution, DuPage and other test sites were among the first municipalities to test the solution in the 2022 winter season.
Winter Weather Operations in Full Effect
To get the real-time awareness that the county needed, Ricker configured the fleet AVL system to ingest the data into its Winter Operations Center dashboard using ArcGIS Velocity, which is a software as a service (SaaS) application that pulls data from smart devices and the Internet of Things (IoT) into ArcGIS.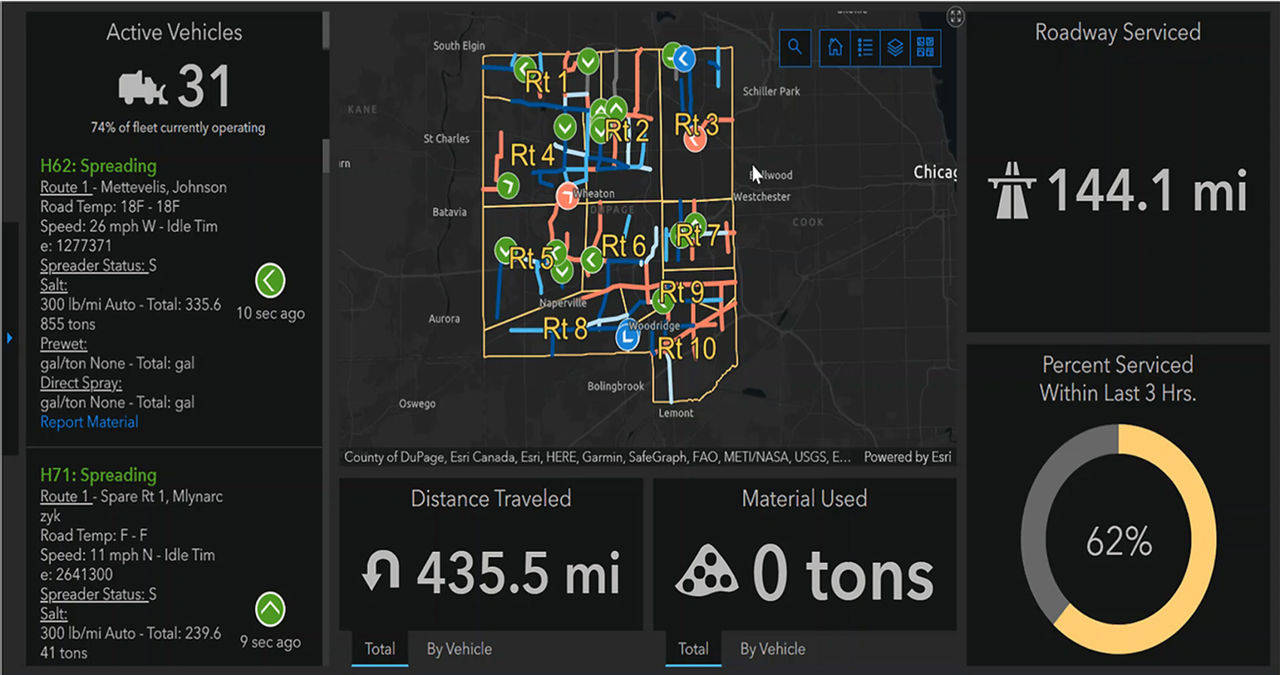 Managers like Figuray can look to the Winter Operations Center dashboard to see exactly who's where and what routes are coming up next.
"The moment we announce an active winter event, and the trucks hit the road, our team has complete insight into what is going on," said Figuray. As a plow truck salts a road, the color of that road segment on the map changes to indicate to managers which roads have been serviced and how long before they may need to service that route again.
In addition to benefiting its management of the plow trucks, DuDOT has simplified the web map to only show where the plow drivers are and the plowing status of the roads with other departments and supervisors. "During larger snow events where the emergency management operations center is activated, this map helps them understand which roads have been serviced," Said Ricker.
The most significant benefit to this solution is the operational awareness of where trucks are and how much salt they are dropping at any given time. "Salt is expensive," explained Figuray. "So, we can monitor the salt our drivers are putting down. If one route looks better, we can know when to call our drivers to adjust their salt spreader settings as needed."
When drivers come in after the end of their day, they input the material used with ArcGIS Survey123, a mobile smart form app. The data collected there is then attributed to each respective vehicle and driver so that the information can help with budgeting efforts after the event and season. The dashboard houses all that information per snow event, so they can also see specific metrics on the material used, precipitation levels, and hours per shift and compare their operations side by side.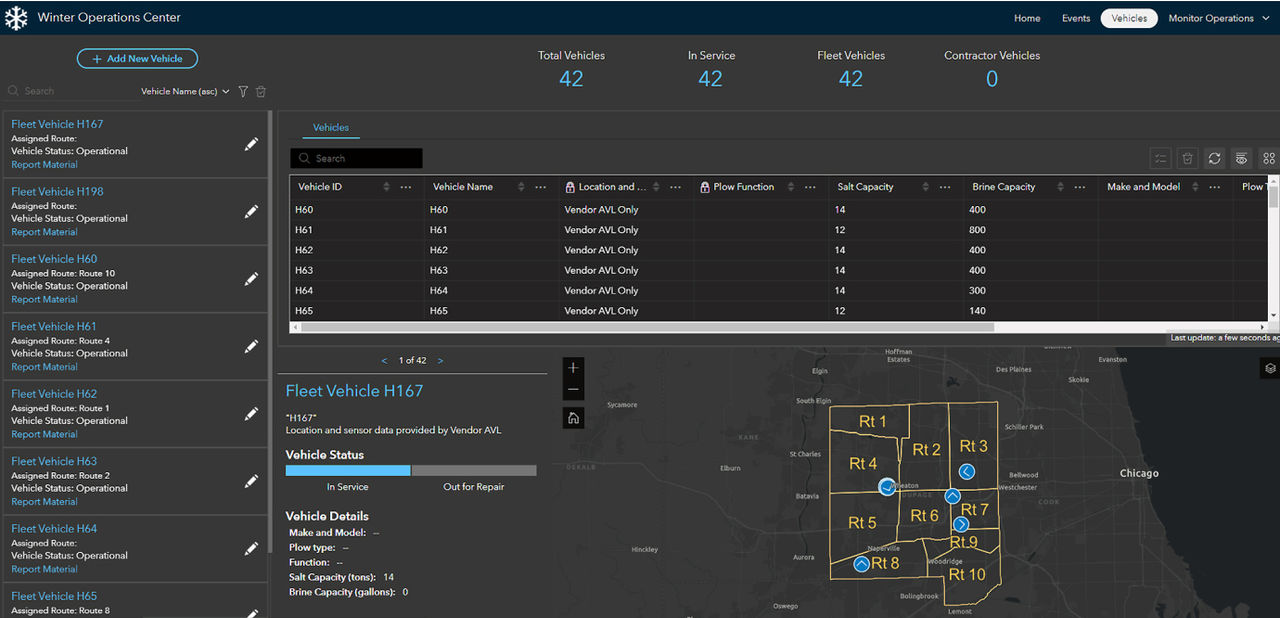 The dashboard also gives staff the ability to instantaneously analyze the data from each snow event.
Lastly, there's little to no interaction with the technology that the drivers must learn. "That's also an added benefit to the winter weather solution," expressed Figuray. "It's a behind-the-scenes implementation that doesn't distract our team and will continually enhance [its] performance."
Although the Winter Weather Operations solution is a preconfigured set of maps and apps that work together to deploy an efficient snow operations workflow, DuPage staff can customize and add to the solution as needed. "Being that it is a SaaS solution, we have a lot of flexibility to make custom adjustments within the app," expressed Ricker. "If there's another aspect of the operations we want to track, we can do so. It's just a matter of capturing that data and feeding it onto ArcGIS."
Mobilize field crews and ensure fleet optimization