case study
OmniTRAX Uses GIS to Enhance Services
OmniTRAX is leveraging GIS to consolidate and organize information about their property holdings, management of their assets, and improve customer service.
Maximizing the value of a property portfolio and related assets can be a challenge even under the best of circumstances, let alone if the properties are often hundreds of years old, were acquired at many different times, and are geographically dispersed. The difficulty is how to gain an accurate picture of all of those current assets and understand how to effectively communicate their potential value.
This was precisely the situation faced by OmniTRAX, a short-line railroad management company headquartered in Denver, Colorado. It operates a total of 25 railroads that span the continent between the US's East and West coasts and extend northwards into Canada.
OmniTRAX undertook an effort to collect and organize all these disparate property records, digitize the boundaries of the properties, and consolidate all of the property related information into a single ArcGIS Online website. Recently released across the organization, this application serves as both a repository and a go-to source of data.
By consolidating all of that information into a common database, the effort supported multiple groups across the organization with purpose-built applications all drawn from that common data source. The results are better business management and revenue realization, and the new website is also opening the way to new and improved levels of customer service.
As Jason Berryhill, Chief Information Officer relates: "We operate over two dozen separate railroads and industrial parks. For all of them, we wanted a core business operating model and supporting systems architecture — integration tools, reporting tools. All of these are now underpinned by geospatial. We've reduced from around 20 different apps just by standardizing and consolidating and have completed a full migration to the cloud."
The initial aim of development, according to Leah Twombly, Director of the Enterprise Services Team, was to gain a better appreciation of the organization's real estate assets — bearing in mind all of the challenges noted above.  "Ultimately, it's about confirming ownership of what and where, but there was also a desire from our Real Estate team to be able to make better use of the information we have. That meant providing better access for the layperson, in an easily usable and recognizable format that they can latch onto without much training."
Twombly continues: "At the most basic level, users need to know whether a document exists and how to get to it."
The largest part of the project was data gathering, especially since property data was distributed across different railroads, and even across different groups at each railroad. This process still continues, since as the project gained steam, other groups came to recognize the value of what was being created. Twombly picks up on this: "Collation involved some serious leg-work — the painful process of reading through all of the descriptions of utility crossings and deeds and representing those in the geodatabase. There are hundreds if not thousands of documents now referenced. That includes many downloads from county recorder websites, and we were very lucky to have a superb team of consultants to help us read through legal descriptions and be able to capture the locations of properties, utility crossings, etc."
As Mike Garcia, a Senior GIS Business Systems Analyst explains: "Working with the Real Estate team, we had narrowed down the initial requirements. One request required a lot of field time, we needed an appropriate technology. That led us to Esri and the ArcGIS Field Maps application. An advantage it has is its voice dictation feature. It replaced clipboards and Excel spreadsheets, and the time savings on data inputting were huge."
Garcia continues: "The Field Maps application also makes it really easy to go out and do audits. For example, we might have a utility crossing at a given location. We need to be able to verify that. But what happens if at a pole location there are five wires instead of the recorded three? We need to know to be able to communicate with the telco to see what's actually been done."
Another advantage that OmniTRAX staff identified is that field operatives, when conducting audits using the ArcGIS Field Maps application, can look two or three miles up- and down-line and see things that they need to be aware of.   Twombly highlights this advantage: "That's one of the things that the railroad general managers have picked up on, and it's something that's helped us greatly with development. When we make acquisitions, field staff can go out and tell us what's there and also what's missing from the records; it helps to flesh things out a little more."
"It is GIS's ability to share information and provide access without specialized tools that are the game-changers, according to Garcia. "Our first app was released in 2019, now the platform hosts five apps and experiences up to 50 unique user logins a day."
"The new document viewer was a hit before it was officially released", he adds. "We started beta-testing with Real Estate, but the Economic Development folks quickly seized upon the ability to quickly search and gather information for themselves. Usually, users would call Leah and she'd have to trawl through data and documents based on a loose description of what people were looking for. We had some search functionality in our initial application, but a search could take 12-15 clicks. We've now got that down to two to three."
"The across-the-board goal was efficiency," adds Twombly. "All the folks throughout the company are currently having to wear several different hats. Helping to reduce the number to only two or three means that they can really focus on priorities."
She continues: "In terms of numbers of queries, there was a learning curve — 'Go here, instead of to Leah' — but once we were past that initial period it's definitely saved time and money. A query, depending on complexity, would take me 10-30 minutes to respond to. Now, individuals can find what they want for themselves inside five minutes. It's made them vastly more time efficient."
Positive user experiences are leading to lots of recommendations for expansion, as Twombly explains: "The Real Estate team got a little ahead of us, as they were already showing apps to other people before we officially rolled out the application. That included one of our legal team, who realized that a single click would reveal the entire chain of history for a land parcel. The difference was described as 'revolutionary', as it's going to save them having to go to the paralegals to dig out information."
The impact on Omnitrax has been wide ranging, as Twombly relates: "The vast majority of users here are corporate — Tax & Finance, Real Estate, Economic Development — but the railroad general managers (GMs) have been terrific proponents of picking this up and being able to deal with property and asset management queries. The GMs are going to be big users, as are the safety teams who will be better able to identify things that they need to look at more closely."
This process of digitization together with GIS has opened up whole new horizons of possibilities at OmniTRAX. As Berryhill explains: "Once you digitize, everything changes. You can search for something in an instant, and you can see what business services you can offer if you have all the data at your fingertips." According to Berryhill, common queries that can now be answered include: 'Here's a picture of where our properties connect and how we can provide easements'; 'Our track runs right up to your location but your building's dilapidated; maybe it's time to invest';  'Where there are easements that we don't currently know about, how can we get on and capture that revenue in customer-sensitive ways?"
"Geospatial is fantastic for visualizing all that."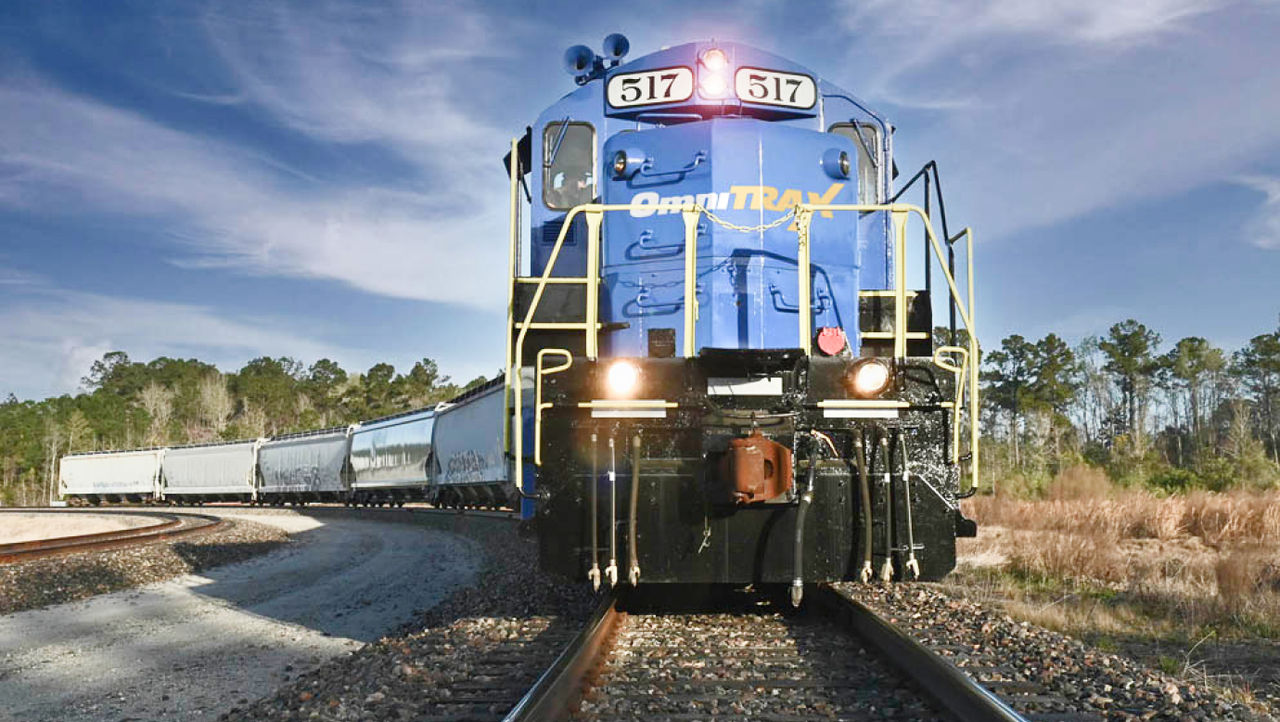 As Berryhill began to understand what GIS could do, this led to a focus on other efficiencies that could be gained, together with better customer service. As he relates: "There's a lot of appeal from an operational perspective of knowing precisely where our locomotives are at all times, and whether they're running or idling and still burning fuel. Up-to-the-moment information means that we can take action."
And understanding location led to thinking about how OmniTRAX could improve customer service: as Berryhill says: "how can we, as an industry often seen as archaic, offer transparent services to our customers that we haven't in the past? Knowing where our customers' cars are at all times allows event-based updates — 'Here's a picture of your car arriving on our property."
The combination of camera technology together with GIS will give OmniTRAX that type of real time visibility, without the cost of putting sensor technology on every car. Berryhill points out that as a short line railroad, they are a first/last-mile delivery specialist, not an end-to-end deliverer of freight. But the ability to provide greater visibility strengthens their partnership with the Class 1 railroads, and the combination of "camera systems and GIS provides us with another way of delivering that service."
GIS has opened the door to a much larger set of possibilities at the railroad and arguably, enables OmniTRAX to deliver a host of value-added services ahead of their larger peers. As such, the OmniTRAX team is already looking at ways of adding more value to its GIS platform.
One such example is the effort to tie more of its mandatory safety reporting into GIS, while others are looking at how drone imagery data could be leveraged for a wide range of uses across the organization. And finally, Berryhill feels they could benefit from further combining their business intelligence together with GIS to help drive even greater efficiencies in the future. Wherever they decide to go next, it is clear to OmniTRAX they are on the right track.