case study
Rete Ferroviaria Italiana Reimagines their Stations for Greater Mobility
The StationLAND platform developed by RFI—the main Italian railway infrastructure manager—provides vital information and analysis designed to help maximize the social, economic, and transport potential of every station on Italy's railway network.
Postpandemic, public transportation agencies worldwide have faced a series of significant challenges. The severe drop in ridership caused by lockdowns, furloughing, and social distancing has left service providers scrambling to continue to provide basic services while attempting to understand the nature of future service demands. At the same time, many have realized that the break in operations has provided an opportunity to do things differently.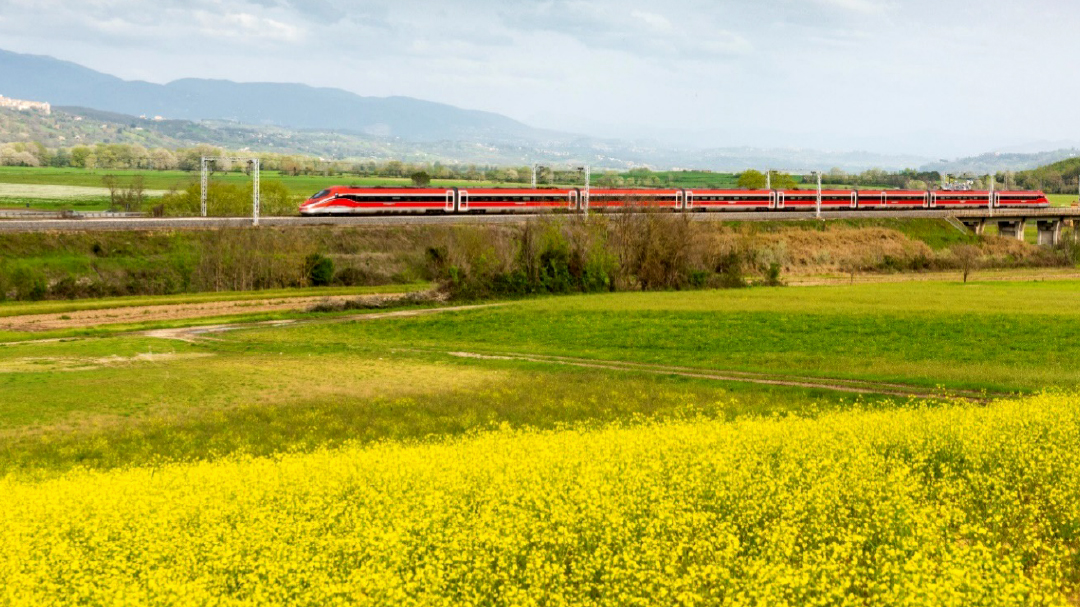 Globally, transportation policy is primarily focused on improving safety, curbing emissions, and reducing congestion. Closely tied to these goals is improving quality of life, which for mass mobility often means better, more relevant services in local conditions. That also means less traffic and waste, reduced noise levels, and greater livability in urban areas.
One way to make services more relevant is to contextualize them—specifically considering how mobility functions as a part of the world around it, not just as a discrete entity. To effectively place services at the center of people's lives means providing the essentials while also facilitating social and other personal opportunities. And that translates into customer satisfaction and economic sustainability for transportation infrastructure.
The StationLAND platform is designed to make railway stations the centerpieces of their communities by increasing connectivity to the stations themselves within towns and cities. Created in a geographic information system (GIS) environment, the platform takes every train station in Italy and links it to a huge volume of related information—local and regional demographics, businesses and places of work, and travel and social habits, among others. It also highlights sites of natural and cultural interest and promotes the use of the railway system as a basis for sustainable tourism.
By improving understanding of how and why rail stations work, StationLAND shows how they can work better. The platform was built and is being maintained and developed by a team led by Luigi Contestabile, head of station services development with Rete Ferroviaria Italiana (RFI), Italy's primary railway infrastructure manager.
Contextualizing stations, he explains, was a logical next step for the railways: "In Italy, the railways are one of the things that work best. Over the last 20 years, we have worked to develop their efficiency. Most rolling stock, both high-speed and regional, is brand-new, and all the control systems and technology are top-level. In fact, what we've done here in Italy in some cases has been used to set the standard for all the EU."
Contestabile and his GIS team set out to map the world. A national constellation of 2,200 stations had to be viewed in terms of how it could best serve a population of 59.5 million that is spread across many medium-sized and small cities.
"What needed a step forward was our stations, so three years ago RFI decided to create a Station Department, focused entirely on station improvement," continues Contestabile. "The department's director, Sara Venturoni, is an architect, and she asked for a platform that enables stations to be understood and helps to make them work with the towns and cities surrounding them. In her words, 'Stations don't really work if they don't work with the environments outside them.'"
Changing Italy's mobility habits comes with significant challenges. Even Rome, its capital, has fewer than 3 million inhabitants and only two metro lines; Milan, its second most-populous city, is home to fewer than 1.4 million people. Many of the country's major settlements are centuries old, and it is often difficult to implement and manage effective public transportation systems. The car has therefore won the mobility battle for the last half century and more.
A large part of implementing StationLAND has not been through data gathering itself so much as brokering agreements over access to information from many different organizations. Viewed in that context, and given the project's geographic scale, RFI GIS team members have achieved a remarkable level of detail.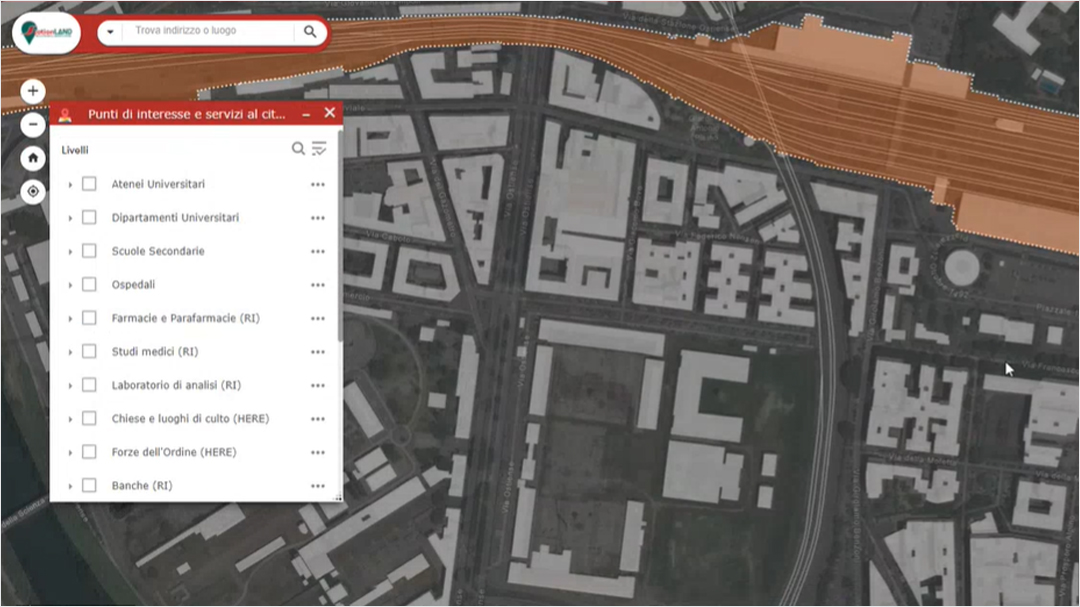 "Within the platform, we now have several hundred different layers," says Contestabile. "These include catchment areas for different modes, such as how far people walk, cycle, or drive to a station. Put together all the information around a site, and you start to understand the stations' gravitational potential and what we call their vocations—the particular functions and uses of each station in its own context. That has led us to label and identify different kinds of stations with an eye to developing different types of services."
Data on the platform is rated according to source reliability and each layer's level of update. In the background of StationLAND is StationData, a site dedicated to data management and a huge data engine in its own right.
On-screen, stations are color-coded according to their importance. Clicking on a station gives users access to all relevant information on station visitors—age, gender, mode of and reason for travel, as well as the time it takes to get to the station. Catchment areas—the area that a given station attracts its surrounding population—reach out to 250 m, 1 km, and 3 km, as well as nationally and they vary in size according to the mode of transportation, whether by driving, walking, or bicycling.
By zooming in, StationLAND users can find local mobility links: metro, tram, and bus routes and stops; cycle lanes; taxi stands; bicycle- and scooter-sharing schemes; bicycle and car rental locations; car-share locations; on- and off-street parking; electric vehicle charging stations; and more.
Other layers give added information on different forms of mobility—for example, airports' passenger numbers and types, and levels and types of freight. The same information is provided for the maritime sector and national/regional high-speed rail links.
StationLAND also includes a heat map of accident locations. This is important from the point of view of pedestrian safety when looking to regenerate station locations.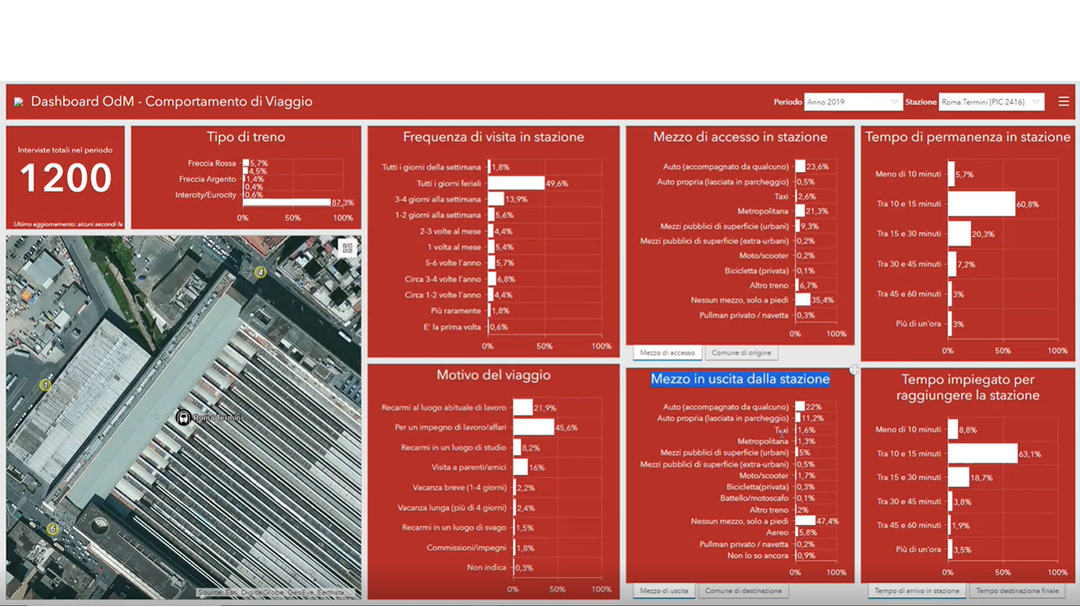 Much of the information used comes from nationally available sources. A great deal of work has gone into understanding the economic texture of towns and cities. This includes socioeconomic data—salaries; property prices; as well as types of businesses, their locations, and their number of employees; and other point of interest information related to health care, education, finance, postal services, religion, and culture. This can also be used for geomarketing purposes to drive commercial opportunities within each station.
A key part of Italy's economy, tourism is one of the reasons why people use the train system. StationLAND has looked to connect the railway network and stations' locations to what is known as slow tourism. The activities that make up this form of tourism involve more sustainable travel such as walking and cycling. Point and location of interest information includes all regional and national parks, the country's most picturesque villages—particularly those that are highly rated, all long-distance cycling and walking routes, and around 60 UNESCO World Heritage sites.
"The result is a map of sustainable tourism in Italy," says Contestabile. "This again includes a ranking system, because some stations are close to a single point of interest, while others are close to five or six."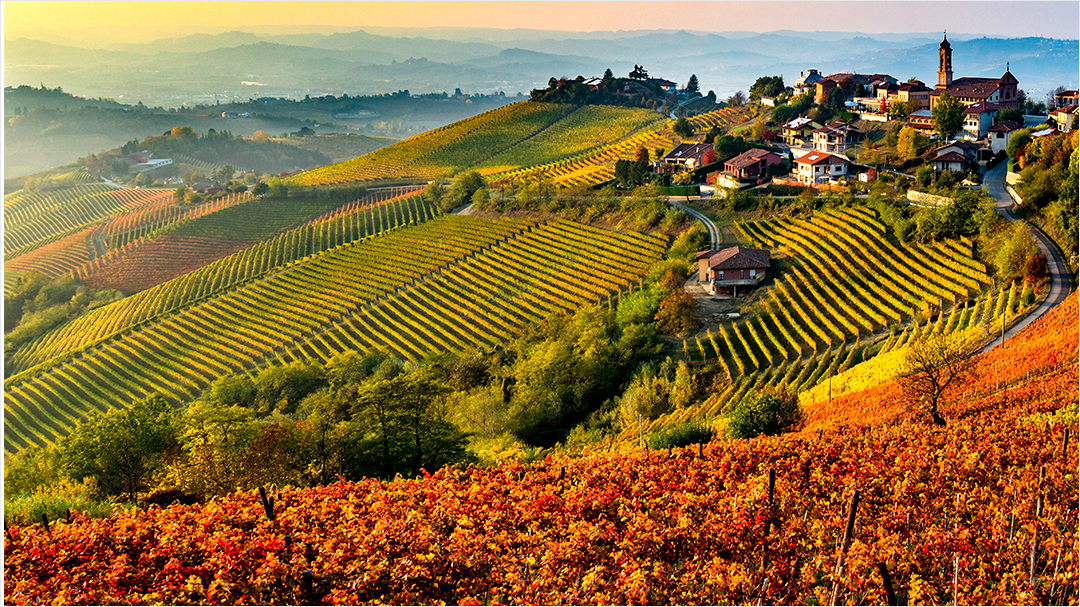 "The stations' centricity in our planning is fundamental to developing the sustainable [intermodal approach] we need," says Venturoni. "Half of the Italian population works and lives within a 10-minute bike ride of a station—3 km—but to convince people to leave their cars and increase the use of low-impact mobility, we need to do what we've been doing: mapping routes and encouraging links."
Postpandemic, Italy's railways have been given an important role in reducing mobility-related emissions. This is reflected in levels of funding, and StationLAND forms an important part of the effort to get the railway "offer" right.
"We need to [ . . . ] leave room for pedestrians, public transport, cyclists, and electric-based mobility services. Hence the analysis of stations' surroundings," continues Venturoni. "We can propose to local authorities the pedestrianization of whole streets, leaving room for commerce, for life. This also partially solves the problem of criminality—if we get rid of cars and create a more welcoming urban environment, stations become alive and automatically improve. That encourages people to spend more time within the stations, taking advantage of the services offered. "
Although barely a year old, the platform is already being used to influence the mobility landscape.
"Bicycles are mainly used by students aged 18–24," says Venturoni. "So we asked the team to look at where universities are located in Italy. Most are less than 3 km from a train station. Pulling together information on the stations and university locations, how many students there are and how far they cycle, topography, and other parameters, we were able to come up with a list of priority bike lanes."
RFI approached Italy's transportation minister and explained that this was the best way to spend taxpayer money to improve sustainable mobility. A few months into the recovery plan, €150 million was granted in financing for bike lanes, and in a few years' time, all main stations and universities will be connected.
"For the RFI GIS team, StationLAND is the realization of a dream that our railway stations can contribute to better serve our communities and realize environmental benefits, and that is the goal of StationLAND and of everyone who works on StationLAND," continues Venturoni. "With the tools and this approach to increasing sustainable mobility, they think they have the chance to make big changes to the quality of life for all Italians. And on that score, we can only add: buona fortuna."
Learn more about RFI's geographic approach