USER STORY
Engineering into the Future: Modernizing with ArcGIS
By: Stephen Ehnat, Engineering Technician—San Juan Water District
When San Juan Water District's (SJWD) legacy CAD-based geographic information system (GIS) lost its functionality to communicate across departments, it created bottlenecks and data silos. Collaboration became a struggle as staff began to rely on disparate datasets, paper map books, and outdated systems. It was time for a change. SJWD needed a solution that would repair the damage and, more importantly, ensure a sustainable future.

Our legacy GIS was built on an open-source platform and maintained by one person. When this person left SJWD, the system eventually stopped working. It lost its functionality and the ability to communicate between the engineering, operations, field services, and customer service departments. This resulted in staff using separate datasets and procedures that became bottlenecks. Field crews relied on paper map books for the latest system information. Data was limited, and there wasn't an easy way to get more detail. It took engineering staff one week every quarter to print map books, consisting of 96 pages each.
Engineering staff were responsible for updating system maps using CAD, which worked well for them but was limited in sharing capabilities. Additionally, as the legacy CAD-based GIS lost functionality, it broke the connection to the computerized maintenance management system (CMMS). The CAD system data was also used to run water modeling scenarios in a separate software package. The CAD program and the modeling program operated with separate datasets requiring multiple updates for them to be in sync. Customer service and engineering staff used separate databases and software programs to track project activities and customer water service requests, resulting in limited collaboration and communication.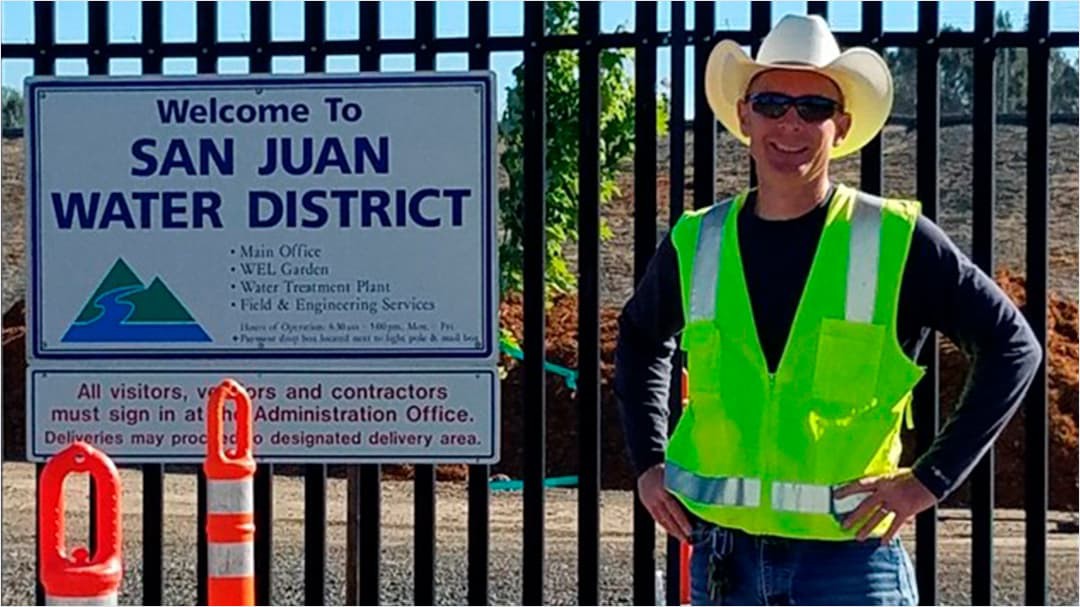 Evaluating District Needs
Engineering staff wanted a system that would be available to field crews so that they could run advanced network analysis without returning to the office. Accessing information and performing network traces using mobile devices would save time and make their jobs easier. The new system had to be flexible, allowing integration with the asset management system and the customer information system. The engineering, customer service, and operations teams required a collaborative environment that they would all agreed on.
To ensure that everyone's needs were met, an outside company was hired to perform a needs assessment. The assessment identified five primary requirements for the new system:
Technical support and online resources for problem solving, troubleshooting, and training
Integration with important business systems: CMMS, hydraulic modeling, customer information system, and document management
Capability to transition paper map books to digital resources
A collaborative environment that would enable a streamlined workflow between the engineering, customer service, and operations teams
Ability to be hosted internally while provide access to the system network across the organization 
After careful consideration, we chose to implement Esri's ArcGIS platform. ArcGIS Enterprise, Portal for ArcGIS, ArcGIS Pro, and the ArcGIS Utility Network provided the framework that would meet our needs. Technical support is available 24/7 via phone, web, and even a support app. There is a large water industry community to connect with and learn from. Online e-Learning is available, and training plans can be developed for individuals or groups. Although Esri provides an abundance of resources, we knew we were going to need help. Without in-house expertise, the implementation would be a challenge.
We decided to enlist HDR to help with the migration and ensure that we had the appropriate server and network resources. HDR was our choice because it is an Esri partner with extensive engineering experience. HDR has in-house expertise in asset management and hydraulic modeling. It also holds Esri specialty designations for ArcGIS Online and Utility Network Management.
The engineering department worked with HDR to take the first step, migrating system data to a single enterprise data source for the organization: the Utility Network. Our existing CAD system data provided a good starting point for the migration. It included most of the features in the system and attribution from the hydraulic model, allowing us to populate the most important fields in the Water Distribution Utility Network schema. To optimize the conversion, we aligned the CAD data to the local coordinate system. This was done using the county parcels. ArcGIS Pro allowed us to directly insert parcel drawings into the system. The CAD data was converted into an intermediate GIS dataset where topology tools were used to clean simple dangles and overruns and add vertices where any line edges crossed. Moving system data from CAD to the Utility Network created a centralized data repository that could be shared across the enterprise. 
"Migrating from CAD to GIS was a tremendous step for us at SJWD. Everyone in our organization has instant access to the most up-to-date maps right on their tablets and laptops. This has [led to] a drastic increase in our office communication and awareness." - Andrew Pierson, Engineering Manager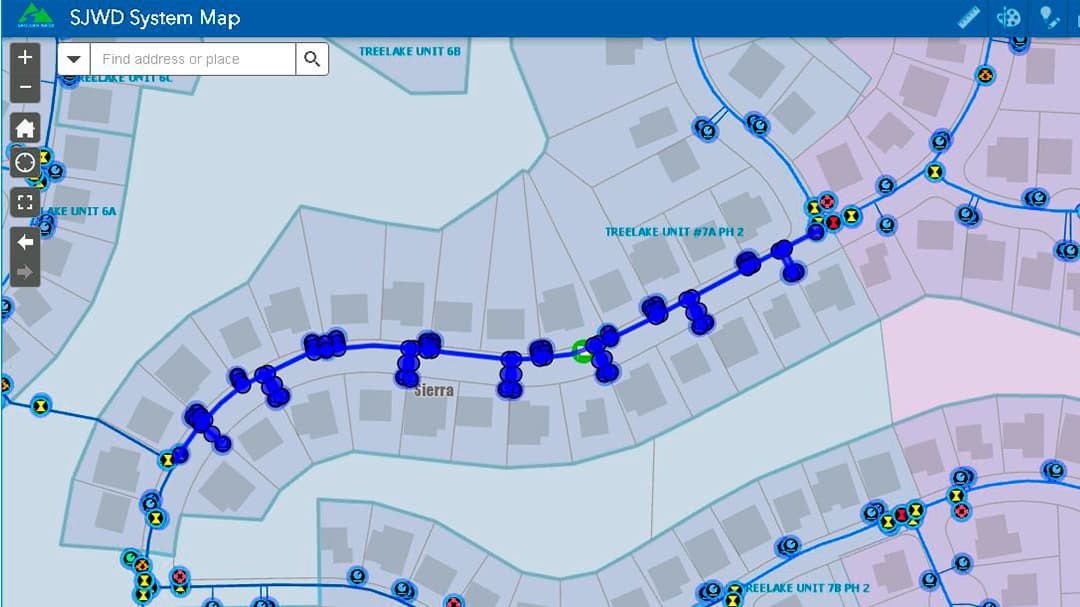 "Moving into the Utility Network model has saved countless hours with enabling crews to run an isolation trace automatically in the web browser vs by hand in the office." - Stephen Ehnat, GIS Manager
We have been able to meet each one of our needs by moving to the ArcGIS platform. The web-based architecture of the Utility Network makes it easy to share with field crews, giving them the ability to run advanced network analytics using network traces. Advanced tracing capabilities identify system and customer impact during outage events and help engineering and operations teams be proactive in determining areas exposed to potential vulnerabilities. It is integrated with asset management and customer information systems, providing much needed accessibility for office and field staff. Built-in data quality controls maintain data integrity for the point and line work, supporting connectivity to the hydraulic model.
The Field Services paper map book has been replaced by the Water System Map. This digital map book is available on desktops and tablets, giving crews access to accurate and up-to-date information that was unavailable to them before. The Water System Map provides staff access to four data resources in one place: distribution system data, water treatment plant information, customer information, and parcel data. It includes tools to measure, submit a map change request, and perform network tracing.
Engineering staff maintain the GIS data and share information with the entire organization using web maps and dashboards. The use of web applications helps engineering staff work closer with the customer service and field services teams by communicating project details and status of activities in real time. They are able to collaborate on project designs and construction, keeping inspectors, locators, and customer service representatives on the same page.
As part of the implementation, we created the SJWD GIS Portal. The portal is a centralized place hosting all the district's data, reports, and tools. Staff can easily find and access the system map, see service area demographics, get up-to-date information about projects, view service requests, and more! The portal is organized by the different groups at the district, so they have immediate access to the applications that were made for them as well as group integration apps to assist in project communication and awareness. Providing a centralized repository of data and applications was a core component to the project. Portal for ArcGIS provides the ability to access these information products quickly and easily. It is integrated with the district's active directory so users can use their network password to access it safely and securely inside their firewall.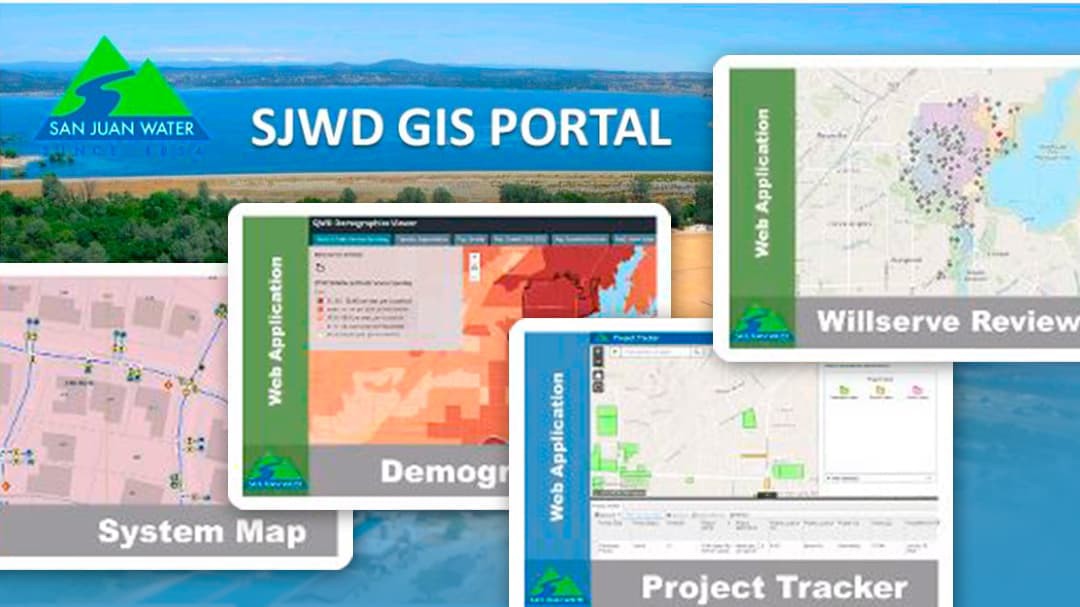 Improved communication between the different business groups and integrated work processes have increased organization engagement and awareness and enabled our district to quickly react to the needs of the system and our customers. The implementation of the ArcGIS platform has improved the work being done today and prepared SJWD for the future.
The new Esri GIS system has increased the district's operational performance by eliminating paper maps and providing field staff quick access to digital interactive maps, as-built drawings, and system information. This has increased efficiencies in the field for maintenance and emergency response.
---
Tony Barela
Operations Manager