Essential Data Models Ease GIS Implementation and Development
Esri Develops Industry Data Models
Esri is undertaking a new initiative to provide its user base with essential data models that follow a framework that is easily implemented by end users. These data models will be developed for a number of industries, disciplines, and categories of geographic phenomena, providing a template composed of standard data classifications and feature data models. Esri is already working with a number of partners—expert GIS users in various industries and disciplines—to provide the GIS industry with a comprehensive set of data models.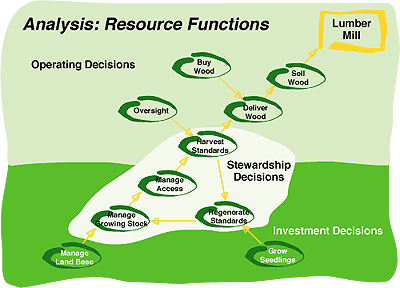 ArcGIS Forestry Data Model development is led by the Esri Forestry Spatial Interest Group, the Potlatch Corporation, and others. Download the white paper.
With the release of ArcInfo 8 software and the ArcGIS geodatabase object modeling environment, it is possible to create and provide data model templates for specific industries and applications that can promote interoperability and sharing between similar organizations. "Our vision is to develop these data models building on accepted standards in each industry or field," said Jack Dangermond, Esri founder and president. "Esri has initiated a series of projects that facilitate creating these data models in close collaboration with industry user groups."
A Suite of Data Models
The ArcGIS Water Facilities Model, the first data model resulting from this new initiative, is already available. Other essential data models currently being developed under this new Esri initiative include
Biodiversity/Conservation
Census
Defense
Energy Networks
Environmental Facilities
Forestry
Hydrology/Water Resources
Land Parcels
Roads/Transportation
Esri will continue this initiative and has invited its users to become participants in one or more of these fundamental data modeling efforts.
"We believe that our users will help build standards for organizing data sets into classes of geographic features that better support both interoperability and data integration," noted Dangermond. "Organizations with existing data sets will find that the new semantic data modeling effort is very complementary and provides a kind of road map for standardizing their data. Organizations that have yet to develop data models will find that the object model definitions and specifications provide a useful template to get started."
Developer Opportunities
Esri will focus on building core capabilities into ArcInfo, ArcView, and other ArcGIS software and will work with our users to define standards for database designs, map designs, symbology, and metadata for the vertical markets that Esri serves. A very important aspect of the data model initiative is that developers can build applications based on a common technology platform of ArcGIS software and the data model. Esri's goal is to support a strong Business partner community that provides a spectrum of applications, from simple tools all the way to full enterprise solutions. Developer partners will find many opportunities being created by the data model initiative. Building one application that works for both ArcInfo 8.1 and ArcView 8.1 is also a key benefit.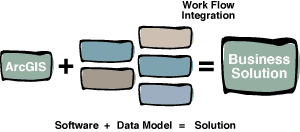 Everyone Benefits
Esri's goal is to make these data models open and widely available. The practical benefits from these efforts will be that GIS users will spend far less time designing and developing data models. The essential data models will represent valuable contributions to get started with GIS and will result in more semantically clear data abstractions for everyone to build on. This process is expensive and time consuming, but Esri feels that it is the only way to make significant progress in this area.
For more information, please visit www.esri.com/software/arcgisdatamodels.