Register Your ArcIMS Site
The Geography Network Challenge
By Jack Dangermond
In June, Esri, with the support of the National Geographic Society and many agencies and data providers, launched the Geography Network service for all of its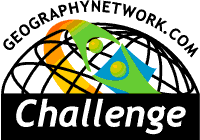 users. The Geography Network (www.geographynetwork.com) provides the infrastructure that allows users to publish and share spatial data and a wide variety of GIS applications on the Internet. Open to all GIS users and Web communities, this service is envisioned to dramatically improve the interorganizational sharing of geographic knowledge, and, over time, the Geography Network will grow and evolve naturally as users discover and apply the concepts of this system for their own work.
Over the next few months, Esri and the National Geographic Society will hold a competition—called the Geography Network Challenge—to spotlight and acknowledge those users who develop creative services and applications. Participants with the most innovative services and applications will be selected and awarded up to $5,000 of educational/training credit from Esri, as well as publications from the National Geographic Society. The winners will also be recognized in a special session at the 2001 International Esri User Conference.
I feel strongly that the Geography Network will be as important to the GIS community as any development we have achieved. To realize this vision, it will take all of us participating and sharing information, as well as sharing methods and techniques for implementing GIS on the Web. I hope the Geography Network Challenge will provide a way for all our users and Business partners to show their creativity, and in the process, create and share new methods. The Internet will enable users to share their data, or service, quickly and easily by publishing it on the Geography Network using ArcIMS.
The Challenge Categories
There are seven Challenge categories:
G-government (using the Geography Network to improve government)
Education (K-12 and higher education)
Data sharing and dissemination
Citizen-Government
Applications services (Esri Business partner focus)
Conservation
Science
How to Register
Your organization can register by visiting www.geographynetwork.com/challenge and submitting a description of your Geography Network content. Please clearly state which of the above categories your service applies to. The deadline for registration and having your service up and operational on the Geography Network is March 1, 2001.
Join the Geography Network Challenge today!
The Challenge Awards
1-Grand Prize: $5,000 in Esri credit
5-$2,000 in Esri credit
7-$1,000 in Esri credit
10-$1,000 credit for Esri's Virtual Campus
21-Subscriptions to National Geographic Magazine
Credit May Be Used For
2001 Esri User Conference registration
2001 Esri User Conference workshops
2001 European User Conference registration
Esri Virtual Campus courses
Training at any Esri office or international distributor
The winners will be announced May 1, 2001, on Esri Web sites. The awards will be presented to the selected organizations during the Twenty-First Annual Esri International User Conference in San Diego, July 9-13, 2001.