Lycos Publishes Environmental Information
Internet News Service Uses the Power of GIS
The Environment News Service (ENS), the original daily international wire service of the environment, is using ArcView GIS software to create maps to illustrate articles. Providing late-breaking news gathered from a worldwide network of correspondents, ENS is now featured as the exclusive provider of environmental news to Lycos, one of the most popular search engines on the Internet.
Established in 1990, the ENS Web site focuses on issues and events that affect the environment such as natural disasters, public health, legislation, science and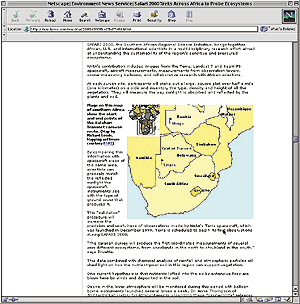 technology, air quality, land use, wildlife, and recycling, receiving approximately 20,000 visitors a day. "We use ArcView GIS to bring more awareness to news stories," says Jim Crabtree, ENS managing editor. "We use the maps created by the software as a graphic design in our news. These highlight environmental stories well because the mapping system is so environmentally focused that it brings out the heart of our stories and saves us many, many words."
At right: Southern Africa showing the Kalahari Transect caravan route (map by Richard Lewis, ENS).
ENS also provides environmental news to writers and Web sites with a specialized environmental focus.
"We'd like to do more maps with ArcView GIS. When we use the maps we get more readers to a story because people want that visual connection," says Crabtree. "In the past, we were just going around and finding maps at different locations on the Web, then transposing them into the stories. But they didn't have a consistency that way; they didn't all look the same. That's what first got us moving toward a GIS. Now we have a consistency, we've chosen a color format that we go with, and now each map appears as if it's come out of the same shop."
For more information, contact Jim Crabtree, managing editor, Environment News Service, 500 Platte Drive, Lake Havasu City, Arizona 86404 (tel.: 520-680-7020, e-mail: editor@ens-news.com), or visit ENS at ens.lycos.com.