Developed by SAIC with ArcView Spatial Analyst
CATS for Emergency Response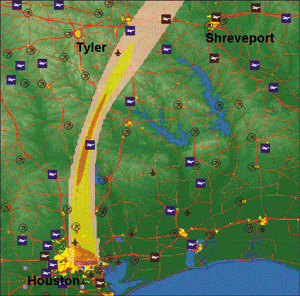 With the onslaught of natural disasters that have recently struck the United States and with President Clinton asking Congress for $2.8 billion to guard against terrorist attack, the need for real-time disaster analysis and emergency response today has never been greater.
The Science Applications International Corporation (SAIC) of Newport, Rhode Island (an Esri Business partner), has been meeting this demand with its world-class Consequences Assessment Tool Set (CATS) software, which provides powerful disaster analysis in real time with a rich set of information integrated from a number of sources.
"CATS was first used in 1993 for Hurricane Emily," says Jay Creutz, program manager, SAIC. "At that time it was running on workstation ArcInfo with UNIX. In 1996 when ArcView GIS 3.0 was released, we were able to port CATS to the PC and ArcView GIS and that's where it sits today."

Today's CATS uses ArcView GIS and ArcView Spatial Analyst as the software front end. With the new look and feel of ArcView GIS, CATS software will be used by a number of organizations in federal and local government, fire, law enforcement, and health.
CATS emergency response software combines advanced computer models, databases, and GIS software.
"If a bioterrorist attack happens, what you want to be able to do is to accurately assess the immediate risks to the population as well as to predict the likely spread of the biologic agent, track where the attack took place, who is affected, how the attack might be spreading, and how to reduce exposure to populations as fast as possible," says Bill Davenhall, health industry solutions manager, Esri. "To do this, a wealth of information is needed as soon as possible, and CATS fulfills these requirements in an unprecedented manner by coupling real-time wind speed and direction data off the Web with ArcView GIS and the ArcView Spatial Analyst extension supplying powerful data integration, analysis, and visualization tools."
Developed under the guidance of the Defense Threat Reduction Agency (DTRA) and the Federal Emergency Management Agency (FEMA), CATS is deployable for actual emergencies with capabilities including contingency and logistical planning and consequences management.
Organizations using the software include FEMA's Mapping and Analysis Center, DTRA, the Directorate of Military Support, the FBI, the Army Corps of Engineers, U.S. Pacific Command, numerous National Guard/State EOCs, Camp Lejeune (U.S. Marine Corps), the National Ground Intelligence Center, the Pentagon, the U.S. Southern Command, and more.
"Preparing communities to respond to bioterrorist threats or events is a top priority in our country right now," says Davenhall. "With GIS as a core component to this solution, the immediate impact will be to make GIS an integral component of the day-to-day operations of public health and public safety organizations."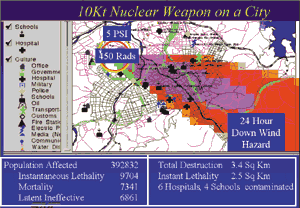 CATS has already been used in many natural disaster situations, including pre- or post-disaster planning and/or responses to more than 20 hurricanes since Hurricane Emily in 1993 as well as the 1994 Los Angeles Northridge earthquake. In addition, CATS was used at the Atlanta Olympics (1996), the G8 Summit in Denver, Colorado (1997), and the presidential inauguration.
Utilizing ArcView GIS and ArcView Spatial Analyst, CATS comes with a wide range of georeferenced land, demographic, and infrastructure information accessed via the Internet from a number of diverse database sources. Information on schools, hospitals, telecommunications assets, roads and highways, utility infrastructure, population information, and more is accessible with CATS.
The latest version of CATS is being well received by organizations. The Chino Fire Department will acquire the software to meet several diverse needs.
"There are many different kinds of emergencies that fire departments have to respond to," says Kevin Smith, Chino Fire Department. "CATS allows users to model events such as explosions, toxic releases, or other emergency situations. Users can analyze how those events affect surrounding people and how to best respond to these events."
According to Smith, this type of work, without CATS, would have been less precise and based mostly on worker experience. In cases where information could be processed to derive the best case scenarios for mitigation, the time involved in number crunching and hand calculations would take a far greater amount of time. "Because the interface is intuitive, with just a few clicks of a mouse you have what you need," says Smith.
Law enforcement will use the software as well. "In many emergency response situations, you are going to have a combined governmental response," says Lew Nelson, law enforcement solutions manager, Esri. "With CATS, law enforcement officials can establish a perimeter to an emergency situation and then coordinate their efforts with other agencies as well."
Police can use the software for crowd control, area closure, investigative response, and other law enforcement tasks. "The mapping element gives users the ability to use data visualization as a decision making tool and to easily share this data among cooperating agencies," Nelson says.
In addition, recent initiatives to combat bioterrorism have led to an even greater need for software like CATS. The Department of Health and Human Services, through the Center for Disease Control and Prevention, made funds available to upgrade the capacity for national public health organizations to counter bioterrorism. The CDC initiated a cooperative agreement program for state and major local public health departments to acquire advanced technology to better prepare for and respond to bioterrorism. Fueled by Clinton's proposal that would double the spending for protection against chemical and biological weapons defense over two years, more and more public organizations will likely acquire CATS.
For more information, contact Jay Creutz, program manager, SAIC (tel.: 858-826-6022) or Bill Davenhall, Esri health industry solutions manager (tel.: 909-793-2853, ext. 1-1714) or Lew Nelson, Esri law enforcement solutions manager (tel.: 909-793-2853, ext. 1-1690) or Russ Johnson, Esri public safety solutions manager (tel.: 909-793-2853, ext. 1-1836).