NetEngine 1.2 Also Announced
NetEngine 1.1 for UNIX Now Shipping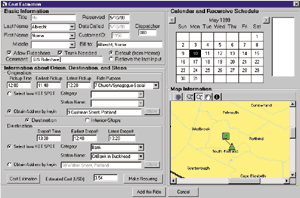 Esri is now shipping NetEngine 1.1 for UNIX and plans to release NetEngine 1.2 later this year. NetEngine is a programmer's library designed for network analysis. Developers can take advantage of NetEngine software for network modeling, path finding, and tracing of network topology. With NetEngine, users can solve a full range of simple to complex network problems including the ability to find the shortest path between two addresses over city streets.
NetEngine 1.2 will include new solvers, improved performance, and options, which add flexibility for programmers. The new hierarchical shortest path and origin--destination solvers enhance the performance of NetEngine, and support for bit map and heap data structure allows for implementing custom network solutions. NetEngine 1.2 will also include samples that show how to construct networks with turn information and how to use the allocate view and the new hierarchical solvers.
"We are very pleased with the number of new developers using NetEngine," says Ernie Ott, NetEngine product manager. "The diversity of their experience is allowing for NetEngine applications in areas we had not expected. These areas include routing using real-time traffic congestion levels, emergency routing, and even improving the efficiency of volunteer fleets supporting the elderly and the disabled. In fact, we are proud to announce that the City of Winston-Salem, North Carolina, has received the Global Bangemann Challenge award for their development efforts with NetEngine."
NetEngine 1.1 release for UNIX is available for immediate shipment on Solaris, AIX, HP-UX, and IRIX. NetEngine 1.2 is due to ship in the fourth quarter of 1999 and will operate in the Windows 95, 98, and NT environments.
Esri is currently recruiting new NetEngine Business partner developers. For more information on how to become a developer, please visit Esri on the Web at www.esri.com/partners/developers/developers.html.
For more information about NetEngine, please visit www.esri.com/netengine. Outside the United States, please contact your local Esri distributor.