GIS--A Crucial Decision Making Tool in Navigating Controversy
Planning the Future of a Former Marine Air Station
Officials in Orange County, California, are in the midst of planning the reuse of the 4,700-acre Marine Corps Air Station, El Toro, California. A victim of the end of the Cold War, the base is being closed down by the federal government.
With the 4,700-acre Marine Corps base came existing aviation facilities including two 8,000-foot runways and two 10,000-foot runways. Plans call for turning the aviation side of the base into a new regional airport with international access.
Air passenger traffic in Southern California is predicted to double by the year 2020 to 178.6 million annual passengers, overloading existing airports. It is estimated that a new commercial airport at El Toro could serve from 10 to 38 million annual passengers, providing relief to Orange County's John Wayne Airport, which has a single 5,700-foot runway.
As can be expected, there is considerable controversy surrounding base redevelopment. Whereas proponents see the proposed airport as crucial to support the region's air travel needs and to take the burden off Los Angeles International Airport to the north, opponents are concerned about jet noise, traffic and pollution, and the influx of airport-related development.
The County is now in the second phase of planning the Master Development program for the base. In addition to the proposed regional airport, a variety of nonaviation land uses is envisioned including cultural and institutional uses, a small Business park, golf courses, and open space.
The Orange County Board of Supervisors, charged with the responsibility for planning the base reuse, is relying on a cutting-edge GIS prepared by Psomas (Costa Mesa, California) as a major decision making tool in its planning process. The firm was selected based on its extensive GIS experience including the mapping of noise contours at Los Angeles International Airport.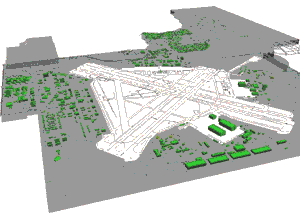 Originally designed as a planning tool, the GIS Psomas is building, based on Esri's ArcInfo and ArcView GIS software, has grown into the overall data repository for the El Toro Master Development program.
The GIS includes sound contour data for previous (military) aviation uses compared to sound contours for proposed commercial aviation uses. This provides a concrete basis for analyzing the net change in potential noise impacts. The planning effort involves up to 10 different airport scenarios, each represented graphically through the GIS. Using support data from noise consultants, Psomas translated noise information into engineering-compatible data and ensured the data was accurately lined up with the existing runways. Daniel McCroskey, Psomas project manager for the El Toro GIS, notes that the true bearing of a runway must be correct to less than a degree. "A few degrees off could make a difference in which community is shown as impacted by the proposed flight paths," McCroskey says.
The GIS database also includes marine base infrastructure and existing buildings, topography of the site, hazardous materials site classifications updated with remediation efforts, an 18,000-acre subset of County parcel data covering 133,000 parcels surrounding the base, County-wide demographic information, traffic analysis zones, and more.
The work effort includes a basemapping system; requirements analysis; a GIS system; GIS data model creation; GIS application, analysis, and Web enabling; and a GIS implementation plan.
According to McCroskey, it has been a challenge working with the large number of consultants on the base reuse plan, from marketing analysts, engineers, and planners to golf course designers and landscape architects. "Each consultant requires a different level of data accuracy, but we must maintain the data level for the highest common denominator," says McCroskey. All data is calculated through the highest degree of surveying and engineering design methods. "The consultant with the toughest requirements is our benchmark, so everyone else benefits."
One reward that McCroskey points to is being able to use cutting-edge software that did not even exist a little over a year ago. Esri's ArcView 3D Analyst extension to ArcView GIS allows three-dimensional modeling to exist inside a GIS mapping environment. "This software is really exciting. We can model the terrain by overlaying aerial photography over wire-frame digital elevation models to show topography in three dimensions." The three-dimensional software allows visualization and analysis of natural features and how they impact the base. It's also being used to visualize existing buildings for parties interested in leasing base facilities. (There is a lot of Hollywood interest in leasing hangars.) Once new buildings are designed, they will be inserted into the model as well.
The target for completion of the El Toro Master Development program is mid-1999.
For more information, contact Daniel McCroskey, Psomas, 3187 Red Hill Ave., Suite 250, Costa Mesa, California 92626 (fax: 714-545-8883, E-mail: dmccroskey@psomas.com).