Web Sites Using IMS Software Growing at Rapid Pace
Internet Mapping Sites from Transportation Planning to a Map Machine
This regular ArcNews column features some of the growing number of World Wide Web sites using Esri software. Links to these and other Web sites powered by Esri technology are at www.esri.comhttp://www.esri.com/apps/showcase. To be considered for inclusion in this column, please visit www.esri.com/imsregistry and provide us with a description of your interactive mapping Web site and the URL.
Austin Geographic Information Systems
malford.ci.austin.tx.us/gisstart.htm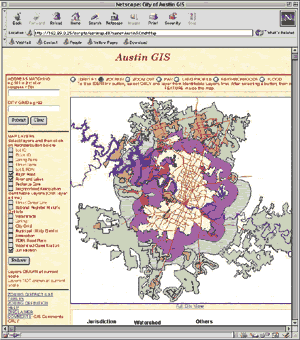 Austin GIS of Austin, Texas, provides information for people interested in Austin's development process. Visitors to this portion of the Austin City Connection can view streets, subdivisions, zoning maps, jurisdictional boundaries, floodplain locations, watershed boundaries, and their classifications. Users can search by specific address, intersections, or City grid. This site, which is powered by MapObjects Internet Map Server, identifies specific map features including registered neighborhood organizations and land profiles.
Delaware Valley Regional Planning Commission Online Mapping
www.dvrpc.org/data/rin.htm
Serving the greater Philadelphia, Pennsylvania, region for more than 30 years, the Delaware Valley Regional Planning Commission (DVRPC) works to foster regional cooperation in a nine-county, two-state area. City, county, and state representatives work together to address key issues including transportation, land use, environmental protection, and economic development. DVRPC's online GIS application provides access to map information for the public. It contains a selective subset of GIS data for the nine-county Philadelphia metropolitan area. With this application, you can interactively view thematic data and geographic features, create your own custom map, and access information about map characteristics. Map categories include population, employment, labor force, transportation, housing, income, and education. This site uses ArcView Internet Map Server.
Gelderland GeoData
nt04.prv.gelderland.nl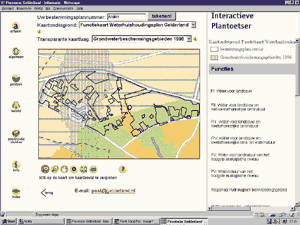 The largest of 12 provinces in the Netherlands, Gelderland has a population of 1.8 million and contains the largest national park in Europe. Ten years ago Gelderland started the implementation of its GIS. Today, vast amounts of topographical and thematic information are available throughout the organization and beyond. Gelderland GeoData went online in January with many Intranet and Internet GIS applications using MapObjects Internet Map Server (IMS) and ArcView IMS. The site is in Dutch. De Kaartmachine (The Map Machine) provides policy maps. Ken Uw Province (Know Your Province) enables viewers to find their way around the province with interactive topographic and aerial photos. ZakGeld presents various municipal data in many different themes, and users can go to De Gelderse Poort Groeten to view information about a large nature development. De Interactieve Plantoetser (Spatial Policy Checker) enables municipalities to check town planning policies against national and regional spatial policies.
TacomaSpace
http://www.ci.tacoma.wa.us/default.asp
TacomaSpace was developed by the City of Tacoma, Washington, in partnership with the Local Development Council and the Economic Development Board for Tacoma-Pierce County. Its purpose is to help potential Business developers find, with a few clicks of a mouse, available commercial properties in downtown Tacoma as well as economic and demographic information. Powered by ArcView Internet Map Server, the interactive site provides pertinent data for properties both within and outside the Business improvement area. Photographs, building and zoning information, historical status, contact information, and additional links are provided for each property.
Topographic Maps for Southwest Missouri
gis.sgcl.lib.mo.us/topographic
The Springfield-Greene County Library Web site provides an online mapping application with topographic maps of southwest Missouri. The maps are digital, raster graphic files from the U.S. Geological Survey. Because these maps accurately represent both natural and man-made land features, they are useful to both professionals and lay people. They can be used for engineering, natural resource conservation, public works design, and commercial and residential planning, and for planning outdoor activities such as hiking, camping, and fishing. Users can access three different scales of the topographic maps: 1:250,000, 1:100,000, and 1:24,000. The library's GIS server also provides a property information application. The property information module searches parcels by address, owner, APN, or nearest intersection. The notification module enables users to set buffer distances and search by shape. This GIS site uses ArcView Internet Map Server.
Transportation Planning Group
http://tpd.az.gov/
The Transportation Planning Group (TPG) is part of the Arizona Department of Transportation (ADOT) and addresses a broad range of transportation planning issues including priority programming, local government coordination, transportation safety, and other related functions. The Arizona Transportation Information System (ATIS Roads) is ADOT's Arizona base road map. The TPG's Web site offers transportation professionals semicustomizable maps of ATIS Roads as well as downloadable GIS data. TPG created the maps with ArcInfo and ArcView GIS software and used ArcView Internet Map Server for the interactive maps. Users can view maps under several categories including functional classification, average daily traffic volume, road conditions, suitable bicycle routes, and levels of highway development. The interactive maps are also available as *.pdf or *.gif graphic images.