ArcView GIS Worked Extensively During Storm Emergency Response
GIS on the Front Lines
By Christopher D. DeYoe, Deputy Director, Sedgwick County GIS
On the evening of May 3, 1999, storm clouds were building to the southwest of Wichita, Kansas. The sky was darkening, but not just because of the setting sun. Lawn mowers buzzed throughout the neighborhoods and children played in their yards. But something was not right. These weren't normal storm clouds; they were low, rolling, and anomalous gray-greenish.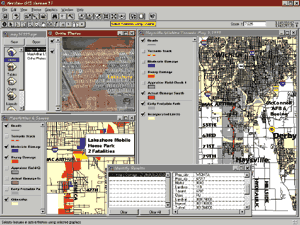 The National Weather Service (NWS) issued a tornado warning for southeastern Sedgwick County, Kansas, at 8:16 p.m. At 8:17 p.m. the Sedgwick County Emergency Management Department (EMD) sounded their outdoor storm warning sirens. At 8:30 p.m., trained storm spotters reported a tornado near Peck, Kansas (11 miles south of Wichita), and at 8:43 p.m. the NWS radar showed the tornado entering the southern part of Wichita. Also by 8:43 p.m., the first reports of significant damage were received by the Sedgwick County Emergency Operations Center (EOC). The EOC declared a Level 2 disaster at 9:21 p.m., putting all emergency response personnel into action. Though not officially part of the emergency response personnel, the Sedgwick County GIS Department (SCGIS) was also called into action.
SCGIS utilizes eight workstation ArcInfo licenses (four on Windows NT platforms), ArcView GIS 3.1 on Windows NT, ArcView GIS 3 on UNIX, MapObjects, Esri's Internet Map Server technology, and SDE to support all spatial analysis in Sedgwick County.
SCGIS personnel reported to the EOC to get initial locations of damage reports and, along with personnel from the County Appraiser's Disaster Assessment Team (CADAT), proceeded to map and identify those properties. The two SCGIS personnel who initially responded performed two major functions. First, they identified property damage and gave the EOC an estimate of assessed values of the damaged areas. Second, they formulated a tornado damage path, preparing and updating maps to show the track and buffers of probable damage swathes.
By 10:15 p.m., SCGIS provided the EOC with a probable path and damage map and estimated values based on the damage reports received up to that time.
In the EOC, County emergency directors were hard at work directing rescue efforts and responding to other situations that this massive storm had caused. Teams of personnel were collecting reports from amateur radio operators and relaying them to directors. Members of the County Management staff were busy studying SCGIS's maps and discussing options and strategizing. Meanwhile, SCGIS personnel were meeting with fire, sheriff, EMD, and rescue personnel to fine-tune the storm's path and damage on maps.
The EOC was presented with maps at 3:00 a.m. (May 4) for distribution to emergency and damage assessment teams when the light of the new day arrived.
That new day brought horrifying pictures into view. Though the Kansas morning sky glistened, nature's fury on the ground was unimaginable to the many who were working and analyzing the damaged areas. For most, this was their first exposure to the destructive force of a tornado. SCGIS's maps and aerial photographs could not prepare the workers for what they saw that day, but they could assist them in realizing what used to be there.
The path of destruction was more than 12 miles long in Sedgwick County and primarily affected the cities of Haysville (1 mile south of Wichita) and Wichita. Most damage from this classified F4 tornado (winds between 207 and 260 mph) was in Haysville's core area along with the Lakeshore Mobile Home Park in Wichita.
Throughout the day of May 4, 1999, teams sent information back to SCGIS for spatial analysis and received new maps with the updated information. The tornado's track was updated as well. State and federal agencies requested SCGIS maps, and several officials visited the office of SCGIS to see firsthand the information being generated. At this point, SCGIS was not generating new information, but rather refining data and generating new maps. GIS personnel were busy assisting many city and county departments, agencies, and organizations in data interpretation and map distribution.
The key element to emergency response using GIS is information turnaround time. It was not SCGIS's intention to produce just "pretty pictures" but to provide information to emergency responders as quickly and as accurately as possible with the data available. At times GIS users must forget their thematic cartographic instincts and provide their customer with raw information. Many of the activities during the tornado of May 3 were rescues, and neither the victims nor the rescuers cared how pretty the maps looked.
In response to this devastating event, SCGIS produced more than 300 maps. It is true that GIS is often used as a tool to summarize the events of a disaster, but in Sedgwick County, Kansas, it is a vital tool to be used on the front line.
For more information, contact Christopher D. DeYoe, deputy director of SCGIS (tel.: 316-383-7455, E-mail: cdeyoe@sedgwick.gov). Visit SCGIS on the Web at www.gis.sedgwick.gov.