Local Communities Use GIS as Foundation
Project Impact: Esri Helps Map Out Disaster Preparedness

Some thrill-seekers may get a kick out of chasing tornadoes or throwing a hurricane party, but for most of us living through a natural disaster is no walk in the park—especially when human lives and property are at stake. Nevertheless, our chances of having to deal with an earthquake, fire, flood, or other destructive event are increasing because the number and severity of natural disasters are on the rise.
During the last 10 years, the Federal Emergency Management Agency (FEMA) has spent $20 billion to help people repair and rebuild their communities after natural disasters. That figure does not include insurance company claims, lost Business revenues and jobs, and other government contributions, and swelling populations mean the safety of more people is in jeopardy.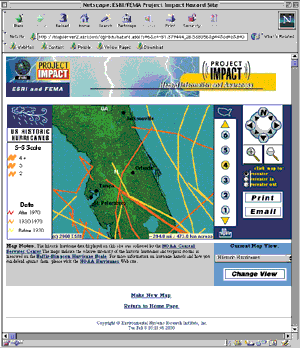 In response, FEMA is taking a proactive approach to change the way the public deals with disasters. Project Impact: Building Disaster-Resistant Communities is a nationwide initiative that FEMA launched in October 1997. It helps communities protect themselves from thedevastating effects of natural disasters with preventive actions that dramatically reduce disruption and loss.
At right: With Project Impact, Esri provides multi-hazard maps and information to U.S. citizens and government via the Web.
The initiative focuses on promoting local programs that will prevent extensive loss of lives and property during disaster events. It is a commonsense approach based on three principles—preventive actions must be decided at the local level, private sector participation is vital, and long-term preventive efforts and investments are essential.
Grassroots Disaster Management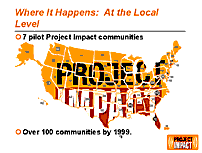 Local agencies have detailed, hands-on knowledge of local issues, which makes them ideally suited to facilitate disaster planning, mitigation, and preparedness. And currently 120 communities throughout the United States are participating in Project Impact. FEMA is also recruiting other federal agencies and Businesses into the program to help get the latest technology and mitigation practices implemented at the local level. Additionally, Project Impact is serving to empower communities as they pursue smart growth strategies while strengthening the federal government's partnership with local government.
A common thread that weaves its way through every phase of Project Impact is GIS. Most of the data requirements for disaster management are of a spatial or geographic nature, and that makes GIS the logical tool. Identifying potential hazards, planning mitigation programs, and assisting in disaster preparedness activities are some of the critically important roles GIS has taken on for the Project Impact communities.
With GIS, local agencies can compare maps of hazards such as earthquake faults, fire risk areas, or flood areas to other map data. Locating streets, pipelines, hospitals, residential areas, power lines, and storage facilities in relation to known hazards on maps makes the process seamless.
Esri Grants Support the Project
In June 1999, Esri signed on as a Business partner for Project Impact. As part of the agreement, Esri is providing multihazard maps and information to U.S. residents, Business owners, schools, community groups, and local governments via the Internet. Users can access the data at the FEMA Web site (www.fema.gov). (See ArcNews Fall 1999.)
Further expanding its role as a corporate partner, Esri awarded four local agencies Project Impact Community Challenge Grants. Jack Dangermond, president of Esri, announced the winners at the Project Impact: Building a Disaster-Resistant Community Summit '99 in Washington, D.C., last December.
The purpose of the grants is to foster and support the use of GIS technology by local groups as a tool for implementing disaster resistance, particularly as it pertains to developing or implementing strategies for reducing damage from natural hazards.
The Esri Project Impact Community Challenge Grants will assist local agencies in the establishment of GIS projects, making them more efficient and facilitating the migration of damage prevention to other departments as part of normal community management functions.
Broward County, Florida, and Rye, New York, received the GIS Apprentice Community Grant, which will help them incorporate GIS into their community processes. Esri also awarded Lycoming County, Pennsylvania, and King and Pierce counties in Washington the GIS Advanced Community Grant, which will enable them to expand their GIS capabilities by providing more services and information to more people within the community.
Esri will provide software and training valued at approximately $100,000, and FEMA will provide training and technical assistance to support the development of the winners' proposals.
"The technology that Esri has created will enable individuals and communities to learn about their natural disaster risks and take proactive steps to prevent damages," noted FEMA Director James Lee Witt. "These grants are intended to give communities the resources to use this remarkable new technology as they continue on the path toward disaster resistance."
Grants Address Specific Needs
All of the winners are Project Impact communities. The GIS Apprentice Communities were chosen because their proposals facilitated Project Impact disaster-resistant strategies and enhanced their strategic planning processes. The GIS Advanced Communities had proposals that reflected innovative ways to use GIS for natural disaster damage reduction or prevention processes.
Rye, New York, has just begun developing a GIS system, and the grant will assist in accelerating this process. The City plans to use GIS as a tool to enhance mitigation planning, emergency response, and educational programs. GIS will also be integrated into the City's Web site for public access.
With its Community Challenge Grant, Broward County, Florida, will publish vulnerability information on its Web site and improve and accelerate decision making by adding geographic information to its database. The Broward County Emergency Management Division will also implement, customize, and develop local use of the Consequences Assessment Tool Set (CATS) as an exercise, planning, and response tool.
Lycoming County, Pennsylvania, will use the GIS Advanced Community Challenge Grant to expand the use of GIS throughout its 52 local municipalities and improve flood hazard mapping. Moreover, this grant will enable local governments to become proficient users of GIS technology. This will help establish partnerships across boundaries with the goal of better planning and damage prevention.
King and Pierce counties in Washington will use the grant to explore earthquake hazards identified in an earlier study. A transportation mapping initiative used GIS to assess the likelihood of transportation system operation after a major earthquake in the greater Seattle area. The project will combine GIS data from the counties, several cities, the U.S. Geological Survey, and the Washington Department of Natural Resources to predict earthquake impacts.
"GIS technology is enabling communities to accurately identify and assess hazards, and Esri is pleased to participate with FEMA in the Project Impact initiative by providing our software and data products," Dangermond said. He also announced that all 200 Project Impact communities, state emergency management officials, and FEMA regional offices will receive a copy of ArcView GIS 3.2 under the Project Impact agreement.
To date, Esri has disbursed awards valued at approximately $16 million to more than 1,000 local governments and agencies as part of its Local Government Start-up Grants and Solutions Grant Series for Livable Communities. Fifty of those recipients were also Project Impact communities.
For more information, contact Todd Rogers, Esri-Washington, D.C. (tel.: 703-506-9515, e-mail: trogers@esri.com).