Maps Provide the Visual Details Not Seen with Tabular Data
Crown American Secures Retail Tenants with ArcView Business Analyst
When you own 27 malls located throughout eight states, geography really matters. With a combined gross leasable area of approximately 16 million square feet, securing tenants to fill vacancies and keeping them are both high priorities. Crown American Properties, LP, owns, operates, and develops regional shopping malls in Pennsylvania, Maryland, West Virginia, Virginia, New Jersey, Tennessee, North Carolina, and Georgia. Knowing each market, where the competition is located, the demographic makeup within an area around each mall, street access, and visibility are essential to leasing space.
Crown American realized that in order to attract retail tenants to their malls and get leases signed they had to offer their prospective clients as much data as possible, faster than the competition could provide, in order to make the deal. Obtaining detailed market information via outside consultants could cost thousands of dollars and several weeks to produce. And doing analysis in-house meant ordering data, importing it into a PC, and then trying to incorporate it into some spatial analysis program, which could take many hours and a good deal of money. Knowing that time is critical when securing tenants, Crown American needed an alternative solution to hiring out to consultants or the laborious task of going through the steps to purchase additional data sets for performing market analysis on complicated software. They were then introduced to ArcView Business Analyst.
"We originally were using another mapping software application," says Evelyn Hart, tenant research specialist for Crown American, "but because of the cost involved with acquiring demographic data, we switched to ArcView Business Analyst. The included demographic data was the real selling point for us."
By implementing ArcView Business Analyst, they were able to save both the cost of hiring outside analysts and purchasing extra data, and, moreover, they were able to quickly provide their clients with accurate reports and detailed maps of many market areas.
"We needed to provide prospective tenants as much information as possible up front to get the deal done," says Hart. "This meant we had to do the research and analysis in-house and at a nominal cost." Doing the analysis themselves, with all of the included data in one place, yielded a faster turnaround and would show the tenant that Crown American is an efficient and market-intelligent landlord.
At first Crown American used ArcView Business Analyst to create buffer rings around their malls and illustrate the demographics within a given radius such as 5, 10, and 15 miles of the mall. They soon realized how powerful and intuitive this software is and began to enhance the data analysis to include competitive analysis for their prospective and existing tenants. They would query the Dun & Bradstreet Business data for companies that perform similar services or sales to their client's company within the same trade area. By being able to quickly gather the information and plot the stores on a map, Crown American could show where their client's competition was geographically located. The colorful maps provided visual emphasis to the analysis that spreadsheets alone could not illustrate.
One example of how ArcView Business Analyst helped Crown American is when they were pursuing a major movie theater tenant for the West Manchester Mall in York, Pennsylvania. The client was concerned with the number of competing cinemas in the vicinity. Crown American identified all the surrounding theaters, geocoded their addresses, and placed them on a map quickly and easily using the ArcView Business Analyst store setup wizard. The results were astounding. The map provided the visual details they could not have seen with tabular data. A list of the addresses meant nothing to the prospective tenant, but on the map they saw that all the competitors were located on the east side, past the main highway, and that none were on the west side where the West Manchester Mall is located.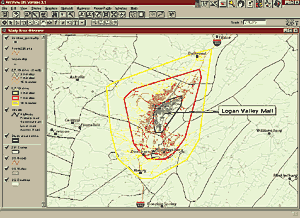 "It is so much more effective to see the competition's physical location on a map," says Hart. "Sometimes the obvious just jumps out at you. Visual is everything." Crown American performed demographic analysis of the area with ArcView Business Analyst and presented the results in full color on a map, as well as provided the client a comprehensive report. The result was a signed lease agreement, and a new theater opened in York, Pennsylvania, the summer of 1998. Crown American's Asset Management Division uses the software to see where the closest competing malls are located in comparison to their site and, based on the drive-time analysis function in ArcView Business Analyst, they can calculate how many minutes it would take for customers to drive to their mall compared to the time it would take to drive to the competition.
ArcView Business Analyst has saved Crown American time and money and made it possible to offer their clients more information faster than ever before. With ArcView Business Analyst, all the data and tools that they need are at their fingertips.
"The biggest selling point for us," claims Hart, "was the bundling of all the information. All the variables were there, in one place." When additional information is needed, either proprietary or from information vendors, the wizard interface makes incorporating the data easy, which means the software can grow with their needs-something that pleased upper management at Crown American.
"It's exceptionally easy to use," said Hart about ArcView Business Analyst. "We were up and running within a few hours of installing." As with most software, there was some training needed. But the user-friendly wizard interface helped to get Crown American right to the point of performing sophisticated analysis, rather than having to learn the underlying technology. "The more I learn about the various features of the product, the more I like it," says Hart.
For several months now, Crown American's Tenant/Leasing Services Department has been incorporating the maps and reports generated from ArcView Business Analyst, along with charts and other regional background data, into proposal packages for their leasing agents. And Hart has noticed an interesting fact. When courting tenants the agents who have used the proposal packages, with all the dynamic maps and thorough data, seem to expedite the lease-signing process much faster than the agents who have not.
For more information, contact Evelyn Hart, tenant research specialist for Crown American, Tenant Leasing Services, Crown American, 1 Pasquerilla Plaza, Jonestown, Pennsylvania 15907 (E-mail: evelynh@crownam.com).