Mapping a New Life
by Monica Pratt, ArcUser Editor
If you ask for a map at your local bike or dive shop, chances are good the salesperson will hand you a Franko Map. These brilliantly colored and informative recreational maps, created by Frank Nielsen using ArcView 3.x and various graphics programs, have been gaining popularity since they were introduced in 1993.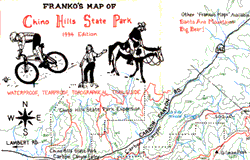 Nielsen's original maps of the Santa Ana and Chino Hills parks were all hand drawn.
Conventional wisdom has it that successful businesses are started by identifying a need in the marketplace and satisfying it. Nielsen didn't set out to start a mapmaking business, but he certainly identified a need. An avid mountain biker, he just wanted to find quality maps that showed his favorite mountain areas in Southern California. When he couldn't find any good maps, Nielsen started making his own topographic maps of the Santa Ana Mountains and Chino Hills State Park. To get the first batch of maps printed, Nielsen traded an old mountain bike to his brother-in-law, a print instructor, in exchange for a thousand maps.
He made exactly the kind of maps he had been searching for--accurate maps printed on sweat-proof, rip-resistant plastic paper. Although printing on plastic is commonplace now, in 1993 it was something of a novelty. "These maps really, really hold up. I have original maps from '93 that have been sweated on and folded up in pouches that still look great," said Nielsen. "You can put them in the dishwasher."
Nielsen's desire for handy, sturdy maps of popular biking areas wasn't unique. His experiment blossomed into a part-time business, Franko's Maps, and by 1994 he had printed 20,000 maps. A year later, Franko's Maps expanded into another genre. The impetus for the first edition of Franko's Maps of Santa Catalina Island was a scuba diving/mountain biking trip to the popular recreational area located off the California coast. The result of a year's worth of effort, these maps included underwater contours, described more than 70 scuba and snorkeling sites, and showed mountain bike trails.
These original maps were made by hand-an arduous process. The Santa Ana and Chino Hills biking maps took a year to complete. Although officially a part-time undertaking, Nielson spent hundreds of hours tracing contour lines, creeks, and roads. The tracings were photoreduced and redrawn on layers of Mylar using India ink. Annotation was added by hand. The photo negatives shot of each layer were used to print the maps.
Nielson's philosophy, "If you don't like, you don't like, and you just throw it away," meant that any changes--from minor refinements to major overhauls--required time-consuming redrawing. When making the Santa Catalina maps, he completely redrew the maps four times.
Nielsen's move from hand drafting to computer design came from a combination of happy and unhappy events. In 1999, Nielsen was the guest speaker at a meeting of the California Map Society in Santa Barbara. A woman in the audience who was both a cartographer and a computer scientist met with him after the presentation and said, "You should be using ArcView." Coincidentally, the very next day a friend, Esri employee Craig Marx, made the same observation.
A few weeks later a serious biking accident left Nielsen with severe injuries requiring a long convalescence. For a time he couldn't sit up in bed. Unable to work, or even sleep at times, he spent much of the ensuing days and nights, flat on his back, teaching himself computer graphics. In addition to experimenting with computer graphics, he wondered about using ArcView 3.x for his maps.
He eventually took lessons from his new found cartographer friend and obtained ArcView GIS and the ArcView Spatial Analyst and ArcView 3D Analyst extensions. What he learned "opened up a whole new realm of mapmaking." Building his first shaded relief map of one of the Channel Islands was a transforming experience. "I sat there and watched San Miguel Island form. The sea level values were white so only San Miguel Island showed. That form popped out on the screen and I thought, 'I'm on to something cool,'" he said.
Nielsen, who was employed as an engineer by the Navy, soon exhausted his sick days and other benefits and had to return to work while still recovering from his injuries. Each day before leaving for work he started his computer processing files. When he returned in the evening, he would work on his maps.
After becoming proficient in making shaded relief maps using GIS, he revamped the Catalina maps and added maps showing coastal areas of San Diego, Los Angeles, and Orange counties; the Channel Islands National Park and Marine Sanctuary; and Monterey Bay. He uses digital elevation model (DEM) data from the United States Geological Survey (USGS) and depth contour lines from the National Oceanic and Atmospheric Administration (NOAA) to make the shaded relief maps that form the base layer for many Franko Maps.
Continued on page 2