Florida City Delivers 24/7 Service with Site Starters

by Aaron Drake, City of Melbourne
The City of Melbourne, located halfway between Jacksonville and Miami, is a picturesque Atlantic coastal community that thrives on high technology, manufacturing, and tourism. The city is part of Florida's "Space Coast," so-named for to its close proximity to NASA's Kennedy Space Center.
Melbourne's GIS Team recently completed and released a new interactive Internet-based mapping system that uses the ArcIMS Site Starter applications from Esri. This system lets the public quickly find location-based information such zoning, crime, and flood zone information. This type of information, previously available only by visiting or calling Melbourne's City Hall, can now be accessed online at Melbourne's GIS Web site (gis.melbourneflorida.org).
GIS Team Goals
The Site Starter applications met the GIS Team's requirements for a lightweight, easily-customized application with robust search capabilities and an easy-to-use interface that would be suitable for low-bandwidth users.
Light Weight--Although the Internet is moving toward broadband applications, the GIS Team wanted the mapping applications to run as effectively for 28.8 KB modem users as users with cable or DSL connections. The Site Starter applications, lightweight and optimized for low bandwidth, utilize Active Server Pages (ASP) so most processes are performed by the Web server instead of the browser.
Robust Search Capabilities--The Search application, one of two Site Starter applications, supports many types of search methods. These methods were customized so that a visitor to the Melbourne Web site can search for information by address, owner name, tax identification number, or parcel identification number. Melbourne's implementation of the Search application quickly and efficiently retrieves requested information from an indexed Microsoft Access database.
Easily Customized--Site Starter applications are easy to customize. Changing one or two items in an application's global parameter file modifies the application. Things such as report item aliases can be modified, updated, or deleted in this file. Cascading Style Sheets (CSS) manage items such as application background color, font color, and font type and can be easily changed.
Easy to Use--The Site Starter applications provide users with a simple interface that is easy to use. The user simply chooses the type of search method, enters the desired information, and hits go. From the tabular data returned, the user can choose a record to see a detailed report or view an interactive map. The interactive map lets users pan, zoom, and identify features.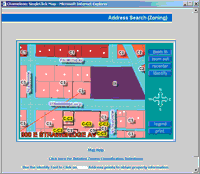 The Melbourne site provides many different types of search methods.
Melbourne's Implementation
Melbourne is the first municipality in the area to offer such a service. The GIS Team had been striving for quite some time to provide it. Users can now access property ownership and sales information and view interactive zoning, flood zone, crime, council district, and aerial maps 24 hours a day. This also means City employees can concentrate on other projects, rather than providing information to the public.
The property information used by Melbourne's GIS Web site comes from Brevard County, Florida, and is continually updated. Melbourne's implementation of the Site Starter applications delivers the city and municipal information requested by the public. It serves the needs of many types of users.
Real estate agents and brokers often need zoning, and flood zone information. Previously, agents and brokers contacted the Planning and Economic Development department to access this information. Now this information can be retrieved online in a quick and efficient manner.

Prospective homebuyers can view flood zone maps and determine the location of a property in relation to known flood areas. Homebuyers can also research crime occurrences in neighborhoods. The application provides a snapshot showing when, where, and what crimes have occurred between 1998 and 2000. Detailed information, such as victim and suspect names, is not provided.

Citizens can determine which council district they live in using the Council Member District Search application
Users lacking specific search criteria (i.e., no street address, owner name, or parcel identification number) can interactively locate information using the Viewer application. The default extent for the Viewer application is the City limits. Users can zoom in on an area to locate a parcel and view information on it or view thematic information.
The GIS Team is pleased that this information now available to the public and plans to add applications in the near future that will let users view information on utilities, existing land uses, and vacant land. The team hopes public feedback will be available to guide them in enhancing the site with additional applications.
For more information, contact
Aaron Drake, GIS Coordinator
Melbourne, Florida
Tel.: 321-674-5804
E-mail: adrake@melbourneflorida.org
About the Author
Aaron Drake is the GIS coordinator at the City of Melbourne, Florida. He developed the City's interactive mapping system and GIS Web site. He holds a master's degree in GIS from Florida Atlantic University and a bachelor's degree from the University of Central Florida.