Location services are giving familiar devices new roles. These applications are opening up a new area of technological development that cuts across industries and blurs the distinctions between types of applications by joining previously separate functions. As an area of GIS that developed within existing vertical industries, it has only recently been recognized as an emerging GIS-driven technology. This article describes just of few of these applications.
GIS For A Mobile Society
Location services use Internet-enabled devices to access the Web and the Web transfer information, but it is GIS that spatially relates users to products and services. Without GIS, location services wouldn't be anywhere-literally.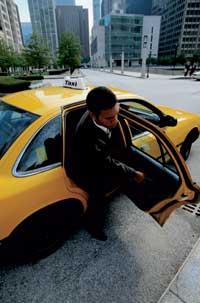 The new generation of GIS from Esri, ArcGIS, is natively Internet enabled and serves as the foundation for location services. Built using industry standards such as COM, Java, XML, and SQL, it is readily integrated with core information systems. A scalable system, ArcGIS provides for geographic data creation, management, integration, and analysis.
By letting users easily build and deliver GIS maps, data, and applications, ArcIMS, a component of ArcGIS, revolutionizes the way users access and interact with Internet mapping. It is the only software that enables users to integrate local data sources with Internet data sources for display, query, and analysis using a Web browser. With WAP-enabled APIs, ArcIMS can provide location services for the wireless world. Esri is also supporting other emerging standards for the wireless market.
The ArcGIS Desktop, scaleable through three software programs--ArcView, ArcEditor, and ArcInfo--builds and maintains spatial data. ArcInfo also includes the ArcInfo Workstation applications. The capabilities of all three levels of ArcGIS Desktop can be augmented using extension software.
Another component of ArcGIS, ArcSDE, provides the gateway to relational databases for multi-user and distributed GIS systems enabling ArcInfo, ArcView GIS, and ArcIMS to work directly with spatial data managed in a DBMS. ArcSDE also is an application server that rapidly disseminates spatial data to many users and applications.
ArcPad delivers GIS on a handheld PC platform for use in the field as a stand-alone application or as a client for ArcIMS. With an optional GPS receiver, ArcPad can instantaneously locate the user on a map. Because ArcPad does not require that data be converted to a portable format, it effectively leverages existing mapping and GIS software systems and databases. Changes and additions can be uploaded directly to a master database. ArcPad supports multilayer display of vector and raster data as well as the creation of custom input forms.
RouteMAP IMS, a stand-alone Internet-based site locator application, generates driving directions that bring customers to businesses. An affordable, out-of-the-box Internet mapping solution that lets organizations easily add location and routing capabilities to a Web sites, it requires no programming.
The Geography Network is an Esri portal site that provides the framework for a global network of users and providers of geospatial content and location services. The tight of integration of the Geography Network with ArcGIS is illustrated by an article in this issue of ArcUser magazine called "Unlock Worldwide Resources with ArcGIS." Geography Network brings links the user directly to the most current content from all over the world.
GIS--Where Better Customer Relationships Begin
Customer Relationship Management (CRM) systems integrated with GIS improve customer care. By relating business activities to geographic locations, service agents, marketers, planners, analysts, and managers can detect patterns and trends that might otherwise be missed. With the development of wireless devices, personnel can access corporate databases. Instant access to customer databases, coupled with the power to manipulate and query data, helps mobile workers be more efficient and enables service providers to respond more quickly and efficiently to customers needs
In addition to blurring distinctions between industries, location service applications can combine improved customer service with business optimization benefits. Alliant Energy Corporation's use of laptop computers with GIS software has helped it improve customer service and empower its employees so that they can work more efficiently.
Alliant Energy Corporation, a Wisconsin-based energy-service provider of electric, natural gas, water, and steam services to more than two million customers worldwide, implemented mobile GIS based system at Wisconsin Power and Light (WPL). Alliant replaced cumbersome map books used by service technicians for day-to-day operations with ArcFM Viewer used on laptop computers. With ArcFM Viewer, a field worker simply enters either a location number, address, customer name, premise number, or switch number to obtain related information on roads, addresses, electric and gas maps, and facility attributes. The end result is better customer service through high-tech information management. "In one year we plotted more than 750,000 maps," says Ted Wadzinski, GIS Services supervisor for Alliant Energy. "Keeping paper maps current using manual methods was very costly. With ArcFM Viewer used in the field, we have access to the most accurate, up-to-date information available in an automated fashion utilizing the very latest analytic and display tools."
Local government entities are using ArcPad on handheld computers to create or update inventories of infrastructure and assets. An article that appeared in the January–March 2001 issue of ArcUser magazine described how the Elsinore Valley Municipal Water District (EVMWD) in Southern California is updating data on approximately 4,000 fire hydrants using ArcPad, a handheld computer, and a GPS unit. Streamlining the inventory process will become more important to governments as result of recent changes to regulations outlined in Governmental Accounting Standards Board (GASB) Statement No. 34: Basic Financial Statements and Management's Discussion and Analysis for State and Local Governments, that require governments to generate more comprehensive financial reports of municipal assets.
The new GASB34 standard gives governments two methods for reporting infrastructure assets. One method uses the historic cost less depreciation. The other method allows reporting using the infrastructure asset management system if governments have an up-to-date inventory of eligible infrastructure assets, perform condition assessments of the eligible infrastructure assets every three years and summarize the results using a measurement scale, and estimate each year the annual amount to maintain and preserve the eligible infrastructure assets at the condition level established and disclosed by the government. GIS promotes both methods of reporting.
Personalized Traffic, Weather and More
Think of mobile information services and transportation applications come to mind. Many location service applications make getting from here to there easier by supplying up-to-the-minute traffic conditions or creating custom turn-by-turn directions on the fly. The following applications access the Internet via wireless devices.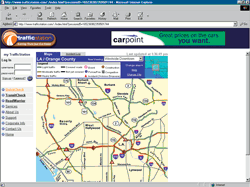 TrafficStation lets users access personalized traffic and traveler information over the Internet using telecommunications and mobile wireless devices. These services, available for 28 major metropolitan areas in the United States and Canada Services, help commuters and travelers elude road congestion, travel hazards and other transportation problems so that they can reach destinations more quickly and easily. In addition to freeway and highway information, TrafficStation offers TransitCheck links visitor to mass transit information for 28 metro areas. TrafficStation has partnered with Esri to develop routing and traffic forcasting services. Esri's mapping, data visualization, and routing capabilities provide real-time traffic information within Internet GIS.
Using RouteMAP IMS, RouteWap, a product of RTSe, interactively provides turn-by-turn route directions and driving times to mobile phone users. Specific standard destinations, such as airports, hotels, or points of interest, can be defined and RouteWap connects to the Microsoft Exchange Server so that contacts and client addresses stored in Outlook can be used as starting points or destination points. RouteWap is a wireless communication solutions from RTSe, a Finnish company specializing in Internet, Intranet, extranet, and wireless solutions for corporations.
State governments are also organizing information and services geographically and supplying them on the Web. Routing from the national to the metro level is available from the Inside Illinois, RouteMap Illinois, a state sponsored Web site. From the same, road conditions, weather reports, and construction zone information is available. Other transportation sites are targeted to exclusively to mobile phone users.
Better Business With Location Services
Wireless carriers are turning to GIS-based location services so that they can provide extended services that will attract and retain customers. With local.info from Esri business partner SignalSoft, both wireless carriers and subscribers benefit. This solution lets wireless carriers deliver real-time, location-based personalized information to wireless subscribers. This pre-packaged service can be easily deployed. Personalized content from SignalSoft's partners let wireless carriers access localized content worldwide via WAP, voice recordings, short messages or live through call centers.
Being able to charge zoned rates helps wireless carriers compete with local and long distance landline carriers. Another SignalSoft solution let wireless carriers identify calls by zone in real-time so that they can offer multiple rate zones to customers. A customer might pay less in a home-zone that it areas more distant from home
Optimizing business operations is a primary goal of vehicle tracking applications. In the transportation industry, improved service has must be coupled with improved profitability. The ability to constantly monitor and reroute vehicles can help transportation companies do both by being responsive to customer needs and avoiding deadhead runs. These same capabilities aid in emergency, rescue, and security services. The speed of response is crucial and the communication must be both secure and reliable. Location service applications, such as AirTrak from air-trak.com or mTrack from Novo Meridian Ltd., constantly monitor moving assets such as trucks, emergency vehicles, taxis, or couriers and allow two way messaging to ensure safety or make route modifications.
Where Is It?
A large number of location services can be classed as locator applications. Location is an aspect of information constantly used to organize interactions in the real world. It has been estimated that a geographic component is present in 80 percent of collected data. It is an organizational scheme that is intuitive for most people which makes a great way to organize and access data on Web sites.
Using GIS proximity analysis, mobile users can look for the nearest outlet for specific products or services, such as gas stations, restaurants, or pharmacies, and get driving directions to the location. These services include not only the familiar Yellow Pages applications but applications that show available parking, alternative fuel stations in the United States, of the nearest ATM machine.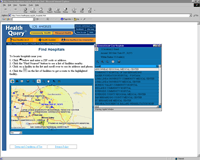 Location services can also assist with more important and lasting choices.
The Nursing Home INFO and Assisted Living INFO Web sites, two services provided by Nelson & Wallery, Ltd., help families choose the right facility nursing home based on geography. A Wisconsin-based financial and Internet marketing consulting firm specializing in senior care, Nelson & Wallery, Ltd.industry provides creative technology and information solutions for businesses and consumers.
HealthQuery is a collaborative project of unaffiliated organizations and end-users makes health-planning tools available to the public through its ArcIMS-powered Web site. At the site, visitors can search for the nearest hospital or find out geography-specific information about available health services and health threats. This non-commercial site also contains links to public health information Web sites and search engines.
The Kemper Insurance Web site application integrates the need for in person service with the convenience of the Internet by finding the nearest agent. Enter an address and specify a radius, to generate a list of agents with contact information. Choose an agent and the site will give driving directions to that office.
Web Site Highlights Location Services
Many more location services can be viewed at a new Web site, JavaLocation Services (www.jlocationservices.com/). The site, sponsored jointly by Esri and Sun Microsystems, Inc., includes links to deployed location services that can be searched by industry, as well as news, press releases, and event announcements. In addition to descriptions of new technologies and products in this market area, the JavaLocation Services Web site is a portal site linking visitors to a wide range of resources relating to location services. It links visitors to online magazines, organizations and consortia, information on developer's tools and techniques, and Geo-Java and Java programming resources.
With services that span industries and combine improved service to customers with better business practices, location services will continue to grow, becoming more pervasive. To learn more, visit the Location Services (www.esri.com/industries/locationservices) pages of the Esri Web site or contact
Ian Koppel, Esri Location Services Industry Manager
Tel.: 703-506-9515, ext. 8040
E-mail: ikoeppel@esri.com