ArcWeb Services: Advantages for Developers and Users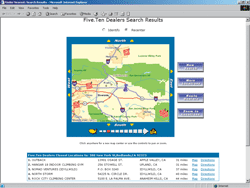 Five-Ten, a purveyor of technical footwear for climbing, trail running, and other sports, uses an assortment of ArcWeb Services on its Web site.
ArcWeb Services, Esri's implementation of Web services, provide commercially hosted spatial data and GIS functionality via the Internet to ArcGIS and custom Web applications.
With ArcWeb Services, developers can include current GIS content and geoprocessing capabilities and GIS users can access commercial data and GIS applications. ArcWeb Services free developers and users of the need to maintain GIS application tools or associated geographic data locally. Consequently, using ArcWeb Services can shorten development time, minimize expense, and conserve computer resources.
For both developers and users, the ability to combine multiple services and integrate them with other applications is a key advantage. ArcWeb Services are available as repackaged collections of related services or as individual services. ArcWeb Services are developed using a Web protocol known as Simple Object Access Protocol (SOAP) that enables different computers to easily communicate with one another. These services are hosted by Esri on a 24/7 basis ensuring reliable access and current data.
For Developers
ArcWeb Services for Developers are building blocks of data and functionality that can be published and accessed over the Web. Real-time processing occurs remotely on the computers hosting ArcWeb Services, and the results are returned over the Internet. Because these services are SOAP-based, they can easily be integrated into any Web page or custom-built Internet application. Esri's first suite of ArcWeb Services for Developers is ArcWeb USA.
ArcWeb Site Starter applications are ready-to-use Web applications for ArcWeb Services subscribers. The Locator USA Application utilizes a custom point of interest (POI) dataset and ArcWeb USA to generate street maps and driving directions for "store finder" applications that help customers by supplying a map and driving instructions for the nearest store. A JavaServer Pages (JSP) version as well as an ASP.NET version, including the source code, can be downloaded from the Online Support Center.
For GIS Data Needs
ArcWeb Services give GIS users access to the most current and comprehensive geographic data from some of the world's leading commercial data publishers. This data can be used directly in ArcGIS Desktop documents and Web sites as well as with GIS software tools and custom-built Internet applications. The data can be accessed as either an image or feature service and can provide a background layer for local data. Esri's ArcWeb Services for ArcGIS use the ArcXML protocol for easy integration with ArcGIS.
Some of the ArcWeb Services for ArcGIS offered through Esri include
GDT U.S. Streets—Detailed street basemaps for the United States
GDT Canadian Streets—Detailed street basemaps for Canada
Meteorlogix U.S. Weather—Real-time weather maps
OrbImage OrbView Cities—Digital imagery of selected cities around the world
Pixxures WebPix USGS DOQQ Mosaic—Seamless basemap across the continental United States
Tele Atlas/TomTom U.S. Transportation and Basemap—Transportation and basemaps covering all 50 U.S. states, Guam, and Puerto Rico
WorldSat Satellite Imagery—Cloud-free images of the world
For Access to GIS Applications
Industry-specific marketing applications and services using demographic data and market segment information from Esri BIS and flood map reporting using Federal Emergency Management Agency (FEMA) Digital Q3 flood data are two of the available ArcWeb Services for Applications.
An ArcWeb USA 30-day evaluation subscription is available. For more information on this and other aspects of ArcWeb Services, visit www.esri.com/arcwebservices.