Real Benefits From Interoperability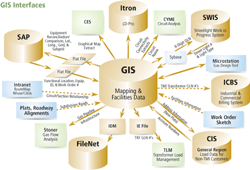 Through custom-designed interfaces the enterprise GIS can be accessed from multiple locations, and data can be easily transferred.
With nearly five million customers in seven states, CenterPoint Energy, Inc., is a domestic energy company whose operations include electricity transmission and distribution, natural gas distribution and sales, interstate pipeline, and gathering operations. In addition, CenterPoint Energy owns power plants in Texas with more than 14,000 megawatts of electric power generating capacity.
In 1998, after a series of mergers, the company discovered it had 30 different databases that contained mapping and facilities information associated with four separate GISs from two vendors that were in various stages of completion. CenterPoint Energy set out to implement an enterprise GIS that would provide better information and faster response, reduce costs, increase revenues, and enhance business processes.
CenterPoint Energy has completed three of the four phases of this ambitious project. In the first phase, Esri helped CenterPoint Energy develop the functional requirements for the GIS gas applications. Esri; Miner & Miner, Consulting Engineers, Inc., a software development company and Esri business partner; and CenterPoint Energy worked together to design the corporate relational data model based on ArcFM 7.2 software, and Esri provided training on this platform.
In the second phase, ArcFM 7.2 was implemented at CenterPoint Energy Arkla. This required the development of ArcFM RuleBase Engine and data migration.
The third phase involved data migration and implementation of ArcGIS, specifically ArcInfo 8.0.2 and 8.1.2, at CenterPoint Energy Entex, CenterPoint Energy Houston, and CenterPoint Energy Arkla. This phase included adding the gas application functionality that replaced the previous environment and implemented corporate object data models. Data migration was performed as a series of projects based on geographic areas. Functional customization was divided into four stages of which the first three were prioritized for the CenterPoint Energy Entex and CenterPoint Energy Arkla implementations.
The fourth stage will focus on the remaining requirements for CenterPoint Energy Minnegasco. Custom components were delivered to CenterPoint Energy on a weekly basis, and user training has been completed.
Throughout the project, Esri provided technical project management and support while Miner & Miner supplied development and implementation services. Knowledge transfer training helped CenterPoint Energy's experienced staff quickly learn ArcGIS's object-oriented environment.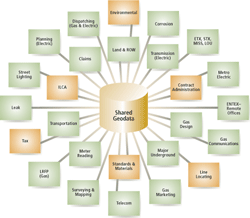 Through custom-designed interfaces the enterprise GIS can be accessed from multiple locations, and data can be easily transferred.
CenterPoint Energy uses GIS throughout all of the operation parts of the organization and has realized economic and strategic benefits from an enterprisewide GIS. It furnishes better support for strategic and tactical decision making and can be used for analyzing spatial and nonspatial data together. Complex spatial operations, such as network analysis and routing, are better handled by GIS through incorporating gas, electric, and land base data models.
Replacing four GISs with one means that employees use a common suite of GIS applications. Although CenterPoint Energy uses many types of applications, the system has a common architecture, design, and implementation. Custom interfaces reduce data maintained costs and improve data integrity. As part of the company's enterprise implementation, a central organization manages the company's relationship with Esri as well as all the applications, data models, and work flow processes associated with maintaining data in the GIS.
An array of applications for managing assets, automating tasks, and serving customers contributes to the strength of CenterPoint Energy's enterprise GIS, which covers all aspects of the company's operations.
The company owns nearly 71,000 acres of land in the Houston metro area. These properties are managed with the goal of maximizing revenue and nonrevenue benefits; preventing adverse effects to the land's primary use; and minimizing management costs as well as risks and liabilities. Savings attributed to the enterprise GIS for this aspect of CenterPoint Energy's operations are approximately $80,000 annually.
The company is responsible for assigning new addresses in the Houston area. Automating this task saves approximately $50,000 annually.
Attachments to utility poles made by TV and communications companies generate approximately $4 million in revenue annually. CenterPoint Energy tracks and manages these attachments in many ways using GIS and can generate reports that are included in leasing agreements.
A sharp increase in requests to locate underground facilities spurred development of the Underground Locating and Ticket Research Application (ULTRA), which integrates GIS with other technologies to produce maps and business processes that have resulted in fewer inquiries. This application saved the company $1 million in its first year of operation.
Another custom application streamlines customer requests for streetlight conversions. It automatically sends requests to a streetlight work management system database where a work sketch is generated for the work crew.
ArcLogistics Route helps CenterPoint Energy handle meter rereading more efficiently. Inconsistent meter readings are kicked out of the two separate billing systems for gas and electric customers and combined in ArcLogistics Route to more efficiently use staff resources.
The Circuit Section Assignment tool identifies all electrical features connected to a selected circuit section and updates the circuit section ID number.
Custom Electrical Network Connectivity tools, developed by Miner & Miner, let CenterPoint Energy create and manage network features while the Electrical Network Tracing tools provide circuit tracing customized to the company's needs.
Cathodic Protection Tracing tools support tasks needed for corrosion protection of underground facilities.
The gas outage analysis application, developed by Advantica Stoner, creates simulations using attribute data from the GIS. This application is used by gas engineers and long-range planners.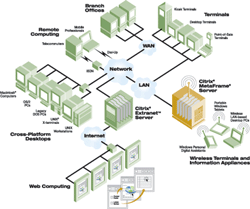 The use of Citrix enables CenterPoint Energy staff to access applications over the LAN and the Internet.
In addition to benefits from these specific applications, CenterPoint Energy realizes economic benefits from GIS because it provides a common maintenance and development environment with common corporate interfaces to SAP R/3, FileNET, and Stoner software.
CenterPoint Energy operates a unified server farm that delivers Web access to interactive applications using MetaFrame XP and Citrix NFuse Classic with Microsoft Windows Terminal Server (WTS). Not only can users behind the firewall connect to applications on the WTS farm but users working from home or remote locations can also access the system using the Internet.
Shared geodata is available throughout the organization, and company employees benefit from a standard suite of GIS applications that supports the company's business needs.