North Dakota Brings People and Data Together

By Bob Nutsch, GIS Coordinator, State of North Dakota
Since the early 1990s, North Dakota state agency personnel have been using GIS for data analysis and map production. However, complexity, duplication of effort, inefficient use of time, and costs were increasing every year because GIS staff at the state's agencies had developed a variety of data standards and storage methods and made modifications to the original data.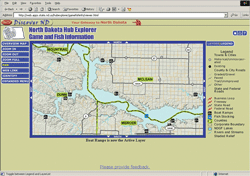 North Dakota Hub Explorer displaying Game and Fish Department information. This map uses data from the State Water Commission and Department of Transportation.
Within these state agencies, multiple copies of similar data with different dates, different projections, different formats, and different modifications were maintained. Personnel changes at these agencies made it increasingly difficult to find data. Even when desired data was located, it was difficult to know if the data was the most recent version. Data often required reprojection.
In addition, as digital geospatial datasets grew in number and size, several agencies began to investigate designing their own independent database storage systems and, in some cases, their own Web-based systems. Clearly, a statewide solution for GIS data storage, sharing, and retrieval was needed.
In January 2000, North Dakota's Chief Information Officer was contacted by the North Dakota GIS Technical Committee (GISTC) asking that the state Information Technology Department (ITD) study the need for a centralized GIS hosting service for North Dakota state agencies and their partners. As a result of this study, GISTC recommended that ITD request that the legislature fund this statewide hosting service, which became known as the GIS Hub project.
The GIS Hub Project
In 2001, the North Dakota State Legislature provided funding for the project in the 2001-2003 biennium. Additional funding was obtained from the Federal Emergency Management Agency (FEMA) through a flood risk assessment grant managed by the North Dakota Division of Emergency Management.
In November 2001, the GIS project began when SchlumbergerSema of Denver, Colorado, was retained to assist in the planning and design of the GIS Hub. The North Dakota GIS project charter statement, developed by GISTC, specified that the GIS Hub would provide the essential infrastructure for sharing core geographic datasets through an accessible data warehouse that could be browsed by the public. The project would leverage the state's existing data, infrastructure, and expertise to implement the core elements of this enterprise solution.
The project picked up speed in early 2002 as SchlumbergerSema worked with ITD to develop and document the system architecture and plan capacity needs. Meeting every two weeks, the agencies represented by GISTC continued working together developing metadata and metadata standards and prioritized the layers to be loaded into the GIS Hub. They defined naming standards, identified data stewards for each of the layers, and specified functionality. As stipulated in an executive order by the state's governor, the agencies serving on GISTC are the State Water Commission, Department of Health, Department of Transportation, Geological Survey, Game and Fish Department, Parks and Recreation Department, and the Information Technology Department. By May 2002, GISTC was loading data into the GIS Hub and ITD had made significant progress in developing the GIS Hub.
Training was an important step in the development and efficient use of the GIS Hub. ITD personnel were trained on ArcSDE and ArcIMS software. In 2002, 68 people took advantage of GISTC-coordinated ArcGIS training. Esri instructors taught both introductory and advanced ArcGIS courses in the Bismarck training labs of the Department of Transportation and ITD.
Hardware and Software for the Hub
Because ArcView and ArcInfo are the primary software packages used at state agencies, ArcSDE and ArcIMS were obvious choices for core components of the North Dakota GIS Hub. ArcSDE and ArcIMS are hosted by ITD's existing 24/7 environment. Additional servers and storage were purchased to complete the GIS Hub infrastructure.
The core of the North Dakota GIS Hub is ArcSDE. ArcSDE is installed on an IBM HTTP Server running Solaris. The Oracle databases used by ArcSDE are hosted on the ITD Storage Area Network. The ArcIMS installation consists of the application server running on a Windows 2000 Compaq server and the spatial server running on a dual processor Compaq server, also running on Windows 2000. The Web server used by ArcIMS is an IBM HTTP Server running on Redhat Linux. The ArcIMS servlet engine is IBM WebSphere running on Redhat Linux.
Managing Databases
The Data Oversight Committee, a subgroup of GISTC, completes quality assessment and quality control on data destined to the GIS Hub. Vector data is first loaded as a feature class into a "staging" feature dataset within ArcSDE for review. Once approved by the Data Oversight Committee, the feature class is moved out of the staging feature dataset and into a production feature dataset for the database using an ArcObjects tool designed by ITD and written by SchlumbergerSema. This bulk loading tool allows one or more feature classes from the staging dataset to be loaded into one or more specified feature datasets without supervision. Raster data is treated in a similar manner. It is loaded into a test database for review before being loaded into the production database.
All GIS Hub data is stored in a geographic coordinate system using North American Datum of 1983 (NAD83) and is organized by feature datasets such as environment, transportation, and water. Various state agencies provide most of the data for the Hub database. However, some datasets come from federal agencies working with North Dakota agencies.
GIS users behind the state firewall are given unique user IDs so they can use ArcView 3.x or ArcGIS to directly connect to the ArcSDE-enabled Oracle database. This direct connection gives them the ability to set up project files that directly access data stored on the GIS Hub, eliminating the need to duplicate this data locally.
Of the nearly 80 agencies in North Dakota, approximately 25 percent actively use GIS on a daily basis. At least 50 GIS users can directly connect to the GIS Hub database at a time. On a typical day in December 2002, there were 25 to 30 concurrent connections to the GIS Hub database. Having so much data available to them via ArcSDE is very exciting for GIS users. As one user put it, "Having hundreds of gigabytes of data available to hundreds of users at the snap of a finger is nothing short of amazing."
Continued on page 2