Business School Analyzes Regional Center Locations

By Katherine Noble-Goodman, Esri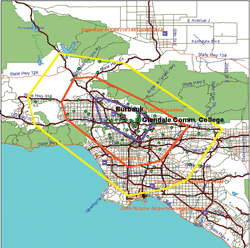 Generating a report comparing the Burbank and Glendale populations by household composition, per capita income, and crime statistics demonstrated that there wasn't much difference between the two cities and prevented an unnecessary move.
When the University of Redlands School of Business, California, was considering whether to relocate one of its six regional centers from Burbank to Glendale, Administration and Operations Director Doug Moore thought a wall map showing the locations of the centers would be helpful. Since the University's Redlands Institute is full of maps, Moore's assistant, Christine Mee, called across campus to see if it could help.
What Mee found out was that all those environmental maps hanging around the institute were made using GIS. The institute is the umbrella organization that administers external research funding and promotes the use of GIS on campus. She also found out GIS isn't just for the environment. After a bit more investigation and a GIS training program, ArcView Business Analyst has become an integral part of the school's decision making process.
In addition to the main campus in Redlands, the school offers classes in San Diego, Santa Ana, Torrance, Burbank, Rancho Cucamonga, Riverside, Lancaster, Norco, and Temecula. The leases on these facilities come up for renewal every three to five years. Before renewing each lease, the school evaluates each center's success in its current location. Prior to using ArcView Business Analyst, integrating and evaluating data on students, faculty, and staff to understand why a particular center was struggling or succeeding—and what to do about it—was challenging.
"In the past, the choice of site location and the information we had about our market demographics were not very scientific and a lot of guesswork was involved," said Moore. With ArcView Business Analyst, the guesswork has been replaced with analyses of drive times; trade areas; and the locations of competitors, current students, and faculty in relation to current and potential sites.
"We are using Business Analyst to perform site location and market demographic studies as we contemplate several regional center lease renewals coming up next year," said Moore. "The program has enabled us to focus our site selection process using market demographics to a detail level we only dreamed of before."
The GIS not only reveals why a particular center is thriving, but it can also pinpoint locations with similar demographics. For example, the Santa Ana facility—with a steady stream of students enrolling in business management, administration, and information systems degree programs—is the school's most successful center. "We can do demographics around Santa Ana and see why it is so successful," said Mee, "and then we can ask Business Analyst to go find another area just like this area."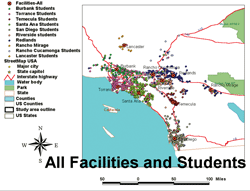 The University of Redlands School of Business is using ArcView Business Analyst to perform site location and market demographic studies when considering regional center lease renewals.
This process may already have saved the university hundreds of thousands of dollars in relocation expenses. "The common wisdom in the school was that when the Burbank lease expired, the center should be moved to Glendale," said Mee. "But when I put in the demographics of the Santa Ana area and said go find an area like this, it pinpointed areas all around Burbank."
She also had ArcView Business Analyst generate a report comparing the Burbank and Glendale populations by household composition, per capita income, and crime statistics. "This shows that there isn't that much difference between Glendale and Burbank," she said. "Why would you want to move the center? We can expand in Burbank easily. Using Business Analyst, we realized that we should stay in Burbank."
A month into the process, plans are in the works to use ArcView Business Analyst in marketing as well. "We plan to use Business Analyst to focus our direct mail and other marketing campaigns," said Moore. "We believe that by focusing our direct mail campaigns using Business Analyst, we should be able to be more effective in reaching our intended audience with smaller, less costly, mailings. This is exactly the kind of tool that we require to keep the University of Redlands School of Business a leader in our field."
For more information, contact Doug Moore (Doug_Moore@redlands.edu) or Christine Mee (Christine_Mee@redlands.edu) or visit the University of Redlands School of Business Web site at www.redlands.edu/adultlearning/business/.